Weird Nevada - By Joe Parzanese
Llama Parking Lot

900 Fremont Street, Las Vegas, Nevada 89101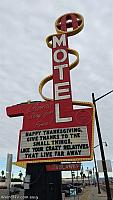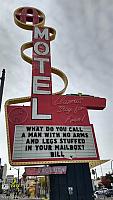 On Fremont Street in the 900 block between 9th and 10th streets, across from Atomic Liquors, sits a strange parking lot with a very peculiar restored sign and llamas, lots of llamas. The sign has a large letter A in a circle at the top, with "Motel" written vertically down it. Near the bottom of the word motel is the cryptic saying, "Llamas Stay for Free", which is above a joke that changes.
This is the site of the former Ambassador Motel. I think the sign has been there since 1952. Originally the property was The Ambassador Apartments built in 1930 by Sam Mikulich, later called the Ambassador Auto Court, and by 1952 the Ambassador Motel. In the 1960's it was bought by Jackie Gaughan, famous owner of Las Vegas properties including the El Cortez and one time owner of an estimated 25% of Downtown Las Vegas. He renamed the property Jackie Gaughan's Ambassador East Motel, and had a casino added. The Ambassador closed in 1996, the land was sold in 2004, and the building was bulldozed in the last half of 2007, all except the sign.
The sign which at one point had Jackie's name smudged out was completely restored in 2013, only the entire area where "Jackie Gaughan's Ambassador East" was located has been replaced with the phrase "Llamas Stay for Free". The llamas part is in honor of Zappos CEO Tony Hsieh, whose favorite animal is the llama. Hsieh had relocated Zappos office building to the downtown area of Las Vegas, and invested a lot of money into invigorating the area. The sign often has a joke written on it, the joke changing often. The bases of the light poles are painted with a variety of llamas and have little people climbing up near the top. The pay machines for the parking lot are also covered in llamas. The neon sign lights up at night, complete with a "No Vacancy" sign.
The Llama Parking lot is across the street from Atomic Liquors as well as a giant fire hydrant. There are also some very colorful murals spread around the neighborhood.
Closest Weird
First Created: 2020-05-03
Last Edited: 2020-05-03