Weird California - By Joe Parzanese
Lime Kilns of Big Sur

Limekiln State Park, Big Sur, California 93920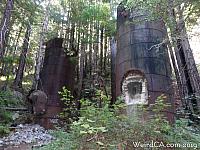 Along Highway 1 as you travel between Monterey and San Luis Obispo, south of Big Sur lies Limekiln State Park. On the western part there's the beach, consisting of some campsites nearby, while on the eastern side of the highway, more camping amongst the giant redwoods, leads to a trail following along Limekiln Creek that after a fairly easy hike will take you to these impressive 19th century kilns.
After a very scenic half mile walk down the trail, following for the most part the creek, you will eventually arrive at the four, hundred-foot-tall historic kilns. The lime kilns are tall cylinder furnaces made out of iron and stone that were used to extract lime from limestone. Rockland Lime and Lumber Company set up operations here in 1887, began chopping down redwoods, and converting the nearby limestone to lime. Wood from the redwoods nearby was used to start extremely intense fires, that while burning for long periods of time would convert and purify the limestone into the lime. The company exported thousands of barrels of lime from the nearby beach by boat, mostly to San Francisco and Monterey.
Lime is used to produce all sorts of products, although the lime from this location was mostly used in concrete and provided the mortar for much of the buildings being built in San Francisco at the time. They produced so much lime there, that the limestone deposit was depleted in just three years, and by 1890 Rockland abandoned the site. At the time, much of the redwood forest had been cut down to fuel the kilns, but thankfully, today it has recovered and is thriving.
Despite being over 130 years old, the four kilns are still in remarkable condition. Plants and trees have sprung up around them and it is well worth it to walk the easy half mile trip to go and see them.
A short trip off the main trail will also take you to Limekiln Falls, although this will involve crossing the creek on some makeshift bridges created out of trees and branches that have been laid across the water. Limekiln Falls is a 100 foot tall waterfall. The trail to the falls diverts from the trail to the kilns about half way down, so after about a quarter of a mile or so.
As this is a state park there is a $10 day use fee to enter. There are less than thirty total campsites, the ocean side campsites being to the left of the main entrance, while the redwood campsites being to the right. You will have to walk through the redwood campsites to get to the Limekiln Trail that leads to the kilns.
Closest Weird
First Created: 2020-09-05
Last Edited: 2020-09-05