Weird California - By Joe Parzanese
Madonna of the Trail

1010 Euclid Avenue, Upland, California 91786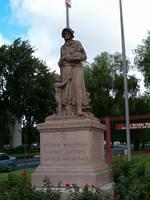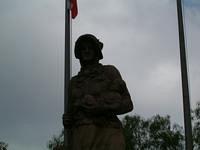 The National Old Trails Road was established in 1912 and consisted of 3,096 miles going all the way from Baltimore, Maryland to Los Angeles, California, passing through twelve different states. To celebrate the spirit of pioneer women in the United States, the National Society of Daughters of the American Revolution (DAR) commissioned a series of identical monuments to place along the road.
Conceived by Arlene B. Nichols Moss of DAR, twelve identical monuments were sculpted by August Leimbach, who was paid $1000 for each statues. One monument was made for each of the twelve states the road passed through. The statues were made out of crushed marble, stone, cement, Missouri granite, and lead ore. Tehy are eighteen feet high, with a ten foot tall pioneer mother mounted on a base. The mother holds a rifle, a small baby in her left arm, and has a small boy clutching her right leg. The twelve monuments were dedicated in 1928 and 1929. From 1926, the president of the National Old Trails Road Association was future President of the United States, Harry S. Truman. He helped the DAR choose a site for each monument and even attended every dedication ceremony.
California's monument is located in Upland, east of Los Angeles in San Bernardino County. It was built in 1929 and dedicated on February 1st, 1929.
The only thing originally different about each monument was the inscription on the right side of the statue. California's monument reads thus:
Much of the National Old Trails Road from Las Vegas, New Mexico (note, not Las Vegas, Nevada) to Los Angeles, California eventually became part of Route 66. Upland is one of two Madonna of the Trail monuments along Route 66, the other being in Albuquerque, New Mexico.
The twelve locations of the monuments are: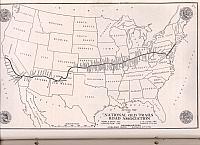 Bethesda, Maryland
Beallsville, Pennsylvania
Wheeling, West Virginia
Springfield, Ohio
Richmond, Indiana
Vandalia, Illinois
Lexington, Missouri
Council Grove, Kansas
Lamar, Colorado
Albuquerque, New Mexico
Springerville, Arizona
Upland, California
Closest Weird
Outside References:
First Created: 2021-04-17
Last Edited: 2021-04-17