Weird Nevada - By Joe Parzanese
Glass Flowers, the Conservatory and a Giant Chocolate Fountain

Bellagio
3600 Las Vegas Boulevard South, Las Vegas, Nevada 89109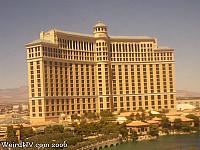 Las Vegas is home to the famous Las Vegas Strip, lined with gigantic and lavish casinos. One of the most famous hotels on the strip is the Bellagio. Well known for the hotel's giant dancing water fountains located in its eight acre lake, the Bellagio opened on October 15th, 1998, then the most expensive hotel ever built.
Guests arriving at the amazing Bellagio in Las Vegas will be beneath a giant glass sculpture of over two thousand hand blown flowers while they are checking into the hotel. The ceiling sculpture, created by artist Dale Chihuly, is called Fiori di Como. Fiori means "flowers", so the title translates to "flowers of Como". Steve Wynn's inspiration for Bellagio was to be a hotel on Lake Como in Italy.
The sculpture covers 2,100 square feet of ceiling space and is seventy feet by thirty feet, reaching depths of twelve feet. This makes it the largest glass sculpture ever made. The entire piece weighs about 40,000 pounds and is supported by a 10,000 pound steel armature. The ceiling took two years to finish and was completed in 1998 when the Bellagio hotel opened. It cost ten million dollars and requires a team of about ten engineers to clean and maintain the sculpture every day, with regular maintenance happening from 2am to 5am every day.
After checking in under the beautiful glass flower sculpture, off to the right, guests can find the 14,000 square foot botantical garden called The Conservatory. This glass ceilinged room rises up fifty feet and changes its displays seasonally.
It rotates displays within it five times a year, showing seasonal setups for the holiday season, Lunar New Year, spring, summer, and fall. It is usually closed for roughly six days in between each display. The conservatory is maintained by a horticulture staff of 120.
Walking around the corner from the Conservatory, one will find Bellagio Patisserie, serving up frech cuisine. In front and to the right of the eatery, you can see this massive chocolate fountain. This enormous floor to ceiling multi tier chocolate fountain shows white, medium, and dark chocolate cascading down in a glass enclosed case, the melted chocolate falling down into twenty five different suspeded glass containers. The fountain itself is 26 feet and three inches tall, although only about 14 feet are visible in the shop. There are five hundred feet of stainless steel piping and six pumps circulate two tons of chocolate at a rate of 120 quarts per minute.
Designed by Executive Pastry Chef Jean-Philippe Maury, it took over two years of planning and design. There are more than 2,100 pounds of melted chocolate flowing through the complex system and it is designed to operate continuously for over a year with no need to change or replace the chocolate. Chocolate doesn't contain any water so there's no evaporation happening within the system. It is the Guinness World Record holder for World's Largest Chocolate Fountain.
Closest Weird
First Created: 2021-12-30
Last Edited: 2021-12-30