Weird California - By Joe Parzanese
Moss Beach Distillery

140 Beach Way, Moss Beach, California 94038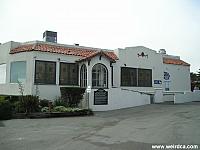 This entry is unfinished, incomplete, or planned for future research. Weird California makes no promise that it will ever be finished and gives no time table for a completion date. Additionally the information below may be inaccurate, incomplete, or just plain gibberish of notes. If you have any information on this entry, please feel free to Contact Us or leave a comment below. Thank you.
Moss Beach Distillery
Comments:
Lori of Seattle, Washington on 2008-07-09 said:

The Moss Beach Distillery has issues with ghostly activity at the big lamp near the front door, in the bathrooms, and occasionally at night in the main dining room. You can also experience "weird sh*t" in the parking lot and along the beach in front of the distillery (ie: compass going nuts, localized cold spots, etc.) late at night. It's a BEAUTIFUL location, and the waves sound amazing at 1 am.
Outside Links:
Outside References:
Last Edited: 0000-00-00