Weird Nevada - By Joe Parzanese
Blue Angel Motel

Fremont Street before Charleston, Las Vegas, Nevada 89104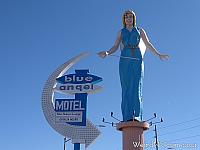 The Blue Angel Motel was known for their fifteen foot tall statue of a blue angel with wings and blonde hair that stood up on a ten foot pedestal on top of the hotel. She spun in the wind due to her wings acting like a weather vane. She proudly advertised the motel from 1957 on.
The blue angel statue was designed by Betty Willis, who took as her inspiration for the statue a combination of actress Jean Harlow and the showgirls often found in the city. Betty Willis also designed the "Welcome To Las Vegas" sign, as well as the Moulin Rouge sign in 1955 and the double-sided 1950s Del Mar Hotel sign. Whereas the "Welcome to Las Vegas" sign can still be found along Las Vegas Boulevard, the Moulin Rouge sign can be found at the Neon Museum. The museum also has the Del Mar Hotel sign, just not on display, as it is located in storage.
The Blue Angel Motel eventually fell on hard times, at some point becoming one of those hotels that people rented weekly and used as a permanent residence, before one day closing entirely. In 2015, the building was bulldozed, but the Blue Angel was left alone, standing on her pedestal, still spinning some in the wind.
In 2017 the Blue Angel was acquired by the city and taken down for restoration. For a short while, the Blue Angel statue was relocated in 2018 to the Neon Museum's Ne10 Studio . The Neon Museum hosted a short-term exhibit from May 24th, 2018 to July 6th, 2018 called "Blue Angel: Between Heaven and Earth". The city eventually restored and moved the angel to its current location on March 12th, 2020. Today, both the angel and a sign for the original motel sit near a bus stop in one of the middle areas of the intersection of Fremont and Charleston, apparently about seven hundred feet from her original location. The angel, like she did originally, sits on a column like pedestal. The sign lights up at night, and the angel is illuminated.
Lastly on Las Vegas Boulevard, right before you get to the Neon Museum, is a fun mural entitled "A Phalanx of Angels Ascending at 705". Installed in the summer of 2019, the building is covered with several blue angels all ascending up towards the sky. The blue angel was originally modeled after the Blue Angel Motel in downtown Las Vegas. James Stanford, who remembers the Blue Angel from his youth, decided to pay homage to the Blue Angel, with this impressive art installation. It showcases several blue angels appearing to rocket up into the sky, plus a special blue angel standing in a sea shell, low enough near the ground for people to pose with.
Closest Weird
First Created: 2021-12-03
Last Edited: 2021-12-03