Weird California - By Joe Parzanese
Lone Pine Mountain Devil

Alabama Hills, Lone Pine, California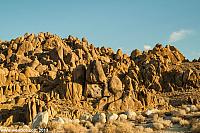 I believe a lot of what is said about the Lone Pine Mountain Devil is a recent fabrication spread the past several years on the Internet. Although the stories below speak of events and incidents from the 1800s, I have not seen these stories repeated anywhere but on the Internet. No book I have read speaks of the Mountain Devil. No lore I have heard talks about it prior to the 2000s. Much of this leads me to believe that it and more importantly its stories are a creation of the Internet. That being said, for your enjoyment, here's what they say about it.
The Lone Pine Mountain Devil or California Mountain Devil or simply the Mountain Devil has been described as winged demons sent from the depths of Hell. They are bat like, large furry, multi winged creatures that possess multiple layers of deadly venomous fangs. Their territory includes both the American Southwest and Northern Mexico. These vicious creatures attack the face and head of their prey, and are said to only eat the soft cartilage of the face and torso, leaving the rest of their slaughter to simply rot for other scavengers. Some have potentially linked the Lone Pine Mountain Devil to the legendary New Jersey Devil who lurks in New Jersey's Pine Barrens, believing that the two are perhaps related or of a similar species.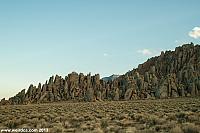 A common belief is that the creature attacks or hunts people who disturb the peace and ambiance of the Devil's habitat. Another common belief is that the Lone Pine Mountain Devil targets both those who disrespect nature and wildlife, but also those who doubt its existence. So I guess, believe or die.
If you do believe the stories found on the Internet, tales of the Mountain Devil began circulating in the 1800s. As more people moved into California, occasionally the rotted corpses of travelers, families, and prospectors were found murdered, their faces having been eaten off and unrecognizable. Their torsos had been eaten to the bone.
The most detailed story on the Internet involving the Lone Pine Mountain Devil happens in 1878. Father Justus Martinez had been traveling with a wagon train of several Spanish settlers. The group consisting of men, women and children numbered 37 in total. They disappeared somewhere in the Sierra Nevada Mountains before their rotting corpses were found two months later by a bunch of copper miners.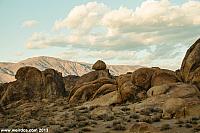 Somehow the good Father had survived and a few weeks later was found with no supplies, just his clothes and an old journal. He was weak, famished, and dehydrated. He came to a mission that was 110 miles north of San Diego. I assume this was Mission San Gabriel Arcangel, but the stories for some reason do not list the mission by name. Father Justus Martinez had taken a vow of silence on his travels after being confronted by "beasts damned by the good lord".
His story recounted in his journal depicts a scene of celebrating settlers. They had set up camp for the night and were enjoying a celebration in honor of Saint Roderick. Saint Roderick was a Christian priest who was beheaded for maintaining his loyalty to the Catholic Church when his brother tried to get him to convert to Islam.
The celebration according to the pious Father turned into a "riotous orgy" with the settlers burning trees around them for light and heat. The party went on into the late hours of the night, with Father Martinez hiding in a small tent on the outskirts of the camp. From his small tent he witnessed the attack, and saw "winged demons" swarm from the trees to attack and massacre the settlers, man, woman, and children.
It is said that the last entry in his journal stated:
"My God. My God. They are all gone. The winged demons have risen! What sin have they committed against each other and thy sacred earth. May the forgiving Lord not abandon their souls, which were taken from them into the depths of hell! And through the earthly fires of man, a sole tree remained on the mountain's peak. And the Devils that spared me, returned to the refuge of the Lone Pine of the Mountain."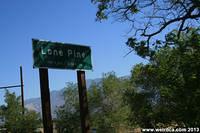 Sightings have increased over the past several years, especially since 2003, probably around the time stories of this creature began spreading around the Internet. Many of these sightings supposedly take place west of Lone Pine, California in Alabama Hills along Whitney Portal Road on the way up to Mount Whitney, the tallest peak in the continental United States.
As a side note, the town of Lone Pine was actually founded to supply local miners with provisions. It is actually named after a solitary pine tree that once stood at the mouth of Lone Pine Canyon. Lone Pine is now famous for all the movies and television shows that have been filmed in it, mostly to the west again in the Alabama Hills. So many movies have been filmed there, that a road off of Whitney Portal Road is actually named simply "Movie Road". Despite the literally hundreds of movies filmed there, none have captured the Lone Pine Mountain Devil on film.
Whitney Portal and Lone Pine also have had several ghost sightings and stories told in the area.
Closest Weird
Comments:
Brianito of Tehachapi , California on 2020-01-26 said:

This was 1978 while living in Southeast Los Angeles. At approximately 0200 hours, my brother and I seen something similar as to what your describing. We stopped the car it was dead quite at 2am. This creature stood approximately 40"-48" high. With one push of its wing while leaping upward towards a tree. The sound was loud enough that the home owners seemed to be awoken and they came outside looking the creature in their tree. It was not a bird of any type, nor humanoid looking. Up until my Brother passed we always would joke about our encounter never trying to explain to others what we had seen. This was in the City of Bell Gardens.

Anonymous on 2020-01-12 said:

In late 2005 and early 2006 I had 2 separate encounters with a devil like creature in a small town at the outskirts of Yosemite Valley. The first incident was around 1:00am and it was very foggy. I was standing at the end of my driveway and as I slightly turned away to light a cigarette I heard the most blood curdling demonic scream coming from my neighbors rooftop across the street, the sound of the scream was soo loud and horrifying that I just froze. I carefully tried looking with the corner of my eyes but couldn't see it, whatever it was it appeared to be hiding behind the AC Unit mounted of the roof. The 2nd encounter was several months after in the town around 1:30am, a night with clear sky and all the stars were out. As I was riding my mountain bike going to a friend's house, I heard something jump from a tall tree behind me and landed on the next tall tree directly to my left, it landed with soo much force the top of the tree almost touched the ground, I thought the tree was going to snap in half. At that moment I wasn't scared yet, I was more amazed and confused and I couldn't believe what I was seeing, I even thought to myself "DAMN, THAT'S A BIG BIRD. First bird that came to mind was an Ostrich but remembered thinking "Ostriches don't fly". This creature exactly the thing to 2 more trees, the trees are not close together but 3 to 4 houses apart, it was able to jump incredible distance quickly. The 3rd time it landed on the tree to my left is when I got a glimpse of a dark creature with a large upper body, 2 arms and 2 legs, legs looked very weird, it appeared to have double knees and I don't know how but I felt a sense of it's tremendous strength and it's when I realized I'm being stalked and hunted. I'm no wimp but I've never been so scared in my life to see something as if it was the Devil himself, it was unbelievable, it was beyond horrifying or terrifying put together, I've never screamed so loud in my life with both my arms in the air and I never peddled a bike soo hard either, I was running for my life and I feel very lucky to have escaped. It's been 15 years now since that happened to me and not a single night goes by that I'm not terrified to step foot outside. I moved thousands of miles away shortly after that happened but I'm still afraid at night even locked inside my house. I still not sure what Demonic Creature this is, if anyone had a similar encounter I would like to know, thx.

Jerrine Paiva of California City, California on 2018-01-17 said:

Could somebody please tell me how one might access the journal of Fr. Justus Martinez? Did this story come from a book and if so, where could I find it? Thank you.

WeirdCA - I've never seen a copy. And I actually kinda doubt one even exists. The entire Lone Pine Mountain Devil seems very much like a legend that was given birth by creative story telling on the internet.

Anonymous on 2015-12-08 said:

Very interesting article and more information is provided here than in most sites. One part caught my attention. There is a church 110 miles north of San Diego where Father Justus Martinez arrived, this of course being mothern day Los Angeles, and you give the name of the Mission San Gabriel Arcangel. Why this particular church? Thank you and I hope to hear back from the author of this article.

WeirdCA Response - the original story says a mission north of San Diego. In 1878, the supposed timeframe the story takes place in, a mission 100 to 110 miles north of San Diego could, and most like would have been Mission San Gabriel Arcangel. Again this is all speculation. Regardless, I highly doubt the veracity of the entire story. But it is enjoyable, at least.
Outside Links:
First Created: 2015-05-30
Last Edited: 2015-05-30