Weird Missouri - By Joe Parzanese
Giant Shuttlecocks of Kansas City

Nelson Atkins Museum of Art
4525 Oak Street, Kansas City, Missouri 64111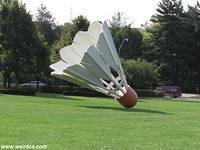 So I was out for a week in Kansas City, Missouri and decided to find something weird in the city. I was rewarded with giant badminton birdies or shuttlecocks as they are apparently referred to in Kansas City. The Shuttlecocks as the sculpture is called can be found at the Nelson Atkins Museum of Art.
In 1994 the Nelson Atkins Museum of Art commissioned a sculpture from Claes Oldenburg and Coosje van Bruggen. They built four giant birdies around the lawns of the museum, imagining the main building as the badminton net and the lawn as the playing field.
Each shuttlecock is eighteen feet tall, weighs 5,500 pounds, and has a diameter of 16 feet. Each one is situated at a different angle. Three lie on one side of the building, and the beginning shuttlecock is at the front entrance.
The birdies are in fairly stark contrast to much of the rest of the art, which involves art from all walks of life and cultures. The Museum itself is extremely pretty with some very unique architecture. Many different forms of exhibits are available, and it truly is a wonderful exhibit that if you're in the Kansas City area you should take a few hours to visit. Also it's free, with onsite parking only costing $5.
Closest Weird
Outside Links:
First Created: 2007-09-17
Last Edited: 2007-09-17