Weird Chicago - By Joe Parzanese
The Biograph Theatre

2433 North Lincoln Avenue, Chicago, Illinois 60614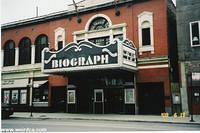 The Biograph Theatre is located on Lincoln Avenue, unique especially because it goes at an angle through the city. Thus almost every intersection is a six-way intersection creating quite a bit of confusion. The neighborhoods around it are very pretty, made up of mostly tree-line streets of brick houses. All the businesses and storefronts around the area had at least one or two levels of apartments above them, and they appeared at first glance to be fairly nice apartments often with balconies.
Located at 2433 North Lincoln Avenue is the Biograph Theatre, a very old movie theatre that is now a historical landmark. The theatre was designed by Samuel Crowen in 1914 and has many of the features of movie theaters of that time including the recessed entrance, free standing ticket booth, canopy over head, etc.
Now why is this particular building interesting, you might ask? Well Public Enemy Number One: John Dillinger supposedly died there. On July 22, 1934 Dillinger came out of the movie theatre with a woman, walking down the small narrow alleyway to the theatre's right and was immediately met by the FBI who naturally gunned him down. In a hail of fire, Dillinger's life ended.
John Dillinger, the notorious criminal, was born in Indiana in June of 1903. In 1924, while drunk, Dillinger robbed a local grocer, and after subsequently being captured and although he had no prior convictions, he was sentenced to ten years in jail. He was paroled in 1933, but the experience hardened him and life amongst the other criminals turned him towards his future life of crime. He soon formed a gang and pulled heists and bank robberies all over the country. Eventually he was caught and placed in the escape proof Lake County jail in Crown Point, Indiana. On March 3, 1934 with a wooden gun blackened with shoe polish, Dillinger escaped from the escape proof jail and was re-united with his gang, including the notorious Baby Face Nelson. A few months later the FBI ended his life in an alleyway outside the Biograph Theater.
Now speculation has existed for decades on if this was actually Dillinger or not. Several theories state that it was a decoy for the FBI, and that Dillinger got away and retired somewhere after having plastic surgery. The evidence strongly points to the concept that the man gunned down outside the theatre may indeed not have been Dillinger, but instead a man named Jimmy Lawrence. Much of the medical evidence makes it appear that the man who was in the alley that bloody night had a different height and build as well as several other different physical characteristics (for instance eye color may not have matched, but this can be explained by the severe head trauma of taking several shots to the head). Apparently, Dillinger's dad claimed the body was not that of his son, but Dillinger's sister positively identified it by a scar on the leg. Will we really know? Probably not. If the man who was shot in the alley that night was not in fact Dillinger, than the FBI wrongly killed someone. If I were him, I'd be pretty angry at the mistake.
And angry he might be. Rumor has it that the alley where Dillinger was gunned down is haunted by the ghost of whoever the victim was, Dillinger or otherwise. Occasionally a ghost has been known to wander the location, often seen roaming the alley. Regardless, the theatre now is open only to special events, having shut down a few years back as a real movie theatre. When I walked by, there was no one in the ticket booth and the alleyway door was shut. Unable to see anything I snapped a few pictures and went on my way. I guess a few years ago, you were able to see a movie, sit in the chair that Dillinger did and even walk out through the alley that Dillinger exited from. The theatre is apparently now being converted and restored for live plays and should be open again in the fall of 2006.
There are two other noteworthy pieces of information about the Dillinger incident. Apparently the gun he was carrying at the time he was gunned down (and then later shown off at the FBI headquarters) was manufactured five months after Dillinger's death. This leads many people to speculate that the FBI killed an unarmed man. The gun was on display for years along with Dillinger's death mask, a plaster cast of the deceased. Though later determined to be frauds, at least two letters claiming to be from John Dillinger surfaced in 1963. They contained pictures of an older Dillinger and were sent to a newspaper. The FBI concluded that the fingerprints did not match.
After seeing this historical piece of history, I walked by the Red Lion Pub, and although I didn't get a chance to walk in due to time, it is rumored to be the most haunted of all bars and restaurants in Chicago supposedly being the residence to no less than six ghosts. It is located across the street from the Biograph and a storefront or two down the street. I eventually got back in my car and turned a few corners to arrive on Clark Street.
Closest Weird
Outside Links:
Outside References:
First Created: 2006-08-29
Last Edited: 2006-08-29