Weird California - By Joe Parzanese
Big Yellow House

108 Pier Point Avenue, Summerland, California 93067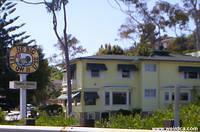 This entry is unfinished, incomplete, or planned for future research. Weird California makes no promise that it will ever be finished and gives no time table for a completion date. Additionally the information below may be inaccurate, incomplete, or just plain gibberish of notes. If you have any information on this entry, please feel free to Contact Us or leave a comment below. Thank you.
Summerland - settled by spiritualists, séances were often held in the Big Yellow House which is now a restaurant.
Closest Weird
Comments:
Scott on 2013-08-06 said:

I lived in Summerland for awhile in the late 1970's. Got to be good friends of the Manager, assistant Mngr, and wait staff. They told me of many instances where they would finish their "side-work" (setting the tables up for the next day) late at night, leave the room, hear some noise, and return to find their tables all messed up! No one wanted to be left alone when it was time to lock-up at night.

Vincent of santa Barbara, Ca. on 2013-07-28 said:

I remember it burning down a couple time as I was a kid .. down the street was the best sub sandwich place ever.

Tina of Carpinteria, California on 2010-03-11 said:

I remember when I was little we used to eat there all the time and would see this lady in a long white gown carring serveral candles resembling a candleabra.
Outside References:
First Created: 0000-00-00
Last Edited: 0000-00-00