Weird California - By Joe Parzanese
Chromatic Gate

East Cabrillo Boulevard, Santa Barbara, California 93103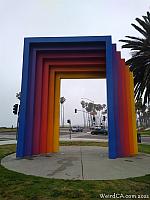 Near the beach in Santa Barbara sits an archway or a gateway made out of six different colors, one slightly taller than the last as it creates a rainbow gateway. If looking at it from the shortest to the tallest, the six arches go yellow, orange, red, pink, purple, and blue. Each arch is also positioned a little bit to the right for each color.
The artwork, called the Chromatic Gate, was created by artist Herbert Bayer. Bayer, born in 1900, passed away in 1985, and lived the last ten years of his life in the Santa Barbara area. The gate was actually installed in its current location in 1991, six years after the artist's death. His name, years of life, and the artwork's name are carved in front of the arch.
The Chromatic Gate is 21 feet tall and weighs about 12.5 tons. The colors on the gate have faded in the past and the artwork has had to undergo some restoration every now and then, last in 2013. It has certainly gained more notoriety since Instagram, as it is considered a very instagrammable location due to the many primary colors.
Closest Weird
First Created: 2021-07-01
Last Edited: 2021-07-01