Weird California - By Joe Parzanese
Giganticus Headicus

9855 AZ-66, Kingman, Arizona 86401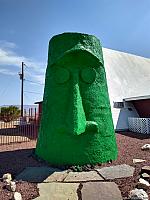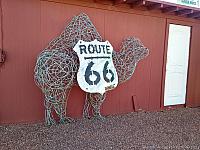 Route 66 has a little of everything, so it's really no surprise that in 2004 it gained a cross between a giant green tiki head and an Easter Island statue. It looms out of the Arizona desert. You'll see it as you approach, bright green, half buried with about 14 feet of it sticking out of the ground. It's nose and eyes are above ground level, and the rest of it, however much of it there is, is buried in the Arizona desert. This is Giganticus Headicus.
Gregg Arnold, an artist, actor and singer, left New Jersey, moved out to the desert of Arizona, purchased the former Kozy Corner Trailer Court, and created Giganticus Headicus, finishing the giant green head in 2004. He is created out of chicken wire, cement, styrofoam and wood.
Route 66 runs through the southern part of the area of Antares. The part of Route 66 that runs through Antares is a long curve. The curve, about two miles, is called Antares Point and is the longest continuous curve on any United Stats Highway.
The building next to Giganticus Headicus operates as a Route 66 gift shop, and may one day be a cafe or diner. Excellent views can be seen from the back windows of the shop. Additional artwork can be found around the parking lot and greater area.
Closest Weird
First Created: 2021-07-31
Last Edited: 2021-07-31