Weird Arizona - By Joe Parzanese
Giant Chuckwalla

398 E. Andy Devine Avenue, Kingman, Arizona 86401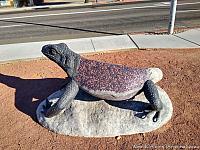 The largest lizard in the United States is the Chuckwalla, which has a flat body and often reaches a length of about twenty inches. It is native to Arizona and parts of the southwest United States, including eastern California and southern Nevada.
In honor of its prevalence in Arizona, Kingman has a giant chuckwalla statue located along Route 66. It is made out of metal and Italian mosaic glass and has a flatish back meant to allow people to sit upon the large lizard.
Created by Solomon Bassoff, the statue is not just twenty inches, but is instead seven feet long, weighing in at almost a ton. It was put in place on February 9th, 2018 and sits on the southwest corner of the intersection of Fourth Street with Andy Devine Avenue (aka Route 66). The Beale Hotel and the Hotel Brunswick are located across the street.
Closest Weird
First Created: 2021-05-02
Last Edited: 2021-05-02