Weird California - By Joe Parzanese
Joshua Tree Rocks: Skull Rock

Skull Rock
Park Boulevard, Twentynine Palms, California 92277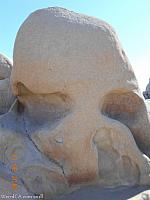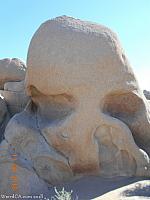 Joshua Tree National Park plays host to several unique rock formations. One of the easier ones to locate is the infamous Skull Rock! Skull Rock is found right along Park Boulevard and like the name implies, resembles a giant skull. A granite rock formation, it possesses two depressions for eye sockets, giving it the skull like appearance. The depressions were caused by a long long history of erosion from water and rain. You can park along Park Boulevard near Skull Rock. Not too far from Skull Rock is Elephant Rock which also does have a passing resemblance as a pachyderm.
Two more interesting rock formations can be found off of Pinto Basin Road, near White Tank campground along Arch Rock Nature Trail. First, Arch Rock, a giant thirty foot arch formed in the rocks is easily found along the trail after about a half mile of walking, and second, not too far from Arch Rock, Heart Rock, a rock that looks amazingly like a giant heart!
Unfortunately, we do not currently have pictures of Elephant, Arch, and Heart Rocks.
Closest Weird
First Created: 2019-02-28
Last Edited: 2019-02-28