Weird California - By Joe Parzanese
Pumpkin Rock

Norco, California 92860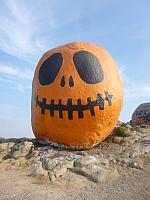 Up above the town of Norco, on one of the hills of Norco Ridge, watching over the town below, is the Pumpkin Rock.
Pumpkin Rock is probably about 15 feet tall in height, painted all orange and currently sporting a Jack Skellington like face. In the past it has been painted to look like a Jack O'Lantern and a Unocal 76 ball. Before it was painted orange, the rock was referred to as Elephant Rock or sometimes Elephant Butt Rock due to the crack near the top of the rock which resembles an elephant tail and makes the rock supposedly look like the backside of a pachyderm.
In the past, parts of the rock have been massively covered in graffiti, but currently thanks to some recent repainting, there's only a little near the very bottom and on the back of the rock, although other rocks nearby have quite a bit of graffiti on them.
When we went, we parked on Vandermolen Drive where it makes a 90 degree curve, entering a trail near 3402 Vandermolen Drive. I'm not sure if there's a better way to reach the rock or not. It's about a half mile or so to get from the road up the ridge to the rock. Most of the hike to the rock feels like it is going straight up. The views of Norco and the surrounding area from Pumpkin Rock are truly impressive. Additionally there is a trail that goes along the rest of Norco Ridge.
The town of Norco is also referred to as "Horsetown USA". Horse statues, horse murals, horse decorations, horse trails, and all things pertaining to horses are all over town. It is not uncommon to see people riding horses through town and there are even hitching posts at many of the business in case you wish to take your horse to go shopping instead of your car. The main road in town also has a patriotic theme to it, as the white dotted line separating lanes has a red dash to the left of it and a blue dash to the right. Thus all the dotted lines down the main street are made up of red, white, and blue dashes.
Closest Weird
First Created: 2016-03-04
Last Edited: 2016-03-04