Weird California - By Joe Parzanese
Muffler Men

The Indian Warrior
4310 Alfred Harrell Highway, Bakersfield, California 93308


Golf Guy
19800 S. Main Street, Carson, California 90745
(Can be seen from 405)

505 South Crane Avenue, Compton, California 90221


Edwin
2710 Santa Anita Avenue, El Monte, California 91733


Joor Muffler
302 East Valley Parkway, Escondido, California 92025


11820 River Road, Forestville, California 95436


Hat Creek Muffler Man
Highway 89 and Gatewood, Hat Creek, California 96040
(Formerly in Dunsmuir)

Big Mike
2020 National Ave, Hayward, California 94541
(formerly 22314 Mission Blvd)

560 Gallardo Street, Los Angeles, California 90033


Chicken Boy
5558 North Figueroa Street, Los Angeles, California 90042


Tony's Transmissions
3900 City Terrace Drive, Los Angeles, California 90022


El Salsero
22800 West Pacific Coast Highway, Malibu, California 90265

Muffler Man and Other Giants
Garnet Avenue and Mill Creek Road, Mentone, California 92359


4498 E Hyway 140, Merced, California 95340


Hubcap Lady
Pearson Road, Pearsonville, California 93527


Babe the Muffler Man
808 The Alameda, San Jose, California 95126


11110 Ridge Road, Sutter Creek, California 95642


15237 Sherman Way, Van Nuys, California 91405


390 E Commercial St, Willits, California 95490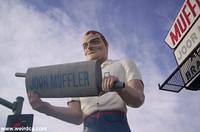 Large giants standing 18 to 25 feet tall litter the highways of America, several scattered throughout California. In the 1960s and 1970s a fiberglass company called International Fiberglass created these roadside giants. In 1962, a man called Bob Prewitt who at the time owned Prewitt Fiberglass created the very first Muffler Man, a Paul Bunyan style giant for PB Cafe on Route 66 in Flagstaff, Arizona. In 1963, Steve Dashew purchased the business from him and until 1975, Muffler Men were churned out by the company, now called International Fiberglass, and appeared on roadways throughout the United States.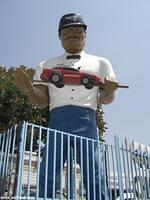 The term Muffler Man was coined by Roadside America probably sometime around the mid to late nineties, long after the last Muffler Man was built. Muffler Men are made entirely of fiberglass, hollow, usually portraying a rugged individual with broad shoulders and his left palm face down while the right palm is face up in order to hold an axe, golf club, muffler, tire, etc. They came in a few different variations. The main one with the square jaw was usually beardless although some have had mustaches or beards painted on. This model occasionally came as a cowboy with removable cowboy hat. Next, or perhaps first, was the Paul Bunyan model complete with axe, cap, and beard. Giant Indians were also made by the company consisting of a different chest, arms, and heads. The arm instead of bent at the elbows and holding a variety of items had the right hand raised in the stereotypical Native American greeting. The chest was also shirtless and produced from a slightly different mold. Finally there was the country bumpkin style of Muffler Man which had the head replaced with a large eared gap toothed straw hat wearing noggin. Sinclair dinosaurs additionally came from the same company.
Originally Muffler Men were mostly found outside auto shops, restaurants, and later miniature golf courses, but now can be found almost anywhere. Muffler Men in the sixties and seventies cost anywhere from $1000 to $2800 each, depending on quantity ordered and accessories installed on each fiberglass statues. Now a days it is not surprising to see them go for $20,000! Probably, one of the more famous Muffler Men can be seen in the opening credits of the HBO series "The Sopranos". This is an actual Muffler Man from NJ.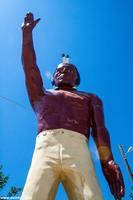 Bakersfield Giant Indian
The only Indian style Muffler Man in California is in Bakersfield. Originally purchased by Ken Barnes in 1965 for the sum of about $1400, it was used to advertise Ken's tire shop, promoting Mohawk brand tires. There it resided in the middle of a roundabout, Garces Traffic Circle, before the tire shop was sold. Afterwards, it then was on display at a local school as the mascot for the Warriors. Eventually it ended up being taken down and stored in a back yard where it wasn't kept up and suffered from vandalism. Now the big Indian resides outside The Corral Café, far across town from its original location at Ken's tire shop. He now resides on Alfred Harrell Highway, a road named after Alfred Harrell, former owner of the Bakersfield Californian Newspaper. It is said that before he was put up at the Corral Café, he underwent somewhere around a $7000 to $8000 restoration to bring the Muffler Man back to the proud Indian he is today.
Carson
The Golf Guy is a converted Muffler Man made to look like a golfer. He holds a giant golf club and stands in view of the 405 Freeway near the 110 interchange. He use to stand on the edge of a golf course, but the golf course has apparently closed and is now gone, yet still the Golf Guy has remained standing in his place. Catch him while you still can, as the fate or final destination of the Muffler Man is currently unknown.
Compton
The Compton Muffler Man is a classic style Muffler Man found on the corner of Myrrh and Crane. He is behind a fence and doesn't carry anything in his hands.
El Monte
El Monte plays host to a classic Muffler Man complete with a hard hat and a golf club in his hands. He goes by the name of Edwin and is located within the fenced in area of the business to which he belongs.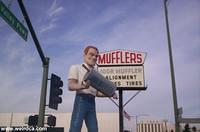 Escondido
The Joor Muffler Man lives in Escondido and he has been standing outside the business, The Joor Muffler Service since the 1960s. Unlike a lot of other Muffler Men now a days, the Joor Muffler Man is actually holding a muffler. He also has been known to dress up for both Christmas (in a Santa suit) and Halloween (in a large orange pumpkin). Rumor also has it that he owns a Hawaiian shirt for the hot summer days.
Forestville
Located at River Bend Campground in Forestville, CA (east of Guerneville) is a Paul Bunyan style Muffler Man. He carries what is either a spade or a canoe paddle. And at one time he had a speaker attached to him that use to tell the story of Paul Bunyan.
Hat Creek
In Hat Creek along Highway 89 stands a Cowboy version of the Muffler Men. He stands on the premises of an actual working cattle ranch. He was formerly in Dunsmuir, CA where he stood as a mechanic, but was relocated and transformed into the Cowboy he is today.
Hayward
In Hayward, the Paul Bunyan style Muffler Man known as Big Mike protects the business, Bell Plastics. Starting around 1966, he was originally located on Mission Boulevard outside first Morris Car Wash, and later Tyre Treds, Big Mike during this phase of his life, carried a scrub brush. He sadly eventually suffered from vandalism, but was luckily rescued. Purchased in 2011, he was taken down for restorations, and returned in new condition in early 2013 on National Avenue in the parking lot of Bell Plastics.
By summer of 2013 Big Mike acquired a friend, a fellow Muffler Man, this one a Cowboy version. The Cowboy had sat in storage in Missouri for over ten years, before the owner of Big Mike acquired him too, had him transported across the country, fixed up, and repainted.
Big Mike also has a large axe that was anonymously left for him on site, but it was sadly the wrong size for the Muffler Man's hands. The base of real wood axe handle has the letters "BM" carved into it. The giant axe is on display inside the office foyer.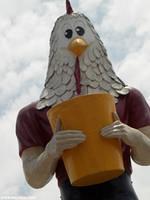 Los Angeles Chickenboy
Many Muffler Men have been customized over the years, morphing from the rugged large men that they were into other tall giants advertising new and different businesses. One such modified Muffler Man is Chicken Boy in the Los Angeles area. Chicken Boy has the head of a chicken and holds a large bucket. Chicken Boy originally stood over Los Angeles advertising for a chicken restaurant. In 1984 the mutant Muffler Man was taken down shortly after the restaurant closed. It was saved by Amy Inouye who for over two decades has been holding on to Chicken Boy trying to get him restored somewhere. Finally in late 2007, early 2008, Chicken Boy was placed back up in Los Angeles. A few groups in the area refer to him as the "Statue of Liberty of Los Angeles".
Los Angeles
Besides Chickenboy, Los Angeles also has Tony of Tony's Transmissions. Tony is a classic style Muffler Man with a slightly darker complexion making him look Hispanic. He sports a bowtie, pencil thin mustache, and is holding up a car.
Los Angeles
Sergio in Los Angeles is a Paul Bunyan style Muffler Man wearing a checker board pattern shirt. He carries nothing in his hands and stands at the corner of Gallardo Street and Mission Road, before a business named Automobile Alley.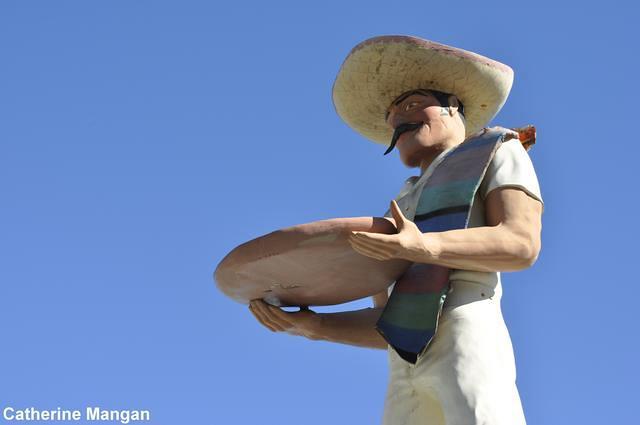 Malibu
The Malibu Muffler Man is another example of a converted Muffler Man. Standing along the Pacific Coast Highway at a Mexican restaurant called La Salsa, he wears a sombrero, sports a mustache, and carries a large platter (formerly filled with food; food which was sadly stolen in 2006). The location was a burger joint back in the seventies and back then the Muffler Man (then referred to as Malibu Frosty Freeze Man) carried a large burger, thought the be one of the accessories a Muffler Man could be ordered with back in the sixties. The bottom half of the bun is now the platter and the top half of the burger is his hat. He is often called "El Salsero". The restaurant changed from a burger joint to La Salsa in 1987. To see pictures of the Muffler Man before and after go to Experiencing LA.
Merced
The Merced Muffler Man is a classic Muffler Man who isn't holding anything. He stands near the Ag Museum and Frontier Town.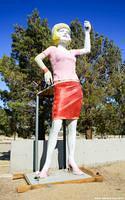 Pearsonville Uniroyal Gal
International Fiberglass also made several other types of fiberglass statues including the hard to find Uniroyal Girls. The Uniroyal Girl is the female equivalent of the Muffler Man and looks a lot like Jackie Kennedy. Her left arm is held up in the air and her right hand is on her hip. It is believed that at one point she might have carried something like a tire or an oil can. It is also believed that she was built for Uniroyal Tire in order to advertise their stores. She usually came in a dress, although there appear to be many that have probably been modified with her now sporting a two piece bathing suit. There is one Uniroyal Girl in California that we are aware of. She can be found in Pearsonville along highway 395 and is known as the Hubcab Lady named after a former resident, Lucy Pearson, who once collected over 80,000 hubcaps. The town of Pearsonville and the 80,000 hubcabs are now all long gone, but The Hubcab Lady still stands watch over Highway 395, although faded and sun weathered.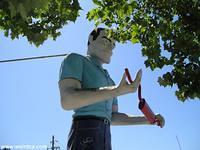 San Jose
Known as Babe the Muffler Man, he stands over on Alameda holding an actual muffler, not a giant muffler like so many other Muffler Men. He also sports a "Babe" name patch on his shirt and has, rumor has it, been in town since the sixties.
Sutter Creek
The Sutter Creek Muffler Man stands in a parking lot where Ridge Road meets Highway 88. He has a hard hat and isn't carrying anything.
Van Nuys
Kevin, the Van Nuys Muffler Man, is a Bunyan style muffler man and stands outside Tune-Up Masters. He holds nothing in his hands and is believed to have been there for at least twenty years.
Willits
The Willits Muffler Man is a Cowboy version who stands at the Willits Rodeo Grounds. He carries a branding iron with a "W" on the end and sports a belt buckle depicting the race horse Seabiscuit, who retired to Ridgewood Ranch near Willits.
So far, we've found nine of the many Muffler Men out there, and we'd love to have your help finding other Muffler Men. Although we obviously only concentrate on California, we'll also be very appreciative for anyone sending us pictures of Muffler Men out of this state as well. Additionally, many of the Muffler Men out there have moved or changed over the years. Older pictures of them that we could post here, would also be very appreciated! Happy hunting!
| | | |
| --- | --- | --- |
| Bakersfield Indian | El Monte | Escondido |
| | Chicken Boy | Los Angeles |
| | Pearsonville | San Jose |
Comments:
ken barnes of bakersfield, california on 2013-05-31 said:

The Indian "Muffler Man" in Bakersfield was brought to town by me in 1965 and placed in front of my tire store to help advertise Mohawk brand tires I sold at that time.

Liz Oakes of Hayward, California on 2013-03-29 said:

The Hayward Paul Bunyan, affectionately known as Big Mike, as he once stood at Mike's Carwash, has been fully restored and moved to 2020 National Ave in Hayward.

Stephen of Escondido, CA on 2012-04-20 said:

Having grown up in Escondido I always remember seeing the Joor Muffler man. It was a landmark in our town, everyone knew it. During the Christmas season the owners even dress him up in a giant Santa suit with hat and white beard. But I remember while driving through Pasadena one day it was the first time I say another. I saw a Mexican Muffler man holding a buirrito.

steve janssen of new orleans, la on 2011-09-19 said:

they have an original muffler man in metaire la on clearview drive near esplanade! you can google map it to get a good ariel and street view of it! just lettin all you muffler man freaks out there know!! very near take 5 oil change, but actually at the auto title transfer place.... peace

Anonymous on 2011-07-07 said:

Growing up, there was a large Peter Pan on top of a market by the same name on the corner of Normandie and Pico in Los Angeles.

Teresa of Los Angeles, CA on 2011-06-03 said:

I believe one of the Uniroyal female statues is located in Pearson CA on the 395.

Julius of Nipomo, Ca. on 2011-04-21 said:

The one in Bakersfield is in front of Ethel's old corral. This is a bar/night club

Yenni of LA, CA on 2011-03-09 said:

Tony is still in CA but moved to City Terrace :) here's the update: http://www.roadsideamerica.com/tip/9460

david granger of merced, ca on 2010-11-21 said:

there is one between merced and planada

john Lafferty of livermore, Ca on 2010-11-19 said:

There's one you can see for 3 weeks before the Livermore Rodeo. He's a Cowboy. Is visible on Hiway 580 at the Los Positas Golf Course.

Anonymous of Los Angeles, CA on 2010-08-30 said:

Tony the Muffler Man at 4327 Cesar Chavez, in East Los Angeles, is no longer there. Tony's Transmission Service has closed its doors sometime in August 2010. The property is now up for lease.

beth of riverside, ca on 2010-07-25 said:

We have our own muffler men group on the corner of Van Buren Blvd and Dauchy!

Anonymous on 2010-03-17 said:

There's a giant Paul Bunyan at Trees of Mystery in Klamath, CA--and it talks to you when you walk by!

Stevo of Weimar, CA on 2010-01-25 said:

If I recall correctly, there used to be one in Livermore near the Golf Course along I-580 (highway 50 back then). This would have been in the late 60s

Anonymous of Redding, California on 2009-11-05 said:
sandra of ventura, ca on 2009-02-16 said:

can anyone remember a giant paul bunyon at foster park in ventura?

Vic Stapf of Los Angeles, CA on 2009-02-11 said:

Great site you have here. I remember one holding a golf club in La Puente near Valley & Hacienda at a mini golf place when I was a kid. Visit the Photos Of The Forgotten page. http://www.synthetrix.com/potf.html
Outside Links:
Outside References:
Last Edited: 2013-06-04