Weird California - By Joe Parzanese
Muffler Men

The Indian Warrior
4310 Alfred Harrell Highway, Bakersfield, California 93308


Porsche Man
19800 S. Main Street, Carson, California 90745
(Can be seen from 405)

505 South Crane Avenue, Compton, California 90221


Edwin
2710 Santa Anita Avenue, El Monte, California 91733


Joor Muffler
302 East Valley Parkway, Escondido, California 92025


11820 River Road, Forestville, California 95436


Hat Creek Muffler Man
Highway 89 and Gatewood, Hat Creek, California 96040
(Formerly in Dunsmuir)

Bell Plastics
2020 National Ave, Hayward, California 94541
(formerly 22314 Mission Blvd)

Chicken Boy
5558 North Figueroa Street, Los Angeles, California 90042


Sergio
560 Gallardo Street, Los Angeles, California 90033


Tony's Transmissions
3900 City Terrace Drive, Los Angeles, California 90022


El Salsero
22800 West Pacific Coast Highway, Malibu, California 90265


93243 California 111, Mecca, California 92254


Muffler Man and Other Giants
Garnet Avenue and Mill Creek Road, Mentone, California 92359


4498 E Hyway 140, Merced, California 95340


Hubcap Lady
Pearson Road, Pearsonville, California 93527


Babe the Muffler Man
808 The Alameda, San Jose, California 95126


11110 Ridge Road, Sutter Creek, California 95642


15237 Sherman Way, Van Nuys, California 91405


390 E Commercial St, Willits, California 95490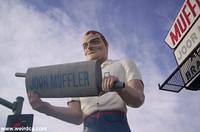 Large giants standing 18 to 25 feet tall litter the highways of America, several scattered throughout California. In the 1960s and 1970s a fiberglass company called International Fiberglass created these roadside giants. In 1962, a man called Bob Prewitt who at the time owned Prewitt Fiberglass created the very first Muffler Man, a Paul Bunyan style giant for PB Cafe on Route 66 in Flagstaff, Arizona. In 1963, Steve Dashew purchased the business from him and until 1975, Muffler Men were churned out by the company, now called International Fiberglass, and appeared on roadways throughout the United States.
The term Muffler Man was coined by Roadside America probably sometime around the mid to late nineties, long after the last Muffler Man was built. Muffler Men are made entirely of fiberglass, hollow, usually portraying a rugged individual with broad shoulders and his left palm face down while the right palm is face up in order to hold an ax, golf club, muffler, tire, etc. They came in a few different variations. All of the below can be found in California with the exception of the Happy Half Wit, which will soon be present here as well.
Classic or Cowboy Type - The classic Muffler Man came with the well known square jaw and was usually beardless although some have had mustaches or beards painted on. This model had a sub type and occasionally came as a cowboy with removable cowboy hat.


The Paul Bunyan - Next, or perhaps first, was the Paul Bunyan model complete with ax, cap, and beard.


The Indian - Giant Indians were also made by the company consisting of a different chest, arms, and heads. The arm instead of bent at the elbows and holding a variety of items had the right hand raised in the stereotypical Native American greeting. The chest was also shirtless and produced from a slightly different mold.


The Happy Half Wit - Finally there was the country bumpkin style of Muffler Man known as the Happy Half Wit, which had the head replaced with a large eared gap toothed straw hat wearing noggin. Until 2014 there were no Happy Half Wits in California, but one recently arrived at the ever growing collection of Muffler Men located in Hayward.


Uni Royal Girls - The Uni Royal girl is the female equivalent of the Muffler Man.
In addition to Muffler Men and Uni Royal Girls, International Fiberglass made a variety of other fiberglass statues including: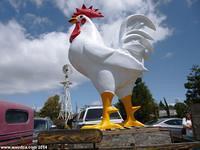 Sinclair Dinosaurs - Sinclair dinosaurs additionally were built and sold by International Fiberglass. Although pretty common in other states, especially Colorado, there are only two Sinclair Dinosaur that I know of in California. The first is located in San Francisco at 1553 Haight Street inside a Shoe Biz store. The second arrived in 2013 and is setup in Lodi at an actual gas station serving up Sinclair gas.


Giant Roosters - at least twenty giant roosters live in California. They are 8 feet tall and weigh about 100 pounds. Several of these giant chickens reside ontop of chicken restaurants in Los Angeles.
Originally Muffler Men were mostly found outside auto shops, restaurants, and later miniature golf courses, but now can be found almost anywhere. Muffler Men in the sixties and seventies cost anywhere from $1000 to $2800 each, depending on quantity ordered and accessories installed on each fiberglass statues. Now a days it is not surprising to see them go for $20,000! Probably, one of the more famous Muffler Men can be seen in the opening credits of the HBO series "The Sopranos". This is an actual Muffler Man from NJ.
There are currently rumored to be 23 unique Muffler Men in California spread amongst 20 different sites. One location in Hayward currently has four different Muffler Men including a cowboy, a Happy Half Wit and two Paul Bunyans! We have gathered pictures of 15 of those 23 Muffler Men!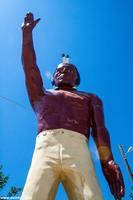 Bakersfield Giant Indian
The only Indian style Muffler Man in California is in Bakersfield. Originally purchased by Ken Barnes in 1965 for the sum of about $1400, it was used to advertise Ken's tire shop, promoting Mohawk brand tires. There it resided in the middle of a roundabout, Garces Traffic Circle, before the tire shop was sold. Afterwards, it then was on display at a local school as the mascot for the Warriors. Eventually it ended up being taken down and stored in a back yard where it wasn't kept up and suffered from vandalism. Now the big Indian resides outside The Corral Café, far across town from its original location at Ken's tire shop. He now resides on Alfred Harrell Highway, a road named after Alfred Harrell, former owner of the Bakersfield Californian Newspaper. It is said that before he was put up at the Corral Café, he underwent somewhere around a $7000 to $8000 restoration to bring the Muffler Man back to the proud Indian he is today.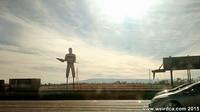 Carson
The Muffler Man in Carson was originally known as the Golf Guy and originally looked like a golfer, holding a giant golf club while he stood in view of the 405 Freeway near the 110 interchange. He use to stand on the edge of a golf course, but the golf course closed sometime around 2013. The location was purchased for the upcoming Porsche Experience Center and the Golf Guy has been transformed into the Porsche Man, complete with a new paint job, new outfit, and a black and white checkered flag instead of his original golf club. His race track driver's outfit is an actual outfit, complete with Velcro and zippers.
Compton
The Compton Muffler Man is a classic style Muffler Man found on the corner of Myrrh and Crane. He is behind a fence and doesn't carry anything in his hands.
El Monte
El Monte plays host to a classic Muffler Man complete with a hard hat and a golf club in his hands. He goes by the name of Edwin and is located within the fenced in area of the business to which he belongs.
Escondido
The Joor Muffler Man lives in Escondido and he has been standing outside the business, The Joor Muffler Service since the 1960s. Unlike a lot of other Muffler Men now a days, the Joor Muffler Man is actually holding a muffler. He also has been known to dress up for both Christmas (in a Santa suit) and Halloween (in a large orange pumpkin). Rumor also has it that he owns a Hawaiian shirt for the hot summer days.
Forestville
Located at River Bend Campground in Forestville, CA (east of Guerneville) is a Paul Bunyan style Muffler Man. He carries what is either a spade or a canoe paddle. And at one time he had a speaker attached to him that use to tell the story of Paul Bunyan.
Hat Creek
In Hat Creek along Highway 89 stands a Cowboy version of the Muffler Men. He stands on the premises of an actual working cattle ranch. He was formerly in Dunsmuir, CA where he stood as a mechanic, but was relocated and transformed into the Cowboy he is today.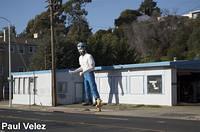 Hayward
The highest concentration of Muffler Men in California is Bell Plastics where since 2011 Bruce Kennedy has been acquiring Muffler Men and giant fiberglass statues in general. Bruce's first purchase was a Hayward native known as Big Mike, a Paul Bunyan Muffler Man originally over on Mission Boulevard. He started his career outside Morris Car Wash, then later Tyre Treds, before being acquired by Bruce.
Since then Bruce Kennedy has acquired the following Muffler Men: a Cowboy last from Missouri, another Paul Bunyan found in storage down in Paramount, and a Happy Half Wit last from Flint, Michigan known as "Hollywood" since he had a cameo in a 2008 movie. In addition to these Muffler Men, he has also purchased and erected in Bell Plastics driveway a Santa Claus, two Doggie Diner Heads, a Gas Giant, an unpainted Bob's Big Boy, and a few dinosaurs.
And he's not done yet! He just recently purchased a Uniroyal Girl in June of 2015 from Illinois and it's on its way to join its fellow Muffler Men in Hayward. This will make the second Uniroyal Girl in California, with the other down in Pearsonville
Bell Plastics also makes Bobble Heads of Big Mike and Cowboy Don. Bruce Kennedy intends to make a line of six different Bobble Heads.
For more info on the Hayward Muffler Men and the collection of other fiberglass statues, see the entry on Bell Plastics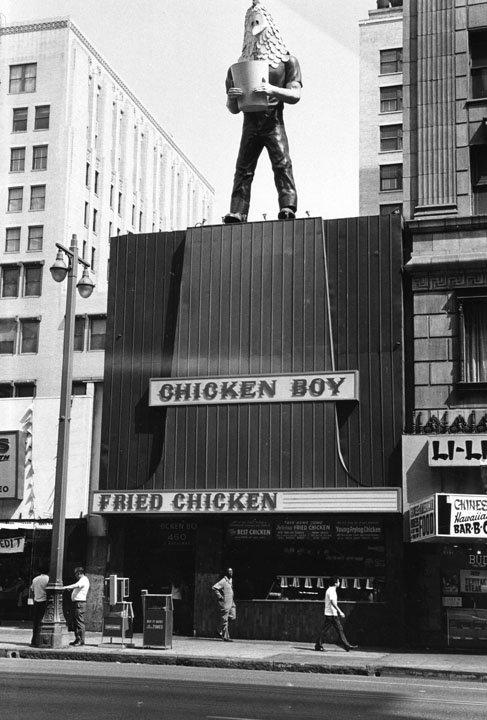 Los Angeles Chickenboy
Many Muffler Men have been customized over the years, morphing from the rugged large men that they were into other tall giants advertising new and different businesses. One such modified Muffler Man is Chicken Boy in the Los Angeles area. Chicken Boy has the head of a chicken and holds a large bucket. Chicken Boy originally stood over Los Angeles at 450 S. Broadway advertising for a chicken restaurant also called Chicken Boy (it's where the giant chicken headed statue gets its name). In 1984 the mutant Muffler Man was taken down shortly after the restaurant closed. It was saved by Amy Inouye who for over two decades held onto Chicken Boy trying to get him restored somewhere. Finally on October 28 2007, Inouye's efforts paid off and Chicken Boy was placed back up in Los Angeles over in Highland Park on North Figueroa. He stands on top of Future Studios. A few groups in the area refer to him as the "Statue of Liberty of Los Angeles". Additionally his birthday is supposedly September 1st.
Los Angeles
Besides Chickenboy, Los Angeles also has Tony of Tony's Transmissions. Tony is a classic style Muffler Man with a slightly darker complexion making him look Hispanic. He sports a bowtie, pencil thin mustache, and is holding up a car.
Los Angeles
Sergio in Los Angeles is a Paul Bunyan style Muffler Man wearing a checker board pattern shirt. He carries nothing in his hands and stands at the corner of Gallardo Street and Mission Road, before a business named Automobile Alley. The entire area nearby him is filled with automobile window tinting places.