Weird California - By Joe Parzanese
Second Home Serpentine Pavilion

Los Angeles, California 90036
(near La Brea Tar Pits)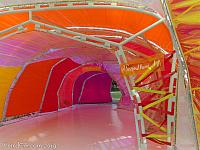 Right next door to the La Brea Tar Pits, on the lawn not far from the museum, sits a rainbow colored iridescent multi hued tent like structure. Called the Second Home Serpentine Pavilion and designed by Spanish architects Lucia Cano and Jose Selgas (called SelgasCano), it will be on display there through November. The space is meant to bring "different people, organizations, and industries [together] in new ways." It is also going to serve as a "love letter to LA, a magical expression of architecture for the whole city to enjoy."
During the day, the sunlight shines through various panels and plastic parts of the "Serpentine Pavilion", lighting it up in a variety of ways that changes depending on the time of day and the weather. At night lights are turned on, illuminating the structure from the inside, making it glow, easily viewable throughout the grounds. The walls are some sort of plastic cellophane like material referred to as fluoride based plastic. The end result is a wall that causes the light to shimmer through it. Additionally, colorful ribbon criss crosses various walls, hallways, and tunnels of the structure.
This is the second time the structure has been built. The first time it was erected in the Royal Park in London. A variety of talks, performances, etc. will be hosted in the pavilion during its time at La Brea.
The pavilion is free to tour, but will only be there through Novemeber. It is open every day, however, from 11am to 7pm, 9pm on Fridays. You can reserve your time if you wish, by getting a ticket ahead of times online. It is advised for days that the pavilion will be potentially busy. The pavilion is scheduled to leave the site sometime in November. There is a parking lot right next to the pavilion, but it is $15 flat to park in it. There were a lot of empty spaces in the parking lot the day I visited, which implies that there might be somewhere else cheaper to park. The pavilion is easily visible from the parking lot.
Closest Weird
Outside Links:
First Created: 2019-10-01
Last Edited: 2019-10-01