Weird California - By Joe Parzanese
Urban Light

5999 Wilshire Boulevard, Los Angeles, California 90036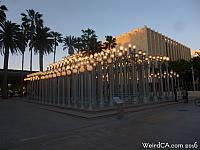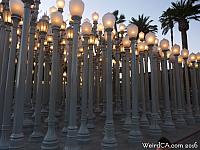 Like trees all planted in nice neat rows, a forest of 202 street lights can be explored outside the Los Angeles County Museum of Art on Wilshire Boulevard. Called Urban Light, this art piece was created by artist, Chris Burden, first being lit on February 7th 2008. It consists of 202 restored street lamps. The street lamps are a mixture of seventeen different styles of cast iron antique street lights, most of them originating from the 1920s and 1930s. Each has been carefully restored. Instead of a straight line like another street lamp themed art installation called, Vermonica, they are organized into a grid, making them into a forest of lights that people can wander past and around in. The lights are all solar powered and turn on at dusk.
Chris Burden, the artist, began collecting the street lamps in December 2000, purchasing the first two at the Rose Bowl Flea Market. The lamps came from downtown Los Angeles, Glendale, Hollywood, Anaheim and even Portland. Burden began placing them in rows around his studio in Topanga and turning them on at night. The LACMA discovered them there and paid to have Burden install his art work in its current location on Whilshire Boulevard.
Urban Light has appeared in at least a few movies including "No Strings Attached" and "Valentine's Day", a commercial, a Tori Amos music video, and even in some television shows. It is an extremely popular location to photograph.
Another art installation consisting of old street lamps is Vermonica. It was installed by Sheila Klein about fifteen years before Urban Light. It only has 25 old street lamps.
Closest Weird
First Created: 2016-04-24
Last Edited: 2016-04-24