Weird California - By Joe Parzanese
Palace Hotel

2 New Montgomery St., San Francisco, California 94105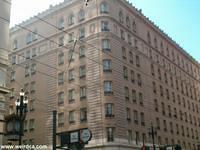 This entry is unfinished, incomplete, or planned for future research. Weird California makes no promise that it will ever be finished and gives no time table for a completion date. Additionally the information below may be inaccurate, incomplete, or just plain gibberish of notes. If you have any information on this entry, please feel free to Contact Us or leave a comment below. Thank you.
The Palace Hotel or the Sheraton Palace Hotel, a Starwood property is the oldest hotel in San Francisco. Although it was opened in 1875, the original building was destroyed by fire after the 1906 earthquake. The current building was build in 1909.
This hotel is best known, however, for the death of President Warren G Harding in 1923.
Closest Weird
Outside References:
First Created: 0000-00-00
Last Edited: 0000-00-00