Weird California - By Joe Parzanese
Maltese Falcon

John's Grill
63 Ellis Street, San Francisco, California 94102


Where Miles Archer Died
Burritt Street, San Francisco, California 94108


Dashiell Hammett Street, San Francisco, California 94108


Sam Spade's Apartment
891 Post Street, San Francisco, California 94109


Flood Building
870 Market Street, San Francisco, California 94102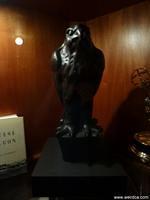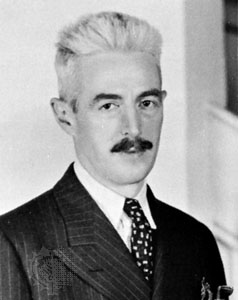 As a writer, you know you've hit it big when not only is there a street in town named after you, but there's also a plaque put up commemorating the location where one of your fictional characters died.
Often called one of the finest mystery writers of all time, Samuel Dashiell Hammett spent some years in San Francisco during the 1920s during which he wrote much of his detective stories. He often used real life places and streets in his stories. Thus the city of San Francisco plays dominantly in much of his writing. His novel, The Maltese Falcon, about a hard boiled private dick named Sam Spade is strongly based in the streets of San Francisco. Sam Spade is hired by a woman to find her missing sister, but soon realizes that she wants him to find a black statue of a bird. Also looking for the bird are Kasper Gutman and Joel Cairo, and the scoundrels will do anything to acquire the priceless treasure.
Multiple San Francisco locations are referenced within the novel. Joel Cairo stayed at the Hotel Belvedere at 501 Geary Street, which is now the Monaco Hotel. Other hotels in the book were based off of other real San Francisco hotels. 891 Post Street Apartment #401 was both Dashiell Hammett's real life residence while he worked on several of his novels, The Maltese Falcon included, but also the presumed location for Sam Spade's home. Today it has been completely redone and restored by local writer Robert Mailer Anderson to look as close to the 1920's apartment that the famous writer lived in all those decades ago. It has a vintage refrigerator, a manual typewriter, a murphy bed, and even the original bathtub and toilet. And, of course, it had a statue of a black bird sitting on the desk near the typewriter. There's even a plaque outside the building commemorating the building as the "Home of Dashiell Hammett and Sam Spade" dedicated in 2005.
Excerpt
Where Bush Street roofed Stockton before slipping downhill to Chinatown, Spade paid his fare and left the taxicab. San Francisco's night-fog, thin, clammy, and penetrant, blurred the street. A few yards from where Spade had dismissed the taxicab a small group of men stood looking up an alley. Two women stood with a man on the other side of Bush Street, looking at the alley. There were faces at windows.
Spade crossed the sidewalk between iron-railed hatchways that opened above bare ugly stairs, went to the parapet, and resting his hands on the damp coping, looked down into Stockton Street.
...
Spade turned from the parapet and walked up Bush Street to the alley where men were grouped. A uniformed policeman chewing gum under an enameled sign that said Burritt St. in white against dark blue put out an arm and asked:
"What do you want here?"
"I'm Sam Spade. Tom Polhaus phoned me."
In return for showcasing the city in his books, San Francisco has immortalized Dashiell Hammett back as well. On January 25, 1988, following a proposal by Lawrence Ferlinghetti, twelve streets has their names changed to the names of various artists and writers. Monroe Street, running one way from Pine Street to Bush Street was named Dashiell Hammett Street. Mark Twain Lane, Jack London Alley, Jack Kerouac Alley and Ambrose Bierce Street were some of the other authors commemorated by having streets renamed after them. Dashiell Hammett even lived on Monroe Street back in 1926 residing at 20 Monroe Street, now called Dashiell Hammett Place. He only lived there briefly and moved on to 891 Post Street afterwards.
At the end of Dashiell Hammett Street, cross Bush Street, turn left. The next alleyway is Burritt Street. Burritt Street is named after Judge Burritt who use to, a very very long time ago, have his farm at the site. Here is the location where Brigid O'Shaughnessy murdered Sam Spade's partner, Miles Archer. There's even a plaque to mark the spot. At the beginning of the alley, look on the right building, and there about seven or eight feet up is a plaque that simply says "ON APPROXIMATELY THIS SPOT MILES ARCHER, PARTNER OF SAM SPADE, WAS DONE IN BY BRIGID O'SHAUGHNESSY". The plaque was installed in 1974 by Marino Nibbi, Quentin Kopp, James Kennedy, Warren Hinckle and Howard Gossage. Judge Burritt must be angry that someone was murdered at his farm's location.
But the main object of note in the novel and subsequent movies is the black bird, The Maltese Falcon. Described by Dashiell Hammett in the novel as a "foot-high figure of a bird, black as coal and shiny where its polish was not dulled by wood-dust and fragments of excelsior." or as Humphrey Bogart playing Sam Spade says at the end of the 1941 movie version "the stuff that dreams are made of".
The most famous replica of the Maltese Falcon in San Francisco can be found at John's Grill on Ellis Street. John's Grill opened in 1908 and was a common spot for Dashiell Hammett to dine at, especially when he worked for the Pinkertons in the nearby Flood Building. So naturally, Sam Spade grabs a quick bite to eat there: chops, baked potato, and sliced tomatoes to be precise. It's on the menu if you wish to dine like Sam Spade; it's lamb chops if you were curious. Also John's Grill has a drink called the "Bloody Brigid".
Excerpt
He called another number and said: "Hello, Frank. This is Sam Spade. . . . Can you let me have a car with a driver who'll keep his mouth shut? . . . To go down the peninsula right away. . . . Just a couple of hours. . . . Right. Have him pick me up at John's, Ellis Street, as soon as he can make it."
He went to John's Grill, asked the waiter to hurry his order of chops, baked potato, and sliced tomatoes, ate hurriedly, and was smoking a cigarette with his coffee when a thick-set youngish man with a plaid cap set askew above pale eyes and a tough cheery face came into the Grill and to his table.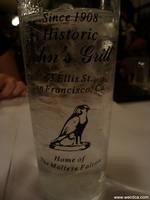 The original owner, John, died the same year the restaurant opened, supposedly struck and killed by a cable car. Now on its fourth owner, also conveniently named "John", the bottom floor's walls are covered with pictures of politicians, police chiefs, etc. The second floor is a Maltese Falcon shrine covered with pictures from the movie, translations and a replica of the black bird locked away, but on display, in a case. The first falcon the restaurant owned was sadly stolen in 2007. Owner, John Konstin, offered up a $25,000 reward, but no one ever returned the black bird. So, regrettably, Konstin had the San Francisco Academy of Art University make him a new replica which is on display at the top of the stairs on the second floor.
However, the first falcon the restaurant owned was also not the real Maltese Falcon. The original movie prop of the Maltese Falcon was on display at the Warner Brothers' film museum in Burbank; its tail feathers are damaged due to Bogart dropping the prop during filming while Sam Spade's secretary was handing it to him. This prop is made out of lead and weighs 47 pounds! It was sold on November 25th, 2013 by means of auction for a total of $4,085,000. Two additional 47 pound lead replicas were also created. One of them is the prop used when Sidney Greenstreet scratches at the bird with a knife near the end of the movie. It was auctioned off in 1994 for $398,500. A resin version was also made weighing just over four pounds. It is estimated that today these versions of the falcon are valued at about two million dollars each.
The movie company made a few Maltese Falcons out of plaster for publicity purposes. Actor Elisha Cook who played Wilma the Gunsel in the 1941 Maltese Falcon movie gifted one of these plaster props to Konstin where it sat on display for years before having its case smashed and being made off with by some low life criminal. So, much like the movie it was made for, the fake Maltese Falcon was sadly stolen (course technically this would have been a fake of a fake, since the real Maltese Falcon never shows up in the story). And now another fake (of the fake of the fake) has taken its place.
If you're looking for other Maltese Falcons, just around the corner from John's Grill, you can find yet another replica Falcon in the lobby of the Flood Building. Not surprisingly, the falcon was owned by John Konstin, the owner of John's Grill, and gifted to James Flood. It is also a copy of the original used in the Bogart movie. Dashiell Hammett worked for the Pinkerton Detective Agency while writing the Maltese Falcon. The Pinkerton Detective Agency worked out of Room 314 in the Flood Building. Hammett had a fictional version of the Pinkertons appear in his writing, known as the Continental Detective Agency, it is featured in several works of Hammett's, involving a private investigator known as the Continental Op.
The Flood Building was built in 1904, on land that the former Baldwin Hotel & Theater had stood on. The Baldwin Hotel, owned by Lucky Baldwin, had been destroyed in a fire in 1898. James L. Flood purchased the land in 1902. It is twelve stories tall containing 293,837 square feet, costing then 1.5 million dollars. Then the biggest building in San Francisco, it was one of the few buildings to withstand the 1906 earthquake. And you might recognize some of the hallways from the Donald Sutherland 1978 remake of Invasion of the Body Snatchers!
But John's Grill and the Flood Building are supposedly not the only fake Maltese Falcons in the city. Just a partial list of potential other falcons includes:
the Hotel Union Square (114 Powell Street) which has its own Dashiell Hammett suite. Dashiell Hammett stayed here with his wife when he first moved to San Francisco.
the Tosca Cafe in North Beach (242 Columbus Avenue). Apparently the statue came with the bar, and the owner does not know where it came from.
the Metreon Movie Theater (101 4th Street) has a Maltese Falcon in the artwork above the concession stand.
So much like the famous story where everyone is looking for the real Maltese Falcon, but no one ever finds it, only finding a fake statue, real life seems to be much the same way, a whole lot of fakes, but the real black bird still eludes San Francisco.
Comments:
Bruce Guelden of Winters, Ca on 2019-07-12 said:

There appears to be a not-too-publicized second office for Mr. Spade. It can be found in Winters, California. See the attached website. https://www.atlasobscura.com/places/sam-spades-office

Scott Sherwood of San Francisco, CA on 2015-01-04 said:

The info on 891 post #401 being the home of Dashiell Hammett is wrong It is apt #406 this is where I live and have done the research and I can tell you its not #401. I am also friends with the manager who originally rented out that apt to the guy that made up that story to make money. My apt #406 fits the description in the book he wrote more so than #401.
Outside Links:
Outside References:
First Created: 2013-07-16
Last Edited: 2018-02-24