Weird California - By Joe Parzanese
Alien Fresh Jerky

72242 Baker Blvd, Baker, California 92309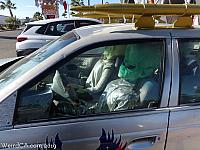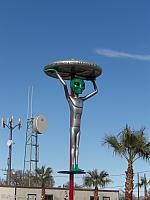 Along Interstate 15 in the middle of the desert, is the small town of Baker, mostly known for it's giant roadside attraction, the World's Tallest Thermometer! But, Baker's list of weird attractions doesn't just include the World's Tallest Thermometer. Equally weird is the official home for Alien Fresh Jerky, a fun little jerky store complete with all sorts of aliens on display.
The store is done up like some giant alien all terrain vehicle ready to explore an alien planet, complete with treads, guns, gears, etc. A flying saucer has landed in the parking lot along with an alien rocket of some sort. There's even an alien car complete with four alien passengers. Garbage cans are all stenciled up with "Alien 51". And all the lights in the parking lot are supported by tall, lanky, green aliens. The building and other structures completely light up in quite a display at night, with multiple colors, twinkling and blinking lights, alien lasers, etc.
Inside, besides dozens of different flavors of jerky, aliens watch over the customers, several trying to blend in by wearing cowboy hats. There's also a variety of alien souvenirs such as t-shirts, magnets, bumper stickers, glasses, etc. to buy. Three different alien fortune telling machines are on display, one being an Alien Trump spouting various Trumpisms. An alien also sits on a bench with arms stretched out ready for his photo op.
Behind the main building sits an Alien Pretzel stand in the shape of some sort of UFO like structure. Aliens sit on top. Behind the Alien Pretzel stand, construction is currently underway on an upcoming alien themed hotel!
Apparently the owner of Alien Fresh Jerky, Luis Ramallo, intends to build a three story saucer shaped hotel in Baker. The hotel is currently projected to have 31 rooms and will cost $30 million dollars. Plans for the hotel include giving visitors the feeling that they are walking through and living in a craft from outer space. Rumors also state that the plans for the hotel have a pool in the shape of an alien's head, themed rooms, dining, and retail space. As of 2020 the structure is coming along nicely, and there are even alien themed "No Tresspassing" signs before the construction threatening your abduction if you continue. If the owner's plans continue, the town of Baker will have even more weirdness.
Alien Fresh Jerky first appeared in Crystal Springs, Nevada in 2000, but was moved to Baker in 2002. The store is visited by hundreds of thousands of visitors a year. The building and other attractions are constantly being updated and added to, making it so that every time you stop by something has changed.
Closest Weird
Outside Links:
First Created: 2019-11-27
Last Edited: 2020-12-19