Weird California - By Joe Parzanese
Sensorio

4380 CA-46, Paso Robles, California 93446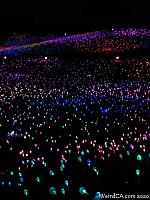 Sensorio is a light installation in Paso Robles on the Central Coast. Properly called Bruce Munro: Light at Sensorio, it has been open since May of 2019. Currently it is expected to be open until September 30, 2021, although it has been extended several times in the past.
Sensorio is made up of two main light installations, the Field of Light, installed first, and the new Light Towers which opened in December 2020. At the time of April 2021, over 200,000 visitors have enjoyed the light installation, which is even more impressive considering that there were several shut downs due to the coronavirus pandemic.
The Field of Light consists of over 58,000 solar powered fiber optic lights that cover more than 15 acres. Each light is a sphere sitting on a stem connected by cables. Paths meander through the installation allowing visitors to take in the colors while on a leisurly stroll. The colored spheres change color slowly over time, causing the field to slowly cycle through a variety of colors, showcasing a literal rainbow of light.
Sensorio was created by British artist, Bruce Munro. Munro is mostly known for these type of immersive large scale light based installations. Before Field of Light at Sensorio in Paso Robles, he set up a similar installation in Australia called Field of Light Uluru. Other past fields of light include ones in Denmark; Albany, New York; Houston, Texas; and Mexico City.
The new Light Towers installation, meant to pay tribute to Paso Robles' collection of more than 200 wineries, consists of 69 six foot tall towers that are built out of 17,388 wine bottles. Each tower has 252 wine bottles and is lit up with fiber optics inside the bottles that change their colors according to the music.
Depending on the time of year, as well as COVID restrictions during 2020 and 2021, the site has also included food trucks, a wine and beer bar, as well as live music. The best time to arrive at the event is before sunset so you can watch the field come alive with colors, as the sun descends into the hills.
Closest Weird
First Created: 2021-05-29
Last Edited: 2021-05-29