Weird California - By Joe Parzanese
Templeton Milk Bottle

309 South Main Street, Templeton, California 93465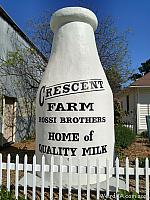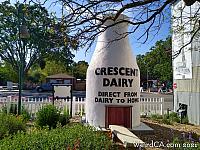 Templeton has a large 12 foot tall milk bottle! It has sat outside the Templeton Historical Museum since December 5th, 2017, but the large milk bottle has actually been around since the 1930s! Originally it was used to advertise the Crescent Dairy Farm located in the area.
Vincente Rossi originally owned Crescent Dairy Farm, named after the crescent shape of the property the dairy sat on. His two sons, Gregory and Vincent Rossi inherited the dairy and farm after their father retired. Gregory Rossi designed and built the giant bottle sometime in the 1930s (probably 1936 to 1938) using lath, chicken wire, and stucco. The bottle is hollow and was used to advertise the dairy for decades, standing first by the old El Camino Real highway and later near Highway 101, sometime in the 1950s. An El Camino Real bell stands to the right of the bottle to commemorate that time.
The front says "Crescent Farm, Rossi Brothers, Home of Quality Milk" while the back says "Crescent Dairy, Direct from Dairy to Home".
The bottle was donated by the McNamara family, and eventually found a new home outside the Templeton Historical Museum after being restored.
Fresno has another, different, more modern milk bottle on display at the Big Fresno Fair.
Closest Weird
First Created: 2021-04-25
Last Edited: 2021-04-25