Weird California - By Joe Parzanese
Mission San Miguel

775 Mission Street, San Miguel, California 93451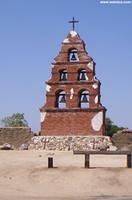 Mission San Miguel located north of San Luis Obispo along highway 101 not only has stories of ghosts, but also buried Treasure. Founded in 1797 the mission is located seven miles north of Paso Robles.
During the Mexican occupation of California, Pio Pico decided to sell and convert most of the missions in California. As a result, the mission was secularized in 1836 and on July 4th, 1846 Mission San Miguel was sold to a man named William (or perhaps John) Reed for the small sum of $250. It was the last mission to be sold, and three days later the Americans invaded Monterey, unfurling the American flag over the capitol. Reed's business partner was a man named Petronilo Rios.
As the gold rush was going on, a lot of precious metal was being shipped up and down the coast of California. Reed set up the mission as a Bed and Breakfast. He required that payment only be in gold, and thus amassed quite a small fortune, which he buried somewhere on the mission grounds. Rumors state that it was at the time worth about $200,000 in gold.
One night in 1848, he was boasting about his gold to the wrong people, some British pirates apparently who were staying at the Mission for the night. Although they left at first, the lure of Reed's gold caused them to eventually turn around and attack, killing everyone at the mission in their pursuit of the buried treasure. They never found it, and were later rounded up by a posse and executed.
The group of murderers included a man named Joseph Peter Lynch who had deserted from General Kearney's command at Fort Leavenworth, and Peter Raymond who was an escaped convict and murderer already, having committed murder and escaped from the gold rush town of Murphys. These two had killed and robbed two Americans of all the gold they were carrying. While at La Soledad Mission, they teamed up with two deserters (one named Peter Quin, the other Peter Remer) from the British warship Warren which had docked in Monterey Bay (some stories have described them as Pirates). Finally, there was a Sam Bernard also known as Barnberry who was accompanied by a Native American boy known as John, who was fleeing the Soledad Mission. This group of outlaws eventually arrived at the San Miguel Mission on December 4th, 1848, and there sold their stolen gold to Reed for about seven dollars an ounce.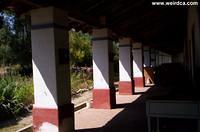 Apparently Reed bragged to the entire group that he had more gold buried on his property than the Native American boy could lift. The group left in the morning after a staying the night in the mission, but soon returned to confront Reed. One of the men, Barnberry struck Reed with an axe, after which John jumped up and stabbed Reed with a knife. The group then went through the Mission murdering the rest of the occupants.
The Wishing Chairs
Legend states that at one time there were two huge chairs made of oak and leather residing in the Mission. One was originally from the mission, the other having been brought in from Mission San Antonio. Each was imbued with magical powers and could grant wishes.
The chair from San Antonio was said to grant good fortune, and people would sit in it and ask for success, good crops, etc. One story claims that a Spanish army captain sat in the chair and realized that he would be needed in one week to save the Mission. One week later, he showed up with his army and arrived just in time to save the Mission from a Native American raid.
The chair from San Miguel would help those who sat in it wish for the heart of their beloved. People supposedly came from all around California to wish for their heart's desire. One story about the chair involved a rancher from Paso Robles named Ramon Vallencia who had fallen in love with a girl from the ranch next door, but although he courted her, she did not return his affection. So Ramon went off to the Mission San Miguel, sat in the Wishing Chair, wished for his heart's desire, and within a few days had secured the hand of the girl. He then went back to the Mission and so no one else could sit in it, destroyed the Wishing Chair.
Sadly the chairs disappeared into history, and no one knows what really happened to them. Think the story of the Wishing Chairs is interesting and hope to find one of the now missing chairs so you can sit in one? Well, think again. Mission historian, Wallace Ohles, has looked into the legend and concluded that chairs never existed, they are simply a legend and everything above isn't true, but at least it makes an amusing story.
All told, thirteen (some accounts say eleven, another states ten although Mrs. Reed was pregnant) people were brutally killed that day including Reed, his families, servants, and his guests. Left in a heap on the living room floor of the mission, they were all eventually discovered by a mail carrier named Jamed Beckwourth, and buried in one large communal grave.
The killers the next night camped near Templeton, at Reed's business partner's place, supposedly to kill him too in order to get to the gold they were still looking for. However, Petronilo Rios had several Native Americans living on his land, and thus the murderers decided against it. After the murderers left, one of the Native Americans discovered that the bandits had accidentally forgotten an earring, which Don Petronilo recognized as belonging to Mrs. Reed.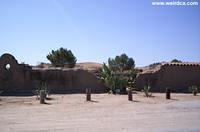 A posse was soon sent after the murderers and confronted them around Summerland, south of Santa Barbara (although some stories say Gaviota, north of Santa Barbara, another says the Ortego Rancho). Some of the bandits were killed, one jumped into the ocean and drowned, and the rest were rounded up, tried and hung in Santa Barbara on December 28th, 1848. Ramon Rodriguez, one of the posse was also killed in the shootout.
The mission was returned to the Catholic Church by the United States government in 1859 although it wasn't until 1878 that a padre was finally sent to the mission. Legend has it that Reed and the other victims still haunt the mission as spirits. If Mr. Reed's gold was ever found by anyone, it was never revealed to the public. Although one story claims that the bandits did, in fact, get a hold of it, and their leader jumped into the ocean with it when the posse caught up to them in order to keep it. He drowned as the sheriff and his men shot down at him. It wouldn't be surprising if the Catholic Church found it on the grounds, and never told anyone. Or it could still be there, waiting for someone to discover it.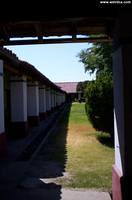 The most common spirit that people see is of a woman in a white dress. Is this perhaps Mrs. Reed? A man in a blue pea-coat has been seen as well and it is documented by the Native Americans from the Mission that Mr. Reed always wore a blue pea-coat. Additionally at least one psychic has had visions of blood and horrible feelings of murder while touring the site. Other ghosts, including one monk, have been seen roaming the Mission's museum's rooms. It is said that the ghosts of the Mission will not rest until they are moved from the communal grave.
Currently, the Mission is, undergoing restoration and repairs after the December 2003 earthquake that occurred only a few miles to the west. After a long eight year campaign much of it has been restored and reopened for you visitors to go through and look at. The convento, museum, gift shop, courtyard, sacristy, cemetery and retreat wing have all be restored and reopened. The friar's residence and retreat rooms along with the friar's library and chapel still remain. You should visit, tour the museum especially the cemetery, and perhaps run across poor Mr. and Mrs. Reed.
Closest Weird
Comments:
Daniel of California on 2016-05-17 said:

I was part of the construction crew at the mission during the earthquake repair/retrofit for a couple of years. During the early phases of the project most of the crew stayed on the grounds at night. There were a couple of guys who claimed to see the lady in white. I never saw anything, but there were times where only 2 or 3 of us were on site, and we would hear footsteps in the hallways. Thinking it was one of the staffers checking on our progress, someone would peek out to see only to find no one in the hallway. There were also a couple instances of tools going missing from empty rooms when no one else was around. As for the treasure, I always figured it was in the cellar. If it was all buried at once, and left alone, it might make sense to bury it outside, but the cellar makes more sense. If you were storing a huge pile of gold at an inn, would you really put it out in a somewhat public accessible area in the yard, or would you use a hole that was already dug, with no public access?

Lydia of San Jose, CA on 2010-07-02 said:

I visited Mission San Miguel with a friend on our way back to the bay area. We stopped because she was taking a photography class and needed some practice. While she was busy taking her photos I ended up wandering over to the cemetery. I was walking through and started feeling an overwhelming sadness. Okay, yeah, cemeteries are sad but they don't usually bother me and it's not like I knew anyone burried there! It took a lot to keep myself from sobbing out loud. I also became increadibly weak and dizzy. Then I got the worst headache. I really thought I was going to pass out so I went back to sit in our car. I had plenty of rest the night before and after we left the mission I was just fine. I felt this huge sense of loss and misery. I think the word I'm looking for is despair. I'll never forget that morning for as long as I live. Half of me would like to go back and see if the feelings return but the other half is a wimp and that's the part that's winning out.

Joe of San Miguel, CA on 2010-05-30 said:
A. Landers of Los Angeles, California on 2009-01-09 said:

I was always a fan of the Missions of Ca. but had little experience with San Miguel. In September of 1990 I was going to San Francisco with a school friend and made a point several times to him that we needed to stop at Mission San Miguel on the way as I hadn't been there since I was about 4. When we reached it there was about an hour before closing. At that time the parking lot was still dirt and we parked near the fountain. I didn't know why at the time, but a feeling of repulsion mixed with dread came over me. I just could not get out of the car. My friend Steve kept asking me why we had stopped if I didn't intend to tour the place, and I couldn't give him a clear reason. No matter how I tried to get myself motivated to go inside, I couldn't do it. We left and when he asked about stopping on the return trip, I flatly refused. About a year and a half later I was reading a book of Mission ghost stories and legends when I read about the San Miguel massacre. I was stunned to say the least and immediately thought back to that day I stayed in the car and how I felt. I knew that this was what I had unknowingly been picking up on. I have to say I felt super creeped out upon reading the story, even though I have dealt with the supernatural all my life in one form or another. I have been back to San Miguel in October 1999 and felt virtually nothing that day, but there's always the next time. Definitely a vibe there.

Shandi Sanders of Atascadero , California on 2008-07-08 said:

I live not to far from the mission, the locals also say that at night you can see little white lights floating around. Its pretty scary. I never knew there was missing treasure though, thats cool.
Outside Links:
Outside References:
First Created: 2012-07-05
Last Edited: 2012-07-05