Weird California - By Joe Parzanese
Windmill Themed Denny's

7 East Huntington Drive, Arcadia, California 91006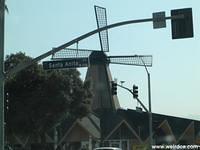 In Arcadia, east of Pasadena, near the Santa Anita Raceway sits a Denny's with a large windmill sprouting out of its roof. The building was built in 1967 by architects Harold Bissner and Harold Zook. It was the first Van de Kamp's Holland Dutch Bakery to feature a windmill. Sadly in 1989, Denny's took it over and stopped the windmill spinning. Now it is also the last of the windmill restaurants to survive from the former chain, and probably also the last surviving windmill topped restaurant in all of Southern California. It has a neat ruffle collar roof beneath the windmill. Happily, the windmill was started up again in 2016, with Denny's paying $100,000 to install a new motor, some reinforced blades, and even lights as the structure now lights up at night.
Comments:
Mark Tierno of Monrovia, CA on 2011-12-28 said:

Being a resident of the city next to Arcadia, and having grown up there, I was a kid when that windmill was built, so here is the complete history... Built around the late 1960s as a Van De Kamp's restaurant, originally the windmill actually did turn. then when Van De Kamps sold out the restaurant and Tiny Nallor's took over, the windmill was tied down and the motor never started up again. Later, Denny's ended up with it and in a later redecorating decided to keep the windmill due to a lot of local protests about our landmark. The current Denny's owners probably don't even know how to turn on the motor that spins the windmill.

Hector of Los Angeles, California on 2007-12-29 said:

There was actually more of these windmill Denny's. In the 90's, in Monterey Park, CA east of Downtown Los Angeles, on Atlantic Blvd near the 60 Freeway entrance, the Denny's there used to have a giant windmill on top of it. It was strange, until the late 90's, they tore it down and just left the Denny's by itself.
Last Edited: 2016-07-03