Weird California - By Joe Parzanese
LA County Arboretum

301 N Baldwin Avenue, Arcadia, California 91006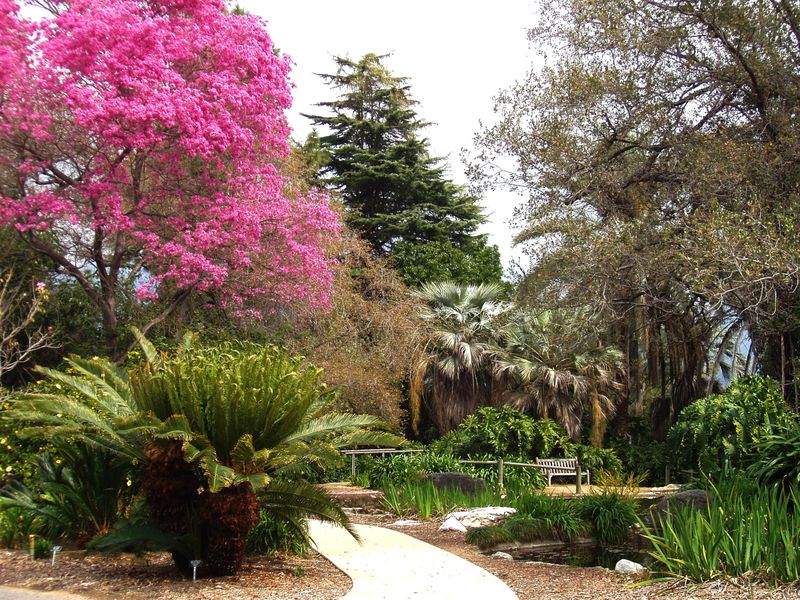 Da plane! Da plane!" Spoken by Hervé Villechaize, these words often started every episode of the Aaron Spelling TV series, Fantasy Island. Ricardo Montalban played Mr. Roarke and the above words were spoken by his assistant as visitors to the island arrived.
In real life, Mr. Roarke's home was not on some secluded fantasy island, but in the Los Angeles County Arboretum and Botanical Gardens near Pasadena and Arcadia off of Highway 210 on Baldwin Avenue. The Arboretum is a 127 acre garden and historical site started in 1947. And before Aaron Spelling executive produced the adventures of Mr. Roarke, the house was used by Chief Buffalo Child Long Lance in 1932 to commit suicide.
Chief Buffalo Child Long Lance started off as a reporter writing about Native American tribal legends and traditions. He was also out-spoken in his criticism on how the government treated Native Americans and about the plight of his people. He also wrote an autobiography in 1928, claiming to have been born a Blackfoot Indian in Montana. In 1929 he starred in "The Silent Enemy", a movie which tried to realistically depict Native American tribal life.
However, for all of his self promotion as a Native American, the dearly departed Chief was not born one, but instead was born Sylvester Clark Long to ex slaves in 1890 in North Carolina. This fact was exposed by a Native American adviser during the filming of "The Silent Enemy". Chief Buffalo Child Long Lance was never the same after his secret was exposed. Many of his friends and fellow socialites abandoned him and he eventually took to drinking too much. Finally in 1932 at the Baldwin's home, he took his life with a bullet to the head.
However, the story of Chief Buffalo Child Long Lance doesn't end there. His ghost continues to haunt the location of his death and there have been several reports of people seeing him.
Supposedly many people in the cast and crew of Fantasy Island have seen and even spoken to Long Lance. He has also reportedly even shown up as an extra in a crowd seen on the show.
The Arboretum has also been used for Tarzan movies, Jurassic Park, and Anaconda.
Closest Weird
Comments:
Pamela of CA on 2018-05-09 said:

I was lucky to grow up, and reside in the LA County Arboretum from 1957 to 1982. This garden paradise was adjacent to my family home, located on Old Ranch Road, the original entrance to the Baldwin Ranch Estate. Every day I spent a lot of time in this wonderland, and I knew everything about Lucky Baldwin's Ranch... Although I never saw ghosts anywhere, I felt I was not alone... Actually, I always sensed a loving benevolent presence watching over me in the garden, particularly at the Queen Anne Cottage, which I considered my own home. Was a ghost living in the cottage? Well, I did feel the essence of a lovely Victorian lady, (perhaps Lucky Baldwin's wife Jennie, or Lillie), who was always, in spirit, present... When I was a little kid, she seemed like an invisible friend, and whenever I think about the cottage, I wonder about her... I remember this magical beautiful garden world with so much love and gratitude... In the late 1880's a visitor once described the Baldwin Ranch: "The scene is one of fairy like loveliness; not only the little bijou residence,(Queen Anne Cottage), and its surroundings, but the entire estate..." How deeply I miss this magical realm...

jerry avalos of duarte, CA on 2016-02-03 said:

I PRESENTLY WORK THERE AS A SECURITY GUARD...MY JOB IS TO ACTIVATE AND AT NIGHT DEACTIVATE.ALARMS.OPEN AND LOCK AS WELL..IM AT PEACE WITH MYSELF.AND AM A CHRISTIAN MAN.I NEVER HEAR OR SEE ANYTHING...WEIRD.LIKEWISE TO EVERY WHERE ELSE IN THE ARBORETUM. I THINK IF YOU WANT TO BELIEVE.IN THE UNKNOWN.AND LOOK FOR IT.THE MIND IS TRICKY.YOU WILL FIND IT.

Denise of Livermore, CA on 2012-03-27 said:

My husband I were there in Oct. 2011. Several weird things happened in the barn, like my husband watching the scale rock back and forth for over 5 minutes, and when we stopped it, it started again on its own (could be from people walking but if you saw how high it swung...), but best one for me was after my husband left the barn; I left the middle of the barn toward the west entrance and I heard a man's voice in my right ear say, "Don't go". It was so loud and distinct, I thought someone was standing next to me, and I immediately turned in a complete circle to see if anyone was near me. I was the only one in the barn at the time. There was an older lady just stepping out of one entrance and a young lady with a stroller just coming in the other. It was a trip.

Ed of Monrovia, CA on 2007-06-13 said:

To Susan: the horse neighing could have been from the Santa Anita race track that houses some horses across the street from the arboretum. The water I don't have an answer to.

Susan of Los Angeles, California on 2007-04-27 said:

Took my first grade class to see the gardens today and saw something weird....In the heat of the da, (90degrees today) when walking out of the coach house, saw what looked like water evaporating - lots of it - as I got closer, it just went away....Later, one of my female students kept telling me over and over - different times of the day - that she heard a horse neighing, but there were no horses near by....Went to the web to see if the coach house or house close to it was haunted.....First time I've ever experienced anything like it - could be an easy explanation.....Anyone? Anyone?
Outside References:
First Created: 2006-11-15
Last Edited: 2006-11-15