Weird California - By Joe Parzanese
Pasadena Parrots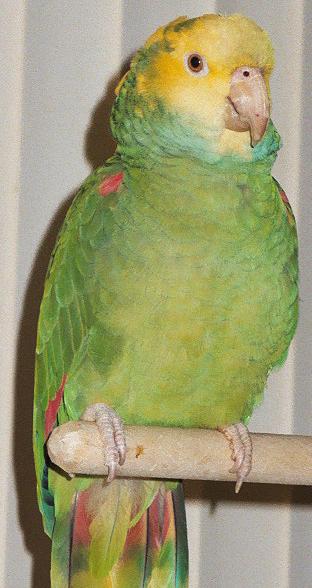 Shocking as it may seem, Pasadena is home to hundreds of parrots.>
The popular theory is that a they came from Simpson's Nursery in east Pasadena on East Colorado Blvd in the Lamanda Park area. It caught on fire in 1969. (Alternately I've seen Simpson's Gardenland and Bird Farm and it burnt down in 1959) Either the parrots were released to save them or they managed to get out in time. From these parrots, the Pasadena Parrots came about. Other stories claim that the parrots have migrated up from Mexico but others still state they were originally black market birds released by smugglers .
Although no one seems sure how they actually ended up in Southern California, The Parrot Project of California has identified at least five and maybe even ten different species in southern California. The different species even inter-breed at times. Pasadena's website states that they are yellowhead amazon parrots, an endangered species that has been kept as pets for decades because they are some of the best "talkers" amongst the many different species of parrot.
Comments:
jane of altadena, CA on 2013-05-19 said:

We now have 7 of these beautiful parrots in our trees. They stayed all day and then in a flash I saw about ten fly away and then a minute later another 10. So guess we had more than we thought. Has been fun watching them.

Carol of Coeur d Alene, Idaho on 2013-04-27 said:

April 26th 2013 in Bakersfield Ca. Stop at grocery and hear the cacophony of birds and realize they are parrots. At least 30 of them jockeying for position in the palms. Probably more. While watching them in awe a security guard flew by chasing a girl who'd shoplifted something. Wild!

Emily of Irvine, CA on 2013-04-10 said:

We have seen them in Orange County down in Irvine. The flock is small, but they do come. I love it. It reminds me of my childhood, living in San Gabriel Valley

farrell holtz of monrovia, ca. on 2013-03-03 said:

I see these birds in Arcadia where I work. I see them all over SGV. I love that they are wild & free.

anonymous of Alhambra, Ca. on 2013-02-20 said:

They arrive early in the morning, & leave in the early evening. They're very colorful & beautiful! One morning, dozens were perched on the electrical lines in back of our house. Some came down over our back lawn to eat things in the grass. Some have crossed the border from Mexico, taking residence in Southern Ca. We love these birds, even though they ARE noisy.

Frank Miramontes of Whittier, CA on 2013-01-31 said:

They come out to my neighborhood, probably twice a month. They are beautiful birds and our family enjoys watching them.

Kellie Heatherly of Denver, CO on 2013-01-22 said:

I lived in Pasadena and went to PCC from 2000-2002. We lived on Bonnie, off Colorado just up from the school. We had those parrots in our trees all the time. My mom and I always thought it was sort of cool (she is a bird watcher). Glad to see they are still going"

Elizabeth Tatum of Pasadena, CA on 2013-01-09 said:

There are actually about 13 species of parrots & parakeets established now in souther Cal.

jessica lord of south pasadena, CA - California on 2013-01-08 said:

I saw about 100 of them in a flock flying out of a tree in South Pasadena. They were very loud and "talking". I was amazed. This was my first sighting!

Andrew Riffel of Monrovia, CA on 2013-01-07 said:

I was just walking near my house and saw dozens of beautiful green parrots (or maybe cockatoos?) with red heads flying around. They seemed so beautiful I thought perhaps they'd all escaped from a zoo or pet store. Looked it up online and found this website. They're still at it, guys!

Daniel Mishkit of West Hollywood, CA on 2013-01-03 said:

OK...three years later 12/2012 outside my condo in West Hollywood in the palm tree across the street. The squawking continues....I think they are following me.

Dave Klein of Valencia, CA on 2012-12-16 said:

There were about 50 of those green parrots that flew into a tree right in front of Macy's today. When they swooped in they shook a lot of the leaves off the tree.

Cindy of Newbury Park, CA on 2012-12-13 said:

I think the parrots are wonderful and beautiful. They may be loud but I run out to see them in my tree everyday. I think its just amazing that they are living wild and doing fine right here!

Sal of Long Beach, California on 2012-11-29 said:

I consistently film flocks of every currently active california parrot species. For current videos and footage of these birds feel free to visit a Youtube channel known as Californiaflocks. Thanks

Martha of South Pasadena, CA on 2012-11-20 said:

My dad, who turned 90 this year, was the insurance adjuster who handled this fire claim in 1959 and says the cages were opened during the fire so the parrots could escape and survive. He was working for Liberty Mutual at the time.

Kyle of Pomona, CA on 2012-11-15 said:

Saw them this morning. Was about 7:20 AM, was about to head off to work. Saw about 50-80 of them flying over. They are quite loud and obnoxious. Literally waking me up at times in the wee hours of the morning. I can never get a good look at them but I don't doubt they are the parrots. I just see huge groups flying over at a time.

Unknown of Torrance , Ca on 2012-11-12 said:

Saw them in Torrance ca this morning

Sol of La Verne, Ca on 2012-10-28 said:

Today @7:30 Til 8:30 am. They are flying around and around near 3rd street and Bonita and White Ave. They are noisy and Annoying wish the city would do something to capture them and take them to an area in the mountains or something. Out of the city ! They have been here for over 5 years they are getting over populated !

Ceci of Pomona , CA on 2012-10-25 said:

There are literally 100's of these beautiful birds that fly over my house just east of fairgrounds morning and night. They seem to fly back and forth. It takes about 45 mins for all of them to fly to their roosting tree in the evening and I go outside to watch them everyday. Love it!

julie taron of encino, ca on 2012-09-23 said:

In Reseda we have flocks of wild conures. They're noisy! They fly from tree to tree, usually they perch in the palm trees.

Jenny of Lemon Grove, California on 2012-09-13 said:

Just had a medium sized green one fly over my head squawking in Lemon Grove.

Ananymous of Pico Rivera , Ca on 2012-09-06 said:

Flock of Green parrots about 30-40. I cannot Beleive that parrots do fly free in the city. I really do think we are doing great in our efforts in all our ecofriendly edeavors to see rear birds fly free and not in our cages.

Anonymous on 2012-09-04 said:

There are a couple dozen of these green parrots living in large, leafy tress in the Oleander area of Bakersfield.

Leo of South Pasadena, CA on 2012-08-19 said:

These beautiful birds wake me up every morning around 6am. They come back at sunset to say goodnight.

Anonymous of Panorama City, CA on 2012-07-22 said:

There is also a flock of about 15-20 parrots in Panorama City. They like to fly into the really tall trees of the neighborhood and squawk a lot.

Andrea of Alhambra, California on 2012-06-18 said:

These gosh-darned birds love to drop parrot bombs all over my car when I park underneath a particullar tree that has orange seed pods. And then they sit there and laugh, squawk-hahaha, squawk-ha!

Emily & Tina of Covina, CA on 2012-05-22 said:

We just moved here from Las Vegas, and this story came to light when we saw a bunch of parrots squawquing on the telephone line behind our house. It's amazing to see this website and we run outside every day we hear them...they come around 6 pm...love it!!!

Jim Carter of Riverside, California on 2012-03-11 said:

I work in Orange County and the city of Orange has a very noisy flock that I see (and hear) fron time to time.

Richard of Glendale, California on 2012-03-02 said:

I just saw hundreds of parrots fly over the Glendale City Center, at about 6:15am.

Wendy L of Glendale , CA on 2012-02-19 said:

The parrots have arrived in Glendale! I've seen them fly overhead the past two nights and this morning they were hanging out on the power lines next to Glendale High. They are LOUD little suckers :)

ParrotTracker of Pasadena near Singer Park, CA on 2012-02-05 said:

They've been waking us up near Singer Park this month. I think it's less than a dozen.

Phil of Burbank, CA on 2012-01-30 said:

A huge flock of maybe 100 of them have been flying in trees adjacent to Porto's in Burbank this morning, off of N. Hollywood Way and Magnolia. They are all green with yellow heads and really loud. You can here them from inside the building where I work

J of El monte, California on 2012-01-20 said:

The parrots fly routinely through temple city and el monte at sunset. I also actually heard them right now.

Cassie of Burbank, CA on 2012-01-19 said:

Saw and HEARD a whole tree full of these beautiful birds about 9:30 am this morning here in Burbank. 1/19/2012

MJB of Highland Park, CA on 2012-01-18 said:

About 50-60 parrots flying around my place in Highland park. Seems to be hanging out for the day

Anonymous on 2011-12-19 said:

approx. 150 parrots in north pasadena 7:30 am 12/19/2011

mark santoro of claremont, california on 2011-11-14 said:

For the last couple of weeks about 100 parrots have been flying around in Claremont and constantly making loud bird noises

Mike Knox of Pasadena, Ca on 2011-11-02 said:

I recall four green parrots on San Pasqual, near Cal Tech College, in the 1980s and a large red Mccaw that people kept trying to capture. Over the years the group grew to 16, 24, you get the picture.

Janice of Reseda, California on 2011-10-30 said:

I've seen the green parrots every year for the past 10 years in the very large tree in the yard next door. The flock is about 50 to 80 strong and very loud. I look forward to watching then every day while they are in the backyard. Some mornings they wake me up. When they take flight the noise and the sight is wonderful.

Carlos Ramos of Los Angeles-East LA/Monterey Park and Rosemead, CA on 2011-10-27 said:

I was born and raised in East LA. Parrots make great pets and I grew up having parrots. We would occassionally see parrots flying around the neighborhood, but just thought they had escaped. Not until recently, my fiancee at the time, lived in Rosemead, CA and I noticed the flock of parrots flying all around the San Gabriel Valley Area. These parrots have migrated and expanded to several places in Southern Calif. I've witnessed them as far as South LA (I work as a teacher there). I love seeing them and am in awe to see them flying around freely. My first reaction was to try to catch them and cage them. But, seeing them flying and squawking, makes me appreciate them more.

Steve Herrera of Reseda, California on 2011-10-25 said:

Flock of about 40 or 50 keep flying around my neighborhood. Just landing on big leafy trees. Very cool. Leaving food out hopefully they find a home here to stay.

Anonymous of La Verne, Ca on 2011-10-23 said:

I saw these birds in la Verne on 10-23-11. There was about 50+ parrots, I'm glad to see birds still can fly freely it was great.

Jack of South Pasadena, California on 2011-10-20 said:

I hear hundreds of these green parrots EVERY afternoon around 5-6 p.m. and EVERY morning (anywhere from 3 to 9 a.m.).. always multiple times a day. They flock to the trees right outside my house and the Calvary Presbyterian church off of Fremont and Oxley. Sometimes they are SO loud, it stops people from walking, driving their cars, or dropping their kids off at the church's school. It's pretty cool to see them and I've grown used to it by now, but WOW.. when they leave, it's like someone literally dropped a thousand white or brown paintballs on the cars parked up and down the street.

Margie of Boyle Heights/East LA, CA on 2011-10-08 said:

IToday 10-8-2011 just herd that flock of parrotts my husband and my 8yr old daughter kept talking about that fly over this area. I herd them and ran outside to my amaze to see a flock of these parrots...hum......

Annonynous from Gale Ave. of Hacienda Heights, Calif. on 2011-09-17 said:

It is a cloudy Saturday morning. This is the first time I see a green parrot in my backyard ash tree. I've noticed them in town since last February. I recognize the squawking from my job in South Pasadena (same birds).

Rich Martinez of Pasadena, CA on 2011-09-07 said:

About 10 years ago, I found a yellow headed amazon on out front lawn and it appeared to be injured or sick. I captured it in a box and fed it fruit and nuts for a few days and we came quite attached to eachother. Within a week, I was hand feeding the bird we named Puka. My two children and I became very fond of our "pet". We made several attempts to let it go back in to the pack of Pasadena parrots but it always wanted to come back to us - landing on our arm! After 8 months of attempting to release this bird to freedom, Puka finally met a mate -so as we know, and and sad at was, he was gone, as he should be - in the wild - with all his friends and family! oh those great memories of a great pet!

Karen of Lakeside, Ca on 2011-08-24 said:

I couple a weeks ago I noticed some very loud sqwaking outside of my window in the morning.I'd never heard birds make that noise around here before. Then yesterday morning I heard them again I went to my balcony and saw a bunch of green and red birds hanging out in the trees in front of my apartment. I was definitely surprised, I had no idea there were tropical birds in SoCal. Even though they are very loud I kind of like them.

Eunice L. of Alhambra, CA on 2011-08-24 said:

The large flock of all-green parrots are loud but I no longer see pigeons or crows! Interestingly, one parrot sits on the telephone line (as a lookout) for about a minute just before sunset when they return to a large tree next door..then all retire for the night! Rather cool!

Nicole of Burbank, CA on 2011-08-13 said:

There is a flock of about 15 green parrots in my neighborhood in Burbank. They've been hanging out on the wires behind my house. It beats the pigeons that were here. Very noisy but beautiful!

Dave of Panama City, Fl on 2011-08-10 said:

I lived in Pasadena when the fire in the late sixties happened. We used to visit the pet shop almost weekly. I became very attached to a macaw that was kept inside the building along with several other birds, reptiles and fish. The macaw was very vocal along with the myna bird. The majority of the parrots that were for sale were kept outside in large iron cages. when the fire swept through the building the fire dept were barely able to get the cages open to the birds outside. unfortunatly the animals inside perished. I felt like I had lost a friend on that day and still remember it like it was yesterday.

Elizabeth Tatum of Pasadena, CA on 2011-06-30 said:

This is a link to the latest updated Parrot Project site. http://californiaparrotproject.org Apparently, no single event caused the parrots to arrive here, but many early arrivals were escaped (illegal) pets, etc. They have bred since then, of course; and can survive because we have so many non-native plants here. I think they are beautiful and I like the noise.

rose of los angeles, california on 2011-06-08 said:

these beautiful green very large parrots are flying from tree to tree on my block there must be at least 100 or so and they fly in groups and are very loud realy something to see

heidi of bakersfield, california on 2011-06-08 said:

the parrots in bakersfield are green color with a red beak. Medium size and I have several pictures of them. About 40 parrots stop to eat from my sunflower plants this month.

Anonymous on 2011-06-06 said:

Yes, it is cool at first to see something unexpected, like 28 green parrots sitting on your neighbor's roof and the telephone pole across your yard, but after moving to Highland Park 5 months ago, these loud birds are almost unbearable! Every morning at 5:15am I am woke up by all sorts of birds squaking. Why didn't anyone tell me I was moving into an aviary? Do they stick around all year??? Hopefully, they migrate further south for the summer/ winter!! Please. . .

Anonymous on 2011-05-25 said:

They gather in a tree near our bedroom window and squawk obnoxiously before the sun even breaks the horizon. If this keeps up they are going to get a 12 gauge breakfast. I also once saw about 20 of them marching across Huntington Drive, holding up traffic.

Bill C. of Las Vegas, NV. on 2011-04-22 said:

I used to live in Pasadena and many would fly over...same stories as to their release..Park near Santa Anita is open to them...Get Calif to pass a law protecting them..there are people who can catch them with food or certain nets laid out and pulled in....Pass a Law to protect them NOW...call your representive..

Susan of Pasadena, California on 2011-04-18 said:

As I write this there are about 6-7 of these large beautiful parrots in the huge tree in my front yard!!! I love it! They have been staying there for about two weeks now.

Sandy of San marino, Ca on 2010-12-24 said:

We were driving on Huntington drive in San Marino on dec 23 2010 and saw a very large flock of red headed parrots in a tree. I would estimate 30 to 50 birds and they were extremely loud.

I also saw a previous poster mention a white cockatoo siting in so pasadena in the mid 80s and we saw one in our backyard near the Huntington library at the same time...

Richard of La Verne, CA on 2010-12-13 said:

I just saw a flock of these beautiful birds fly over my house just north of the pomona fairgrounds. They were also very noisy as they went by.

Jim of Cucamongaon 2010-12-11 said:

I heard squacking this morning, I thought it was crows, but went outside and and in our tree was at 20 parrots...really cool site!

Sean of Pasadena, CA on 2010-11-09 said:

There are about 100 of these parrots that are green with a red patch right above their beak that show up to my house every morning right around 8 am to eat the fruit in the trees around my house. They're the perfect morning alarm....

Nadyne Wiggins D'Antignac of Upland, CA on 2010-10-28 said:

As a Pasadena native, I have seen the green parrots since the early 1970's when we used to have "Smog Days" and John Marshall would close during 1st Stage smog alerts. According to my mother, the birds were released during a fire at a pet store in the late '50s. Now as I drive the hellish commute along the 210 from Upland to Burbank, I get all nostalgic when I see the birds! By the way, what is the average life span for wild parrots??

Darlene of Bakersfield, Ca on 2010-09-28 said:

They are wonderful birds. I watch them all the time. They fly south at night and north in the morning. I just love watching them. they are beautiful birds. I'm curious where they come from. There are more and more every years.

jasmin of LA, california on 2010-07-28 said:

omg these f**cken birds fly around my grandmas house in the spring and it's not just one or two there are always like 20 or 30 AND THEY ARE LOUD!

dan gen of lakeside, california on 2010-07-27 said:

At 7:am on July 27th 2010. Witnessed over 50 - 100 of these parrots. Litteraly a tree was filled with so many it seemed like leaves blowing

YVONNE of FULLERTON, CA on 2010-07-23 said:

MY BOYFRIEND AND I HAVE SEEN A FLOCK OF 20+ GREEN PARROTS IN THE FULLERTON AREA. IT WAS UNBELIEVABLE AND AWESOME.

MMac of Reseda, CA on 2010-07-22 said:

I have heard a flock of loud, "squeaky" birds flying over my house in the mornings and evenings for months now. I never got to see them. This morning they are hanging around in the large trees near my home. They are green and some have yellow tails, very parrot/keet beaks. They are VERY noisy!

Jas of Burbank, CA on 2010-06-20 said:

Today seven green Amazon parrots are from a fruit tree near my home in Burbank. It was cool. My only other encounter was in Malibu. They were green too but the ones in Malibu had black beaks. The ones today in Burbank had light brown beaks.

birdwatcher of San Juan Capistrano, California on 2010-05-24 said:

There was a small flock around here this week.

T. McKiernan of La Crescenta, CA on 2010-03-31 said:

I live in La Crescenta and there are at least 20 parrots in our area. It is wonderful to hear them in the morning.

V. G. of Burbank, CA on 2010-03-02 said:

We have a lot of Parrots in Burbank. What is funny is seeing them scare away crows.

louis of anaheim, california on 2010-03-01 said:

well over here in anaheim we have parrots too, can they be the same ones?

F.I. of Rocklin, CA on 2010-01-14 said:

I think allot of the internet data on the date of Simpson's burning down is incorrect. I wasn't born until 1961 and used to visit Simpson's reguarily on Sat. mornings with my dad to see the parrots. I think the date would have to be 1964 or 1965.

Daniel Mishkit of Woodland Hills, CA on 2009-12-30 said:

There were about 30 parrots in the tree out front of my house off Topanga Canyon just south of Ventura Blvd the evening of 12/28/2009 through the morning of 12/29/2009, making a hell of a racket!!

Bill of Rancho Cucamonga, Ca on 2009-12-13 said:

My wife and I first encountered the parrotts at the Hunnington Botanical Garden in 2007. They have now made it to Rancho Cucamonga. My wife works in Pomona and has heard and seen them in the afternoon as they are on the return trip presumably to their home in the Pasadena area. We were delighted to see them and of course hear them in our neighborhood.

Rob of Pomona, California on 2009-11-15 said:

Our quiet Sunday morning was enlivened by the loud squawking of at least 100 Mexican red-headed parrots, filling the branches of several very tall trees in our neighborhood, and lining up on the power lines. We have never seen anything like them in our area... how beautiful and full of life they are! The noise they make is indescribable.

craig of pomona, ca on 2009-11-12 said:

these past two days in a row the parrots have flown into my neighborhood. I live just east of the pomona fairgrounds. they have visited in the morning and evening. very cool. they seem to avoid my pine trees and hang around in everybody elses trees.

Elizabeth Tatum of Pasadena, CA on 2009-11-10 said:

I believe the movie that someone mentioned is "The Parrots of Telegraph Hill" - so moving and fascinating! I grew up in Pasadena and I remember seeing parrots in the 1980's, but just a few. Now there are hundreds (at least 13 species in the state)! I see more in November and again in the spring than other times of the year; but I see at least a few year-round. They fly north every morning towards Altadena, and then back south at night to wherever they sleep. According to the Parrot Project (really great website), the original birds were usually imported from South & Central America and some escaped. The ones now are mostly descendants of those birds. And sometimes there is a cockatoo hanging out with them - which is probably someone's escaped pet.

Elisabeth Sadler of Burbank, CA on 2009-11-06 said:

Everyday I see flocks of several dozen green parrots. They fly very fast and in formation and they like to sit in the large trees on my street. I saw them today chasing a mockingbird; which was interesting because mockingbirds are usually aggressive themselves.

Gary of Campbell, California on 2009-10-14 said:

The Parrots in Campbell, Ca. have grown I would 8-10 now and large. Although squaky they are beautiful.

Anonymous on 2009-09-03 said:

Wish some people would get their facts straight, that's how rumors/gossip/urban legends start ..... Read this re: parrot project. http://abcnews.go.com/Technology/story?id=119786&page=1

Joan Birdwell of El Cajon, CA on 2009-08-14 said:

The parrots seemed to have disappeared for a while. I really missed them and began to wonder what might have happened. They are back in El Cajon again. I love to listen to them from an open window in my house. What a treat. A little bit of tropical in the Cajon Zone.

Evelyn C. of Atwater Village in Los Angeles, 90039, California on 2009-06-30 said:

There are about 10-12 that have been flying over my house for a week. They probably migrated down from South Pasadena. They come from that way and go westbound towards the LA River & Griffith Park. They are so loud that I can hear them coming before they fly over my house. They stopped once and roosted on the Carrotwood trees that line the sidewalk and were feasting on the seed pods. They left a prodigious poopy mess on my car parked underneath. 2 days ago they chased some big black crows, boy was it NOISY!!!I was excited to see them, I tried to track where they went, but since they fly so low, i can't see past the roof/treetops after they get a distance away.

sumit of rosemead, ca on 2009-03-26 said:

this time of the year, parrots ( i am quite sure they are from south pasadena) have started feasting on fig palm tree that lies just at my gate. recently, i discovered that these parrots dexterously mangae to cut open the pig palm? and extract seeds, tiny black, with such precision. i tried to open the fig palm? with teeth and it wasnt easy to open.

p of Northridge, ca on 2009-03-21 said:

I think they're from the former Busch Gardens in Reseda/Van Nuys. They hang around Mid-Valley a lot.

ray peck of El Serino, CA on 2009-03-19 said:

Green Parrots arrive every morning at my house. They start by eating fruit from a fig palm and then move over to my backyard to eat the red/orange flowers from a tree that has these flowers in the spring. There are usually about 10 pairs of the parrots and they stay together as pairs but leave in a large flock after feeding and grooming.

K. Victor of Pasadena, CA on 2009-03-01 said:

We have a parrot that is hanging out outside of our house that seems to be mimicing the sounds of a rainforest. Seriously its just one bird but he makes like 30 different noises! Crickets, song birds, monkeys! It pretty cool actually except he keeps it going ALL night. I wonder if he grew up in the rainforest.

Martin of Pasadena, CA on 2009-03-01 said:

Five or six dozen parrots flew overhead at about 503pm in a southeastern direction on Sunday, March 01, 2009. Near Jefferson Parkin Pasadena, CA 91106—approximately next to Hill Avenue and Villa Street. These were in a large swarm. Yesterday, Saturday February 28, 2009 the same flock flew by at about 515 pm in the same Southeastern direction. Although the number of parrots was in two grouping of about twenty each. Genus Amazona (aka Amazon Parrots) I have seen these parrots for about twenty years. They sometimes land on a persimmon tree during the early winter went it bears fruit. But their favorite spot is a pecan tree; it is huge (maybe 80 feet in height). They crack open the pecans and make a real raucous. They are a delight to see. Lately, they have been competing with crows for the pecan tree.

Reni of Whitmore, California on 2009-02-20 said:

When visiting with my brother and his wife at their home in the foothills of Monrovia, a raucus screaming splits the air early each morning, announcing the arrival of the lime green bombers. Diving through space in tight formation, the birds enliven the sky with their antics for less than a half an hour before they move on, purportedly to someone else's fruit trees. I love the show, and it does make one feel as if somehow they have been teleported to somewhere very south of the border.

Natalie M of South Pasadena, California on 2008-11-24 said:

Our neighbor has a kumquat tree and every summer the parrots love to sit in it. Last year we had more than 100 parrots in the tree and the phone lines!

Jacques of South Pasadena, CA on 2008-08-04 said:

We get visits from these parrots all the time, typically three times a week!. They're loud and noisy, but definitely a sight to behold. One time I even discovered a broken egg shell from on of their nests on my driveway! Beautiful tropical birds here in So. Cal, who would've thought.

Anonymous on 2008-03-02 said:

Around 1985, I saw a very large white cockatoo on a power line overlooking the McDonald's in South Pasadena. I assumed it was just an escaped pet. Anyone else ever saw it? I wonder how long it remained flapping around?

Anonymous of Temple City, CA on 2008-01-11 said:

There are always at least 30 of them (green one) sitting on the power line right outside of my house. Making some loud noises. It's quite an interesting site to see that marry carrots in SoCal. My colleague's version of the same story mentioned the carrots came from a pet shop in Long Beach.

Star of San Jose, California on 2007-11-18 said:

There are quite a few parrots in Northern California, too. Besides the numerous ones in San Francisco, there was a flock of about a half dozen Red Lored Amazons in Campbell, CA , and they were breeding. I saw babies with short feathers. One of the adults was one that had gotten away from a neighbor.

Carlynne Allbee of Lakeside, CA on 2007-03-08 said:

The parrots do very well in So. California. Besides the flocks in Pasadena and San Diego's Point Loma area, east of San Diego you can find parrots in Lakeside and El Cajon. Often at rush hour as you drive through the eastern end of El Cajon, you can hear the large flock as they fly to their roosting trees along I 8. If you work or live in El Cajon, you can almost tell time by their daily routes, appearing at one place at 4:30 every day for example. The local hawks seem to leave them alone.

Skip Smith on 2007-02-07 said:

There's a movie about a flock of parrots in San Francisco you should mention here too!

c demos of Santa Fe Springs, CA on 2007-02-07 said:

San Diego, CA has a HUGE parrot population. They've actually have taken over the privilage of sitting on the phone wires from the local birds.
Outside Links:
Last Edited: 2006-11-15