Weird California - By Joe Parzanese
Nitt Witt Ridge

881 Hillcrest Drive, Cambria, California 93428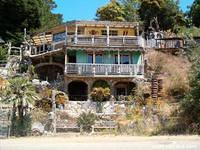 Nitt Witt Ridge once owned by Art Beal aka Captain Nitt Witt or Der Tinkerpaw is a historical site in Cambria, California. Art Beal spent much of his time (about 51 years) building Nitt Witt Ridge, which was his home, out of junk and other materials that he was able to scavenge up. Bottles or cans make up the walls, toilet seats operate as picture frames, and sea shells are decorations. Despite the construction materials, a rather large and impressive house was built.
This poor man's Hearst Castle consists of a multiple layers of gardens and junk constructed buildings. There are a variety of stone arches, random lawn ornaments, and paths criss crossing back and forth on the hill that holds the house. Art Beal even created working fire places and water systems. Beer cans, abalone shells, car parts, and possibly even materials taken right from Hearst Castle make up the bulk of the building materials. The house includes multiple guest rooms, a balcony on the main house, a work area, a bathroom with two toilets facing each other (for the couple that prefers to go at the same time), an outdoor patio with what may have once been a fountain, and a variety of other bizarre and peculiar constructs.
This entry is a work in progress.
Closest Weird
Comments:
Wendy Stevens of Ventura, California on 2015-07-12 said:

We toured this last year! I had been wanting to go inside since I was a little girl. Misty's comments are correct. One interesting fact: the hand rails are made of pipe that used to have water flowing through them so that the man who lived there, I forget his name now, he could have water at every level of the homestead. I encourage you to go on the tour, it is pretty amazing!

Misty of Clovis, CA on 2012-06-20 said:

This place is amazing! We were able to go on the tour last year, and it's indescribable. The house sits on a pretty steep hill. It's got an amazing view, and toward the top of the property, it is said that about 20? feet of garbage lay underneath the ground. If ever you happen to get the chance to tour it, please do. It's a $10 donation per person and they show you a video and you get to walk around. There is still even stuff of the original owners in the kitchen cabinets and rooms. An experience you'll never forget.
Outside References:
First Created: 2006-06-10
Last Edited: 2006-06-10