Weird California - By Joe Parzanese
Tahoe Tessie

Lake Tahoe, California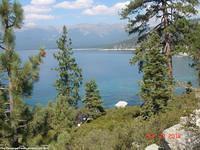 Much like Loch Ness, Lake Tahoe has its own water monster and it's called Tahoe Tessie. About half a dozen sightings occur every year. This has led to a museum and even a phone hot line to be established in the area. Local Indian legends have long spoke of monsters in the lake and some other theories point to a giant sturgeon perhaps inhabiting the dark areas of the water.
Lake Tahoe is an extremely deep body of water, getting to 1,645 feet, thus making it the perfect place for sea monsters to lurk and hide. The reports of Tessie are mostly of the sixty foot serpentine variety although several claim Tessie to be a giant fish, hence the sturgeon theory. The first rumors of the sea creature came from the Indians that lived in the area - the Washoe and Paiute Tribes.
It is said on the internet that Jacques Cousteau, French Oceanographer, explored the depths of Lake Tahoe in the 1970s. Cousteau apparently encountered something so horrible, that he claimed the world was not ready for what was at the bottom of the lake. He subsequently refused to release any of his underwater footage or any of his data. There has been no credible source or evidence to lend credence to this fact, and the bit of urban legend could originate entirely from the internet.
Cave Rock is a large rock formation along the southeastern shore of the lake. It is easily visible from most of the lake. Once part of a volcanic vent, the caves were created by the constant pounding of the lake's shoreline crashing against the rock walls. This happened about three million years ago when the lake was much higher in elevation of course. Cave Rock has been reported to be sacred to the Washoe Indians. Rumors of the tribe throwing their deceased off the rock have circulated and this has led to ghost stories about Cave Rock mostly concerning several spirits performing tribal rituals. Supposedly you can also see a lady pictured in the rock formation. Called the Lady of the Lake she is gazing out at the lake and is best viewed from north of the rock, in the morning or early afternoon hours. Lastly Cave Rock is suppose to be situated above the underwater lair of Tahoe Tessie.
Lake Tahoe seems to have its share of ghosts. Periodically, there are even reports of a young woman dressed in fine clothing from the late 1800's floating just below the surface of the water. Additionally, the only island in the lake, Fannette Island is rumored to be haunted by the ghost of a hermit named Captain Dick Barter.
Comments:
Meghan of Washington, DC on 2017-08-23 said:

Hi everyone. I'm a researcher who wants to hear your Tessie stories. I'm working on a documentary series and would love to feature your encounters. Please contact me at inemeghan@gmail.com. Thanks!

Christine Trice of Sacramento, CA on 2016-09-13 said:

I've been trying to find similar stories & sightings for Pyramid Lake as my husband & I had a very close encounter back 1995. We were jet skiing pretty far out into the middle of the lake. It was very windy, so windy in fact that a couple small fishing boats capsized. As jet skiers we loved the larger wakes. My husband's ski had taken in some water & stalled out. We floated for a few mins probably about 10 or 12 feet or so apart from each other. All of the sudden a creature surfaced in between us! It was very dark greenish/brown, like the color of kelp or even of the water itself. It was scaled like a reptiel & the scales were large, probably the size of my hand or larger. We never saw a head or a tail. It was SO surreal & terrifying. It seemed to happen in slow motion. The body surfaced in an arc & continued to just go & go. It was probably a good 3 feet above the water yet the underbelly never surfaced so not sure what the girth was. It nearly touched both of our skis from either of its sides. When it first started to surface it created a large wave that made us swoosh out even further from each other, but I swear I could have reached out to touch it! My husband tried frantically & was finally able to get his ski started. We both stood up on our skiis & head back to shore without looking back. When we took off, the creature was still in motion. When we reached the shore we told our friends what we saw. They were Reno natives & said that was probably Tahoe Tessie. The worker in the Native American center at the lake said he'd never heard anything about a large lake creature. I swear I'm not making this up!

Tony of Placerville, Ca on 2015-08-22 said:

We saw a large black something coming back from Carson City in Oct or Nov of 2010 ,There were two large shiny black twisting? Body parts sticking out of the water,it's head,tail and middle were below the surface,the parts we could see was 15-20' long each, we were on 50 just came out of cave rock,we pulled down into the parking area and really you couldn't see it (very well) down low,there were only a couple of cars in the lot,it was clear as day,the lake was like glass,not a boater or swimmer in sight,just seemed to be sitting there or possibly moving sideways slowly out into the middle of the lake,had a scrappy flip phone back then and I couldn't see it in the image window, very strange,very cool, don't know what it was,I know it wasn't a fish,watercraft or swimmer, my wife who doesn't believe in any of that kind of stuff is the one who spotted it first..that's our story.. thanks

Katie of Tahoe, California on 2015-07-14 said:

I think tesse is a large alagator gar. A gator gar is a large predatory fish that lives in the us. It can get 30 ft long and it looks like a gator mixed with a fish. I've never seen tesse but the gator gar is large, looks like a serpent, and fits the descriptions of the monster.

bchorng of Fremont, California on 2015-04-21 said:

July 24, 1991 my family were at the vista point of Emerald Bay when we heard other people shouting and pointing. I turned my head toward the direction and saw a huge "black body" flipping over the surface, moving below the waterline for a few seconds, then diving down. I can see the lighter gray color of the belly. My mother-in-law was at a higher position and clearly saw a giant giraffe like animal sticking its head above the water for a very short moment. We went to ask the other folks (tourists from Germany) and they said the same thing. It sounds ridiculous but that's what we all saw. I don't care what that is. There is a huge animal living there!

Tony of Los Angeles, CA on 2014-07-14 said:

You think Tahoe Tessie is fake your wrong I saw her when I was on my jet ski something hit it and I fell off I looked under water and found that there was an liopurerodon(what Tahoe Tessie is)she was black and 80ft and swam like a fish it was the scariest time of my life

Deborah of Clovis, California on 2012-08-05 said:

I saw her on Aug. 3rd 2012 I call her Tessie the Gintle Giant of lake Tahoe.(She is NOT a monster) My husband and I were on the sail boat sunset cruise, as the sun was going down, I looked and saw a very tall object with a long face long neck reaching above the water, long like a very big python, with two humps behind it, as I was looking it was not looking at us but she knew we were thier. I felt so much peace from her, it was so weird I knew that it was a she and she would not harm anyone or anything. I was the only one that saw her, that I know of, I didn't hear anyone say anything and I had never heard of Tahoe Tessie befor. The next day i was wathing tv on what to do on the lake and thier was a girl asking people if they new or heard of Tahoe Tessie and at the end of the interviews a person described her and I knew she was not my imaginatin or my eyes playing tricks on me. Then I started asking around about her, I could not wait to get home so that I could go on line to see what other people saw and how they described her. As soon as I got back to our room the next day I told my husband about what happend and drew a picture of what I saw. I know she is real, and I know what I saw, I also see that she is running out of places of where she can go to be at peace and quiet in the summertime. She gives us our space we should give her, her own space also.

terry of glenbrook, nv on 2012-08-03 said:

I live right next to cave rock and go kayaking right here quite often. I don't know what I saw but my boyfriend an I were in a cove a couple hundred yards out from the shore right around the corner from cave rock. I was looking towards the shore and saw a wake headed towards us. At first I tried to rationalize it away thinking it was just a wave created by a breeze coming off the mountain top. It was a little breezy but nothing significant. My theory soon changed as it stayed in formation and continued towards us. I did have an underwater camera with us but was not about to stick my hands under water after seeing this. It continued on and swam directly in front of us out towards the middle of the lake. I may have been able to see it had it been close enough to the surface since the water is so clear but the two of us were frozen in fear and it was not right on the surface. In order for something to make that large of a wake and be at least a foot under the water it had to be something pretty sizable. The wake also did not come to a point in the front. Honestly I know I can't just assume it was Tessie but you can make up your own mind as to what it could have been.

hans of carson, Nevad on 2011-11-19 said:

I was diving off cave rock with my good friend Mike Nelson. We were both using A semi closed rebreather system...hence no bubbles. The dive was uneventful for the most part. we had been down for about twenty to twenty five minutes..the visiblity was good... and the surface was clear with no other divers or boats in the immediate area. I was moitioning to Mike that we should go over to my left.. when I saw something that I have never seen before. My first impression was that it was a rather long log/ pole the circumference was and this is just an estimate was about 6 to 7 ft about 2 and half feet through coming towards us. I mointioned to my partner to turn the around pronto as his back was to him/it in very short order( blink of an eye) I could see it was an animate object...I would say first contact sighting was at 100 to 130 feet away. It was closing fast...I had two underwater flares with me which I don't normally carry, I struck one and it reacted immediately by going straight down and under us.I would put the length at easily 60 to 70 ft I would say that it past under us at a depth of 50 to 60 ft. I have been diving for over 45 years...I have never seen anything like that in my life. I would like to tell you that I was not affected by it but that would be untrue. My heart was in my throat though neither of us did not panic ,I can tell you the adrealin was flowing. We slowly and guardly left the area and curtailed our dive for that day. I can tell you this we both had a couple of adult beverages after the dive. what it was I cannot defintely say, but I can tell you it was alive...it was moving underwater at a high rate of speed and it's my guess that it definetly attined it's size on something more then marine plant life.

Jim of Truckee, CA on 2011-11-11 said:

We took our boat out of the Coast Guard dock at Lake Forest on an Easter Sunday around 1990. Flat, calm, clear, no other boats in sight. Off the Old Chart House, a wave began to really rock the boat. The wave was a vee, at the origin I thought I saw two dogs swimming. We turned towards them. As we approached, the two objects, black and shiny, rose to about three feet high, about the diameter of a telephone pole. They were moving away, and each looked like a single water skier trying to make a deep water start, with water spraying up and to the sides. They then abruptly submerged. We criss-crossed the area, but saw nothing further. Whatever it was, it was not the wind nor our imaginations.

RLB of Nevada on 2011-04-24 said:

I always have and always will believe that, even though I have never seen a sea creature like Nessie, Tessie, or even Champ, Each one is a(or the same) form of a Plesiosaur. Even if it was a dinosaur, The Flood did not necessarily wipe out all sea creatures. And if the Chupacabra, and even the Coelacanth can still live, so can the Plesiosaur.

Dan Pursley of Napa, CA on 2011-04-21 said:

In the summer of 1982, my Wife and I had stopped are 22-foot boat to sun ourselves in Lake Tahoe, CA. We were about 400 yards from the shore near Emerald Bay, My wife climbed out to the bow of the boat and held on by holding the windshield behind her. I laid out across the seats. The water was very still and smooth as glass. About five minutes or so later, the boat began rocking as if it was being hit by a boat's wake speeding by. I sat up but saw nothing around that could have caused this disturbance. As I looked at the water around are boat, there were large air bubbles surfacing. I felt this was rather odd as I am an experienced scuba diver and they didn't appear to be bubbles coming from a diver's scuba equipment. Then in the water five feet away from the back end of the boat, I spotted the largest fish tail I ever saw. It was slowly submerging in the water. The whole scene was like a slow motion movie. I jumped up and told my wife to get back in the boat, as we had to leave. She asked, "What happened to you? You look whiter than a ghost." I didn't tell my wife what I saw until we got back to shore, nor did I tell anyone else except a few close family members. In the years that passed, I began looking through every book I could find that had pictures of fish tails. I found nothing that resembled what I saw.. Then I began looking through dinosaur books with no luck. Finally, I heard about a catfish society in Nevada that published articles about experiences other people had with unusual fish. I learned that long ago when Indians lived in the area, they would talk about a great fish. Many people believed it was a large Sturgeon. What I saw, however, was no sturgeon. In fact in my opinion, what I saw was nothing like anything that ever existed before. It was longer across then the entire back of my boat. It was 10 to 13 feet across with smooth dark green skin and as the tail submerged in the water, it flipped towards the boat opposite to the way a whale's tail flips. To this day, I cannot understand how something so large could swim so close without hitting my boat and outboard moter. I remained quiet about this incident until now for two reasons: one, it was not worth hearing the skepticism, ridicule and disbelief of others; but most important, the grate fish, which I called Jupana, did not harm me. why should I chance harming him by revealing his whereabouts? I have a drawing of the Tail...

Melissa of South Lake Tahoe, California on 2011-03-24 said:

A couple years ago I went to the beach and I was on my way back to the car, but I forgot my flip flops and the sun going down when i realized there was a dark shadow and I looked up and there was A LOT of bumps! Then I thought to myself to grab my PHONE and snap a photo! I took a blurry image, but you can clearly see that there is a lot of humps and a dinosour like head. I always wondered what i saw that day and I always go back to Cave Rock every year in hopes of catching Tessie AGAIN!!!

Claudia of South Lake Tahoe, California on 2011-03-24 said:

I know this may sound crazy,but have you ever heard of the ledgend that there is human remains at the bottom of the lake? Due to the mob.

Melissa of South Lake Tahoe, California on 2011-03-17 said:

I would like to say that Tahoe Tessie is REAL!! I lived here ALL my LIFE!! So the rest of you are just ametures!! And I saw Tahoe Tessie while driving to Carson City.I was about to go into the tunnel,but we stopped at Cave Rock.Then we saw Tessie..and that is all ther is to it!And Tessie is said to live or lurk around the area of Cave Rock!!! Also I would recommend you to tarvel here and while you are here you may get a chance to see Tahoe Tessie for yourself!! And also while your here you should visit The Thunderbird Lodge. It is Soooo Amazing!!! With secret passages and EVERYTHING!!

Debbie jr. of Oakland , CA on 2011-02-17 said:

i have never heard anyone call tahoe tahoe tessie. i've heard that the floor of lake tahoe is a volcano and the reason it is so blue is because it is too cold for bacteria. which leads to other rumors of dead bodies preserved at the bottom of lake tahoe. there is proof that people have been thrown in the lake, the chinese people who worked on the railroads where killed and disposed of in the lake instead of being paid, there is criminal history and with that comes murder, usually. on a tour at the Cal-Neva resort they say there is an elephant, cars, and boats. i guess that rumor makes sense because it is so cold that bacteria doesn't decompose the bodies so they aren't filled with gas and rise to the surface. i read online that recently people have drowned there and never resurfaced. i have also heard that there are underwater caves that are connected to pyramid lake in nevada and that some murdered victims have turned up there. there is alot of proof that all of these rumors are not true also but i think it's kind of a cool thing to believe and fun to research online. every summer i've spent in tahoe is enjoyable and there is something strange and beautiful about tahoe that is hard to understand

Sharon of Incline Villageon 2010-12-24 said:

I've lived in Incline for thirteen years and have never seen Tessie. I HAVE seen those weird wave phenomena that look like a bunch of humps, one after another in the water, but you can tell when it's waves, if you stare at it for a while. I've also seen some pretty enormous fish in the lake and think the idea of Tessie being a huge sturgeon is plausible. Tahoe is big enough to be home to something that large. And in response to an earlier comment that Tahoe is partly man-made, that's only the top six feet of the lake; even without those six feet Lake Tahoe would be enormous.

N of H, Nevada on 2010-11-28 said:

Sorry to debunk some myths but I have lived in the Reno/Tahoe area since I moved here in 1976 (either at the lake or within 20 miles). I am very interested in the history of our area. And I was once a tour guide at the lake... whether that helps any creditability or hurts it!

Lake Tahoe was primarily formed 2-3 million years ago by faults and geological shifts, etc. so NOT MAN MADE and really not a crater lake. You can check: tahoe.usgs.gov/facts.html for facts.

It is the largest alpine lake and second in depth in N. America at 1645ft to Crater Lake in OR (a lake formed by a volcano.. and a true crater lake!)

Tahoe Tessie was more of a fun "monster" story. Any sightings have said to probably be old Lake Sturgeons that where accidentally introduced to Tahoe when they Makinaw Trout were introduced in the late 1800's. So, yes several fish have been introduced to the lake. But Sturgeon have been known to live long (up to 80-100 years!) and are bottom feeders that rarely come to the surface. So at an average depth of 1,000ft well below a fishing depth. And it is said if they do come to the surface, they can have an odd jump in the air so maybe this could be the sightings!

And finally, unfortunately, I don't think Jacques Cousteau ever studied Lake Tahoe.

Sorry to be a Party Pooper!!

hmedina05 of TX on 2010-08-06 said:

Has anyone ever thought about the fact that Jacques Cousteau may have been talking about something other than this "Tessie the Sea Monster"? What if what he found down there were thousands and thousands of skeletal remains? Something like that would require a definite investigation. Do you think the world would be ready for something like that? Would you still swim in that water knowing there were thousands of human remains in that lake?

Amber Rose Starr of Carson City, Nevada on 2010-07-18 said:

I have lived in the Carson Valley for 20 years and have always heard the storys. I never rule anything out but never believe it until I see it first hand. Well, I am a student at UNR and last year I seen a cast of a fossil of a extinct sea creature that roamed the waters of the west coast. This animal is called a Hydrotherosaurus alexandrae. In my opinion it looks exactly like the Tahoe Tessie and with it habitating the west coast, why could it not still be surviving in the isolated depths of Lake Tahoe. Check it out, its worth pondering.

Kim Dash of Seattle, Washington on 2010-06-09 said:

Really you guys? First, Lake Tahoe is partially man-made, and practically all of the marine life has been imported. Secondly, I have personally swam in Lake Tahoe every year, for the last 9 years, and never had such an incident. Thirdly, considering Lake Tahoe is a tourist area, and people usually have their cameras or phones with photo capability, why wouldn't you take a picture? If I ever saw such a thing, I would whip out my blackberry and snap a photo. Considering some of you even claimed to have seen the monster for 5+ minutes, there would be no excuse to say "but then he disappeared!" This is a fun myth, and the idea of "Tessie the Sea Monster" is cute for toys, memorabilia, whatsover, its obvious that everything written on here is fictitious. But it's fun reading your comments!

Ashley of South Lake Tahoe, California on 2010-02-03 said:

I live in slt and in the summer i go to a condo in kigsbury which you could see the whole lake and it was pretty calm but i was terrified when i saw IT!!!! IT was big no huge serpent just like the loch ness monster but different colors green black and brown IT was huge and i thought IT was coming at me.... Come visit South Lake Tahoe,California and experience IT

Eric Rife of Spring Valley, CA on 2009-12-15 said:

I love this story about Jacques Cousteau! We're supposed to believe that one of the great oceanic explorers of the 20th century would try to HIDE the discovery of a new life form?!?!?!?

Holly of Tahoe City, CA on 2009-12-13 said:

I was born in Truckee and moved to Tahoe City a year ago. During the summer 09 my boyfriend, son and I decided to go to the beach at Kings Beach. On the way there before passing Tahoe Vista I looked down towards the water and saw large humps in the water moving in a circular motion, the water was still with no waves. The humps were dark in color like a brownish dark green, I didn't see a head or a tail, but I'm sure it wasn't a fish because there were no scales and I have never seen a fish of that size or shape in Tahoe. I would compare the size of the humps to those like a big anaconda. I have lived here forever and been to Lake Tahoe many times and have never seen anything like it. I truly know that there is something in Lake Tahoe that has not yet been identified.

Rick Osborne of Sacramento, California on 2009-10-15 said:

Myself, along with 3 others watched a large serpent-like creature feeding/hunting in a school of large trout. It was in the middle of winter of 1979 off the dock at Homewood. It was about as big around as a telephone pole and maybe 30'-60' in length from what we could see of it. It didn't swim like a snake (side to side). It was diving up and splashing down with it's head/neck? into the school of fish, which were leaping out of the water ahead of it. We were speechless for several minutes afterwards.

John of orlando, fl on 2009-08-23 said:

The stories of Tessie are so popular in this area that the lake is now known as "Tahoe Tessie". http://www.monsterssightings.com/lake-monster-sightings/tessie-lake-tahoe.html

Kelsey of Santa Cruz, California on 2009-08-17 said:

I went to Tahoe with my friends and there family in June 09. We were all swimming in the lake and while we were all swimming back the group got ahead of me and i was swiming back by myself. While swimming i felt a forcefull pull on my leg. I began frantically flailing about and got lose from whatever got ahold of me. i look down to see a big long snake like creature swimming off at high speeds. i didnt get a good look at whatever was on me because i was caught by suprise and was freaking out. i know for a fact that this creature was the tessie and i am thankful to be alive today.

Bob of Gardnerville, NV on 2009-06-28 said:

June 2, 2009 about noon. My wife and I were adrift about 1 mile from shore. We saw two eyes come out of the water, they were moving fast and pushing water. They stayed on top for about 50 feet and went back under. They were about 2 feet above the water and about as thick as my arm. Color brown and black eyes.

Rachel of Incline Village, NV on 2009-06-17 said:

There is absolutely NO documentation to prove that Jacques Cousteau ever visited Tahoe, much less that he said we weren't ready for what lies at the lake bottom. His grandson visited in 2002--that is the only proven Cousteau connection.

Ingrid of Studio City, CA on 2009-04-19 said:

My aunt and I witnessed Tessie this morning about 300m offshore at Edgewood Golf Club in S Lake Tahoe. The morning was perfectly still and clear; the lake was glass. There were no waves, barely even lapping on the shore, and the only boat out there was some 5 miles or more away. Suddenly a wake churned up, which caught my attention, and I looked out and saw her - four dark blue humps still against the water. No head or tail though. I want to believe it was Tessie but, like all other sightings probalby are, it was the generation of standing surface waves from the collision of air and water currents. They appear still in relation to the surface of the water, and in this case the set was drifting very slowly south to north before it stopped (or sank beneath the surface). Regardless of what it really was, it was a magical experience of the power of Nature.

Samantha of Incline Village, Nevada on 2008-12-27 said:

About five years ago, my family and I were out boating for the fourt of July. That night as we were watching the fireworks, I heard something swimming next to the boat, and I felt the boat shake from the waves. I looked over and saw a long, serpent like creature swimming by the boat. After I stared at it for a few minutes, it disappeared under water. My mom and step brother saw it as well, and had I not seen it myself, I wouldnt have believed it. I didnt know of Tahoe Tessie at the time, but now I know that's what it was

Cathy of California on 2008-09-21 said:

I saw Tessie 10 years ago while on vacation with my family. I was the only one to see, and my family still laughs and doesn't believe me. Oh well.

Barry of California on 2008-09-18 said:

I saw and watched "Tessie" for 30 minutes from the highway on the East side of the lake. I originally saw it swimming while I was driving, not sure what I was seeing, I pulled over to get a better look. It wass all black in color, very much serpintine shaped, like a giant snake. I estimated the length to be 50-60 feet. It just floated in the shallow water maybe 50 to 110 yards off shore like it was sunning itself. Then it made like a snake and swam off to deep water and disappeared. This happened in 1992, and I had a friend with me who saw it also. If I hadn't seen it with my own eyes, I would not believe it.

Jack of Kings Beach, CA on 2008-05-18 said:

I've lived in Tahoe for over ten years and this last month was the first time I saw anything. I was above Incline Village on a stormy day. There was nothing and no one on the lake, except a periscope-looking object on the lake. Then it dipped underwater and disappeared. I sat there looking at the lake for an hour afterward, with not so much as a ripple on the lake. I thought it was myth and played along; now I'm a believer.

Megan of Minneapolis, MN on 2007-11-15 said:

I've been to Tahoe a few times... I love it. The first time I saw Cave Rock, I was overwhelmed by the spirits there. I said to my mom, wow lots of spirits here. It was an experience I will never forget.
Outside References:
Last Edited: 2006-06-12