Weird California - By Joe Parzanese
Cambria Scarecrows

Cambria, California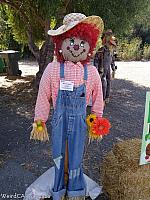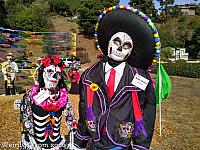 Around the end of September, scarecrows begin appearing in the towns of Cambria and San Simeon, and from October 1st through October 31st, the entire town of Cambria, along with parts of San Simeon are infiltrated by spooky and lovable scarecrows. Scarecrows in all shapes and sizes, of all themes and genres, some scarey and some humorous. They greet people, standing silently along Main Street and in other parts of town, all the way until the end of October.
Called the Cambria Scarecrow Festival, for over a month, the small town has its population increased by hundreds of the crafted scarecrows. Originally starting in 2009 with thirty scarecrows, the festival has increased in size each year. Scarecrows of all shapes and size stand along the streets. There have been scarecrow nuns, scarecrow pirates, scarecrow pizza makers, scarecrow mermaids, scarecrow Wizard of Oz characters, and the list goes on and on. Even a scarecrow Snoopy and a scarecrow Pop-eye have been on display.
Scarecrows can mostly be found along Main Street in Cambria, with additional scarecrows standing scattered around town, including along Burton Drive, in Fiscalini Ranch, and over by Moonstone Beach. San Simeon also gets in on the fun with some scattered scarecrows awaiting visitors there, as well. The Festival also starts with a kick off party in the beginning of October.
For 2020, due to the pandemic, the scarecrows weren't scattered all over Main Street, but instead grouped into four main locations in Cambria and one in San Simeon, although there were a few scarecrows still hiding out in the wild.
So, if you're driving along Highway 1 in October, make sure to get off the highway at Cambria and cruise down Main Street to enjoy all the fantastic scarecrows lining its sidewalks!
2021 Festival
2020 Festival
2014 Festival
But some of the scarecrows return to town for Christmas. At least two scarecrows have popped up in town, complete with a winter scene. Christmas trees, presents, and the two scarecrows stand proud, representing the other holiday.
Closest Weird
Outside Links:
First Created: 2014-10-10
Last Edited: 2021-10-20