Weird California - By Joe Parzanese
El Fandango Restaurant

2734 Calhoun Street, San Diego, California 92110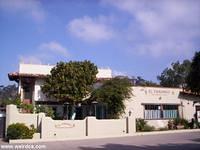 Located in Old Town, San Diego, this Mexican restaurant is named after the tradition of lavish Fandango parties thrown by rich families to celebrate special family events. It is also haunted by the ghost called the White Lady.
The El Fandango Restaurant was built on the site of the Machado home that was destroyed by fire in 1858. Jose Manuel Machado, the patriarch of the Machado family was one of the first soldiers stationed at the Presidio of San Diego. He was one of the first settlers of Old Town and at the age of 53 in an arranged marriage took a twenty year old wife. Apparently the marriage was a fairly happy one, as fifteen children came from the couple. Originally built in 1838, the Machado estate was, ironically, partially leased in 1857 to Walter Ringgold and Thomas Whaley for a mercantile business. The site was destroyed by fire in 1858 and it is the belief that one of the women belonging to the Machado family was killed in the fire and still haunts the site.
Over the years, a billiard saloon (The Columbia Billiard Saloon), a bakery, and then a residence were all located on this spot. But the original building was all but gone by the early 1900s.
Now a days the Mexican restaurant, El Fandango, sits there, a short distance away from the Robinson-Rose House and part of historic Old Town, San Diego.
A ghostly lady in white has been seen multiple times and a newspaper story was even written about her back in 1987. She has been sighted sitting at tables, moving around the restaurant, and even passing through walls. She always has a sad or angry expression on her face which has drawn parallels to the legend of La Llorona, however, there is no evidence that she is anything like the malevolent Mexican spirit.
The white lady seems unaware of her surroundings and even of her spectators. She seems in a world of her own, possibly re-enacting things from the past. One possible suspect for the white lady is Senora Maria Antonia Machado de Silva who in 1846 while the United States forces captured San Diego ran from her adobe to the center of the plaza and saved the Mexican Flag that was waving from the flag pole.
Closest Weird
Outside References:
First Created: 2006-08-08
Last Edited: 2006-08-08