Weird California - By Joe Parzanese
Prospectors Road

Prospectors Road, Garden Valley, California 95633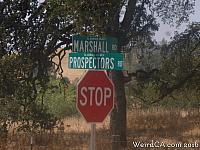 Cruising along Highway 49 (Coloma Road) if you turn left onto Marshall Road, about a half mile later you will see a small road head off to the left. This road is called Prospector's Road and it twists and turns about three miles through some hilly parts of the Gold Country, starting and ending at Marshall Road which it lies west of, running roughly from Coloma to Garden Valley.
Most drivers take the main road, Marshall Road, but for those daring who take the twisty windy Prospector's Road, they might run across a fearsome and terrifying ghost, who is perhaps the cause of so many accidents and deaths along the treacherous route.
In the 1800s several gold discoveries happened in the hills that Prospector's Road runs through. Sadly this also meant that several gold miners lost their lives performing the hard work that went along with mining their claims. Stories of cave ins, bandit attacks, suicides, etc. were not uncommon to those who worked the mines in this area.
One such miner was done in by other nefarious means. He supposedly drunkenly bragged about his claim one night in a local saloon, boasting to his fellow miners about how much gold he had found. As sadly happened way too often back in the 1800s, they ambushed him one night and murdered him out of either jealousy or greed.
Now his ghost haunts the road appearing before hikers and drivers along its windy path. He has been described as big and tall, with a beard wearing frayed and torn work like clothes. He looks like you would expect a miner to look like. He is usually semi-transparent as well and has also been reported as hovering above the ground. His ghost leaves no trace of his passing, no broken twigs or footprints.
His ghost whispers at those who encounter it, "Get off my claim." as if he is trying to fend off claim jumpers or bandits who have come for his gold. Sadly he never got to finish mining his claim, and now is purported to be responsible for multiple accidents along the road. He has also entered homes in the area, unlocking and leaving doors wide open, terrifying pets, and spooking residents.
Other ghostly occurrences have included residents reporting objects being moved on their own, later being found in locations where they were not left. Additionally, objects have disappeared, being impossible to locate, only appearing in their original location later. Doors have become mysteriously locked, even when the keys for the locks on the door had been long lost. And multiple witnesses have reported seeing tall grass in the area mysteriously parting as if someone was walking through the area, despite the fact that no one was visible at the time of the disturbance.
So if you're out driving along the road one late night, be careful if you see an old grizzled miner emerge out onto the road. And don't try and take his claim!
Closest Weird
Outside References:
First Created: 2016-09-20
Last Edited: 2016-10-07