Weird California - By Joe Parzanese
Lady in White of Sycamore Road

Sycamore Road, Fillmore, California 93015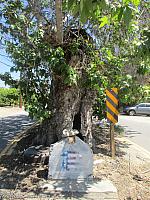 Along Highway 126, east of Ventura, in the Fillmore area, there is a lone sycamore tree found at the end of Sycamore Road, where it meets the highway. According to the legend, people have encountered a lone Lady in White there. She has often appeared, fog shrouded, seeming to float a few inches off the ground. Usually, she appears faceless, but at times she has appeared entirely normal, even quietly accepting rides "home" only to later, on the drive, mysteriously vanish. Her ghostly form all dressed in white is translucent, often disappearing into mist before her horrified viewers.
Some stories claim she was killed in a car accident, while others say she was hung from the tree during the Mexican-American War.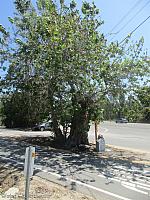 Although occasionally referred to as a "hanging tree", according to history, the tree has been a polling place, a post office, and even an outdoor chapel. In 1846 General John C. Fremont went by this tree to meet with General Andres Pico in order to sign a treaty, thus allowing California to be annexed by the United States.
It is California Historical Landmark Number 756, and originally had a plaque in front of it. Sadly, the plaque that was there is long gone, just a concrete spot where it use to be. Someone had painted an American flag on the concrete base, but it's mostly worn off now, as well.
The plaque supposedly stated:
"In 1846 General John C. Frémont passed this sycamore tree on his way to sign a treaty with General Andrés Pico to secure California for annexation to the United States. The tree has served as a resting place, a polling place, a temporary post office, and an outdoor chapel."
Today, on lonely moonless nights, drivers continue to report the ghostly lady in white, sitting or standing near the tree, before walking, more drifting, out into the highway before them, only to vanish into the darkness of the night. The area around the sycamore tree certainly has had its fair share of accidents and fatal car crashes, giving some credibility to a ghost plaguing the area.
Closest Weird
Comments:
Rosie of Fillmore, CA on 2020-04-17 said:

The lady that appears on highway 126, near the sycamor tree has been reported since the 50s. It is reported that the man she was supposed to marry, was killed on the 126 weeks before the wedding. On the night that was supposed to be the occasion, she put on her dress and purposely crashed into the tree to be with her loved one. However, since it was suicide, she has been denied entrance to heaven. Messed up story if you ask me. Fillmore also has the billywack man story, the llorona story, and a haunted park where at times you can hear voices from the past. Must be all the farm chemicals. Lol. Love for my small town

Steve of LOMPOC, California on 2019-03-06 said:

I was driving east on Highway 126. Highway 126 changes from a divided highway, known as the Santa Paula Freeway, to regular undivided highway. I was familiar with this road, and I knew that I was exactly 40 minutes from my home as soon as I crossed Hallock Drive. I looked at my car clock, and saw it was 9 P.M. straight up, so I knew I would be home by 9:40. I was also aware that Highway 126 was, back in 1992, one of the most dangerous roads in California. So I was mentally changing my mindset from "freeway mode" to "very cautious and alert mode." As I crossed over Hallock Drive I was stunned to see a nun hitchhiking. Mentally I said to myself "What the heck is a nun doing hitchhiking at 9 o'clock at night?" Then I said to myself "Well, at least she's wearing white." At that instant, the image split in two, vertically. Each half seemed to roll up from the middle, one half going up, and the other going down. I immediately slowed down to try and see what had become of the "nun." I momentarily thought that maybe some newspapers had got caught on a guy-wire, or a fence, or a pole. But there was nothing there. I chalked this up to a bad case of pareidolia and forgot about the whole incident. Then a few weeks later, I happened to see a small paperback book titled "Ghosts of the Haunted Coast." I immediately bought the book because my son just loved ghost stories, and here was a book with some local ghost hauntings. In this book saw the "The Fillmore Lady." I was stunned to realize that what I thought was a nun in white was actually a female ghost with a white towel draped over her head. I never believed in ghosts, although I kept an open mind. If anyone has a ghost story, I now read or listen to the story very carefully, because I now know that ghosts are real.
First Created: 2017-09-09
Last Edited: 2017-09-09