Weird California - By Joe Parzanese
Lady in White of Sycamore Road

Sycamore Road, Fillmore, California 93015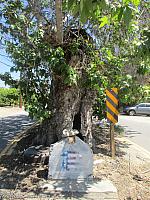 Along Highway 126, east of Ventura, in the Fillmore area, there is a lone sycamore tree found at the end of Sycamore Road, where it meets the highway. According to the legend, people have encountered a lone Lady in White there. She has often appeared, fog shrouded, seeming to float a few inches off the ground. Usually, she appears faceless, but at times she has appeared entirely normal, even quietly accepting rides "home" only to later, on the drive, mysteriously vanish. Her ghostly form all dressed in white is translucent, often disappearing into mist before her horrified viewers.
Some stories claim she was killed in a car accident, while others say she was hung from the tree during the Mexican-American War.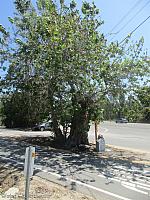 Although occasionally referred to as a "hanging tree", according to history, the tree has been a polling place, a post office, and even an outdoor chapel. In 1846 General John C. Fremont went by this tree to meet with General Andres Pico in order to sign a treaty, thus allowing California to be annexed by the United States.
It is California Historical Landmark Number 756, and originally had a plaque in front of it. Sadly, the plaque that was there is long gone, just a concrete spot where it use to be. Someone had painted an American flag on the concrete base, but it's mostly worn off now, as well.
The plaque supposedly stated:
"In 1846 General John C. Frémont passed this sycamore tree on his way to sign a treaty with General Andrés Pico to secure California for annexation to the United States. The tree has served as a resting place, a polling place, a temporary post office, and an outdoor chapel."
Today, on lonely moonless nights, drivers continue to report the ghostly lady in white, sitting or standing near the tree, before walking, more drifting, out into the highway before them, only to vanish into the darkness of the night. The area around the sycamore tree certainly has had its fair share of accidents and fatal car crashes, giving some credibility to a ghost plaguing the area.
Last Edited: 2017-09-09