Weird California - By Joe Parzanese
Pfeiffer Beach

9100 Sycamore Canyon Road, Big Sur, California 93920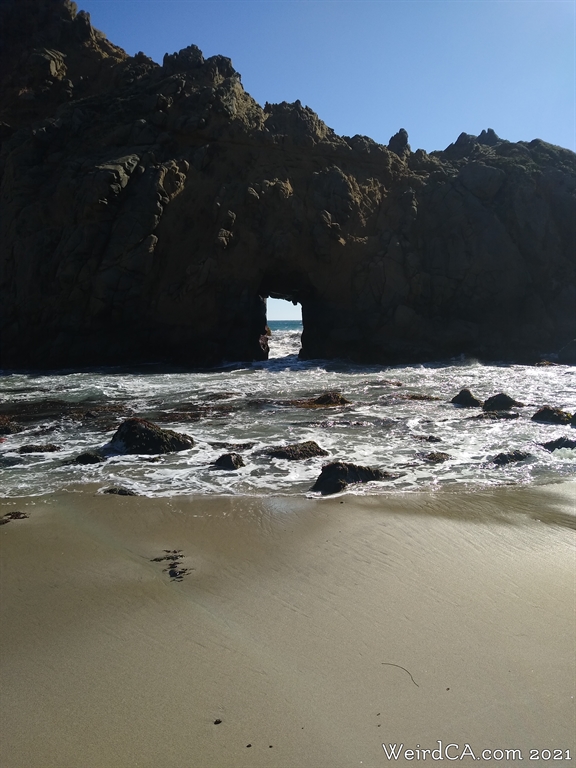 Heading off west from the Pacific Coast Highway in Big Sur is an unmarked road called Sycamore Canyon Road. Two miles down this very narrow road, a road that will make you pull over to allow people going in the opposite direction to pass, you'll find Pfeiffer Beach.
At the end of Sycamore Canyon Road is a pay booth granting you access to the beach. It costs $12 to park as of 2021. There are two parking areas, a front and a back parking lot, which can get very full at times. After parking, you'll walk down a short trail through some trees and emerge on the amazing Pfeiffer Beach.
The main feature of the beach is the massive rock sitting in the waters, the rock with the hole straight through it. The arch or hole, which has been called Keyhole Arch, is roughly rectangular and the surf constantly pounds through the opening. At certain times of the year, particularly December and January, the sun shines straight through it at sunset, thus giving it the nickname Sun Portal.
The second feature of the beach is the prevalence of purple colored sand. The sand comes down from the rocks on the right, coloring the beach. It is more noticiable after it rains. Additionally, there are other holes through the large rocks that sit off the beach, allowing wonderful views of water crashing through them.
All in all, Pfeiffer Beach is a worth while stop, despite the limited parking, two mile narrow road, and parking fee. The limited parking keeps the crowds on the beach smaller, and dogs are also allowed. There are garbage cans as well as some primitive restrooms in the lower parking lot.
Closest Weird
First Created: 2021-06-13
Last Edited: 2021-06-13