Weird California - By Joe Parzanese
LA Pet Cemetery

5068 N. Old Scandia Lane, Calabasas, California 91372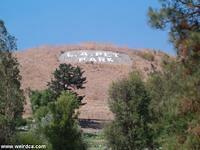 Founded by Los Angeles veterinarian Dr. Eugene C Jones in 1928, the Los Angeles Pet Memorial Park resides on over ten acres in Calabasas, California and currently has over 40,000 animals interred within it. Animals range from the normal variety of cats and dogs to the outlandish of horses, parrots, a hen, and even an MGM lion named Tawny who died in 1940.
Several celebrities have their pets interred here including: Steven Spielberg's Jack Russell, Rudolph Valentino's dog - Kabar, Hopalong Cassidy's horse - Topper, and at least one of the Petey dogs, the bulldog from the Little Rascals. Charlie Chapman's cat, Humphrey Bogart's dog, Mary Pickford's pooch, as well as pets of Harry James, Eva Gabor, Gloria Swanson, Bob Newhart, and Mae West all reside in the grounds.
As with many cemeteries, ghosts lurk in this one as well. The ghosts of long deceased pets. It is rumored that Kabar, Rudolph Valentino's Alsatian Doberman, haunts the grounds. He has been heard barking and panting, and has even been felt licking unsuspecting visitors' hands.
Rudolph Valentino died on August 23, 1926 in a New York hospital. At that precise moment three thousand miles across the country, Kabar let out such an unearthly howl that Beatrice Lillie who was driving past the estate heard it and almost drove off the road. Kabar would out live his master until February 2, 1929. A large lavish ceremony was held at the cemetery when he was laid to rest.
Besides running across Kabar at the cemetery, he was also encountered at Valentino's mansion on May 6th, 1948 when several spiritualists had gathered to celebrate Valentino's birthday. During the night, several mediums reported seeing the dog, and he supposedly leapt through a closed window.
Another of the more famous residents of the LA Pet Cemetery is Room 8, a cat who lived his days in Room 8 of Elysian Heights Elementary School in Echo Park, California. From 1952 until his death in 1968, the cat lived in the school, taking off in the summer like the children and coming back at the beginning of the school year. When he grew older, a family near the school took him in, and at the end of each school day, the janitor would find him and bring him to the family's house. A children's book was written about him entitled: A Cat Called Room 8. When he passed away, the Los Angeles Times obituary for Room 8 ran three columns long and included a picture. Donations came in from all around the world and helped pay for a large upright tombstone featuring his picture.
The Cemetery is owned by a non profit organization called SOPHIE or Save Our Pets' History in Eternity. The organization helped successfully get passed a law in 1986 that protects the cemetery land from outside development.
Closest Weird
Comments:
Phantom on 2010-03-25 said:

I think that sounds cute. A doggy not wanting to leave this dimension. Licking your hand means he likes you, and barking is to get your attention.
Outside Links:
Outside References:
First Created: 2010-03-25
Last Edited: 2012-04-22