Weird California - By Joe Parzanese
Old Woman Meteorite

Desert Discovery Center
831 Barstow Road, Barstow, California 92311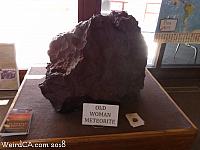 Wanna see a big rock from space? Well, you're in luck, the second largest meteorite found in the United States can be seen right here in California, over in Barstow. The Desert Discovery Center in Barstow, whose mission it is to educate visitors on the Mojave Desert, is home to the Old Woman Meteorite.
The Old Woman Meteorite, named so because it was found in the Old Woman Mountains (which are south of the town of Essex, a town located on Route 66), originally weighed in at 6,070 lbs! However, it has had 942 pounds sliced off for scientific study, so what remains clocks in at an impressive 5,128 lbs. You can find a 177.4 pound part at UCLA's meteorite gallery. UCLA's gallery has about 100 different meteorites on display, and over 2,400 samples from 1,500 different meteorites in their collection.
Found in 1975 by two prospectors, ownership of the meteorite was actually in doubt for a while, as the meteorite was on land the Bureau of Land Management maintained. The two prospectors, along with a third partner filed a claim on the area where the meteorite was found, but the Smithsonian disputed. Eventually, after a long court battle, the Smithsonian won, since meteorites are not a mineral defined by mining law and according to the Antiquities Act, meteorites found on public land are objects of scientific interest. Eventually, the meteorite was placed on display at the Smithsonian Institute from March 1978 until September 1980. However, the Secretary of the Interior decided that although the Smithsonian was the legally designated curator, the meteorite would be placed on long term loan and displayed in California. And thus, it arrived at the Desert Discovery Center in Barstow.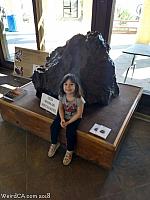 The Desert Discovery Center is a 7,000 square foot facility run by a partnership of several different organizations including the Bureau of Land Management, National Park Service, local schools and colleges, as well as the City of Barstow. They offer a variety of environment based education programs to visitors as well as the local schools. In addition to the meteorite, they have a variety of displays and even host tortoises, and a rare fish called the Mohave Tui Chub. The Mohave Tui Chub use to be native to the Mojave River, but due to environmental changes to the river, they can no longer be found there. Luckily, a small community of the fish were discovered in Zzyzx, and the species has survived. The fish at the Discovery Center are descended from the Zzyzx fish.
The meteorite is thirty-eight inches long, thirty-four inches high and thirty inches wide. It is mostly made up of iron with a little nickel, chromium, cobalt, phosphorus, and sulfur in it.
The largest iron meteorite found in the United States is called the Willamette found in Oregon and on display in New York City.
Closest Weird
First Created: 2021-02-08
Last Edited: 2021-02-08