Weird California - By Joe Parzanese
Penelope

300 East Hillcrest Boulevard, Inglewood, California 90301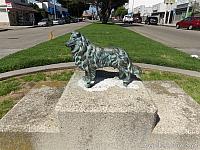 Inglewood erected a monument, plaque, and statue on November 25th, 1939 to a dog, a collie, named Penelope, although it went by Rex for some reason. For over thirteen years, Penelope faithfully followed the local mail carrier around every day along his route, Route 15. Due to popular appeal from citizens and various friends of animals, this monument with a small fountain, was placed in the grass median on the street in front of the post office. You can easily park in front of the post office, and cross part of the street to the middle area to check out the statue.
Closest Weird
Comments:
mcfly1982 of Inglewood, Ca on 2019-08-19 said:

I love visiting Penelope whenever Im in downtown Inglewood. Tons of other hidden things here in Inglewood, you just gotta look.
First Created: 2018-08-25
Last Edited: 2018-08-25