Weird California - By Joe Parzanese
Brownie the Railroad Dog

California Route 66 Museum
16825 D Street, Victorville, California 92395 ?
(Formerly 16906 South D Street)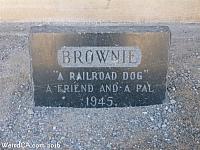 Brownie's tombstone can be found in Victorville outside the Route 66 Museum. Brownie, a mix of pit bull and terrier, named for his coloring, operated as the Victorville railroad station mascot back during World War II. Brownie arrived at the station after being hit by a car in 1943, and was nursed back to health by the night telegraph operator. Afterwards, Brownie stayed, hanging at the station 24 hours a day, sleeping under the telegraph operator's desk and greeting depot workers and inspecting trains. It is said that he announced the arrival of every train coming up the track from Cajon Pass. Train crews would often feed the dog by throwing meat out the door of the moving trains. Brownie was also rather territorial, chasing passengers' dogs back onto the train.
Unfortunately in 1945, he was hit by one of the trains (supposedly the 5:15 train) and the workers at the depot pooled their money to buy him a grave marker, burying him originally under a tree in the park. His grave stone was moved across the street in 2008 to the Route 66 Museum when the park (called Forrest Park) was purchased and torn down.
The grave marker is located in the parking lot on the right side of the building to the left of the door on that side of the building. There is an information sign hanging above the tombstone.
Closest Weird
Outside References:
First Created: 2016-03-07
Last Edited: 2016-03-07