Weird California - By Joe Parzanese
Sally Stanford and Her Dog, Leland

Sally Stanford and Her Dog, Leland
Tracy Way, Sausalito, California 94965
(Near Sausalito Ferry Terminal)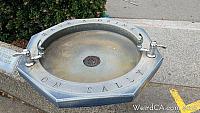 As you disembark off a ferry in Sausalito, you'll see two water fountains, one for humans and one for dogs; I guess a dual water fountain. These two water fountains are in honor of former Sausalito mayor, Sally Stanford, and her dog, Leland. The fountains are located where the Ferry Pier meets the sidewalk, in front of the parking lot there. The main fountain on the right, the one for humans, states "Have a drink on Sally" while the fountain on the left, the one for dogs, states "Have a drink on Leland".
Sally Stanford was born on May 5th, 1903 as Mabel Janice Busby. She moved to San Francisco in 1924 from Oregon. Her taken name, Stanford, came from Stanford University when she, according to her autobiography, saw a newspaper headline about the University winning a football game. Her dog's name came from the founder of Stanford University, Leland Stanford.
From 1940 to 1949, Stanford was the madam of San Francisco's most notorious brothels. And she ran it out of a bordello at 1144 Pine Street in the Nob Hill area. The house had actually been designed by an architect named Stanford White. The San Francisco Chronicle wrote that "the United Nations was founded at Sally Stanford's whorehouse". This was due to the fact that many of the delegates at the United Nations founding conference in San Francisco during 1945 were all Stanford's customers. Rumor has it that many of the informal sessions during the conference actually took place in Sally Stanford's brothel's living room.
Stanford went legit in 1949 / 1950, after being increasingly harassed by the San Francisco police, and moved to Sausalito. There on March 24th, 1950, she reopened a restaurant formerly called the Walhalla, re-naming it the Valhalla. When the local city council wouldn't allow her to install an electric sign on her restaurant, she began running for Sausalito City Council. Although it took six runs, in 1972 Stanford won a seat on the council, eventually becoming mayor of the city in 1976.
She retired from politics in 1980, and the council made her Vice Mayor for Life. She sadly passed away on February 1st, 1982, from her 12th heart attack. In 1985 the town built the fountain to commemorate her and her dog, Leland. A life size bust of Sally is still on display in the Sausalito visitor center.
So next time you take a ferry to Sausalito, after you disembark, have a drink on an ex-Madame and an ex-mayor.
Closest Weird
Outside References:
First Created: 2020-11-27
Last Edited: 2020-11-27