Weird California - By Joe Parzanese
Zzyzx

Zzyzx, California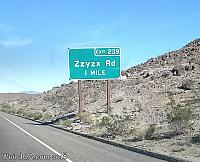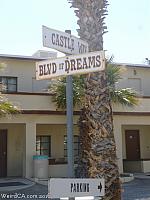 You've probably seen the strange road that's an exit off of Interstate 15 as you rocket your way off to Las Vegas. "Zzyzx Rd" it says, right before you get to the little town of Baker and the World's Tallest Thermometer. And yes, there is a place at the end of the road, about five miles down, that is called Zzyzx. Zzyzx is pronounced Zeye Zix, in case you were confused.
If you do take the exit, there's a road about five miles long, with some of it being just dirt, that drives mostly southward, past some salt flats, before arriving in a mostly abandoned little community. Today, it is the location of the Desert Studies Center, which is a research center run and operated by the California State University system, allowing a group of seven different CSU campuses to run research and to study the Mojave Desert environment. It is particularly important to biology programs as the location is home to many unique plants and animals including two fish: the Saratoga Springs pupfish and the Mohave tui chub. Although, today it is used by state colleges for research and instruction, prior to that it was run by a snake oil salesman as a desert health spa, and long before that it was controlled by the U.S. military!
For thirty years from 1944 to 1974, Curtis Howe Springer, basically a snake oil salesman, conman, and grifter, set up shop in the area and renamed it Zzyzx, declaring it the last word in the English language. Before that it was called Soda Springs. Formally, he established the Zzyzx Mineral Springs and Health Spa, filing a mining claim for some 12,800 acres in the area, and referring to the place as the last word in health and vitality (get it, last word). Please note, however, that Springer, had no intention of ever mining anything through his mining claim. Springer started his career in the 1930s as a radio evangelist back in Pittsburgh. By the forties he was often referring to himself with whatever dubious and unearned titled he felt he deserved from Doctor to PHD. When he began constructing his health spa, he would round up homeless in Los Angeles, bring them out to Soda Springs and get them working on constructing his resort. A sixty room hotel, an artificial lake, a chapel, soaking tubs, a cross shaped pool, and even an airstrip, colorfully named the Zyport, were all built out in the desert.
He imported several animals and plants, although the only real animals present for food and resources were goats and rabbits. All of the vegetables were brought in by truck each week. He accidentally stocked his fake lake with fish from a nearby spring, which just happened to be the endangered Mohave tui chub, which surprisingly did very well in Zzyzx, thus leading to Springer, in fact, helping, without knowing, to save the species.
Springer would advertise on the radio and even offered free bus rides out to the site from LA. And thus his followers began to show up. Guests paid a reasonable amount to stay in the hotel, but heavy donations to the cause and to the foundation were strenuously encouraged. Artificial hot springs were also available, complete with healing waters.
But the fun didn't stop with all the donation encouragements. Guests got to consume goat's milk for breakfast, as well as had access to Springer's special "life prolonging Antedeluvian Tea. The entire area was subjected to the noise of a PA system that Springer used to deliver two sermons a day to guests. And then we come to the real snake oil salesman aspect of Springer's operation: the miracle cures he offered at exorbitant rates. There was an expensive hemorrhoid cure kit, cancer cures, and the bringing you back to the Old West, a tonic called Mo-Hair which cured baldness. Other concoctions included an antacid named Re-Hib, something called the Hollywood Pep Cocktail, Anthron, Cosmo, and Zy Crystals. Springer did so well with his miracle tonics and donations, that when one customer successfully sued him over the sham that was Mo-Hair, Springer casually reached into his pocket and very easily and casually handed the man the $2500 fine he was ordered to pay. It is believe that the life healing tonics were probably simply a blend of various vegetable juices, most likely carrots, celery, and parsley. Although, that didn't stop Springer from using the tag line that his medicinals made you "internally, externally, and eternally clean." In 1969, the American Medical Association, referred to Springer as the "King of the Quacks."
Springer's downfall though was when he blatantly began selling lots of land that were adjacent to his resort. This way, those that could afford it, could experience his spa whenever they wanted to! However, since Springer didn't even own the land his resort sat on, let alone the land adjacent to it, his actions brought the attention of the Bureau of Land Management, who took him to court for squatting on federal land, which he was! In 1974, he was found guilty and although he tried to pay back rent, the Bureau of Land Management simply evicted him and all his crazy followers. He was then also convicted of false advertising for his blatantly false claims surrounding his health tonics. Just like that, Springer, famed snake oil salesman, religious cult leader, and desert health spa owner was done. He survived 11 more years dying in Las Vegas on August 19th, 1985, at the age of 88. He is buried in Riverside.
Long before Springer started squatting and set up his health spa, cult, snake oil operation, the location had been used by early traders, then later in the 1860s as an army outpost called Hannock's Redoubt. Mostly known as Soda Springs during this time, it was later used as a rest stop through the Mojave Desert in the late 1800s. The Tonopah and Tidewater Railroad came through in 1905 and eventually the never financially successful Pacific Salt and Soda Company set up a soda works in the area. Due to heavy flooding in 1916, any mines, soda works, and railways were eventually all abandoned.
It would remain this way until Springer showed up in 1944 and fraudulently claimed the area as his own. After his eviction, the Bureau of Land Management in 1976 awarded the area to the California State University System, and now these seven campuses utilized the location: Dominguez Hills, Fullerton, Long Beach, Los Angeles, Northridge, San Bernardino and Cal Poly Pomona.
Now, it's the location with the weird name on your way to Las Vegas! If you do get off, at the end of the road, on the right, is a dirt parking lot, and there are informational signs throughout the location. As you walk around, you will see both abandoned, decaying buildings, and operational areas being used for research and to house the college residents on site. The streets all have colorful names and elaborate signs such as the Boulevard of Dreams, named such back in the days of the health spa. The artificial lake, Lake Tuendae, with the weird stone island in the middle is still there, on your left as you walk in from the parking lot. You can still visit the remains of health spa baths, as well as see signs going over a lot of the history of the location. Although, it will probably feel very abandoned, simply by the sheer lack of people you will run across while exploring. Regardless, it is still very much worth a visit, if even to see the fake health spa that a huckster, snake oil salesman and sorta cultist built in the desert!
E Clampus Vitus
Billy Holcomb Chapter
Soda Springs
Zzyzx Mineral Springs
In 1860 the U.S. Army established an outpost at Soda Springs to protect government supplies from Indians. Later, miners processed the adjacent lake minerals. In 1906 the Tonopah & Tidewater railroad arrived. From 1944 to 1974 Dr. Curtis H. Springer operated a health resort at the outpost site, which he renamed Zzyzx Mineral Springs.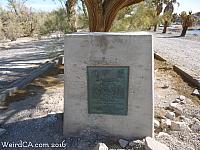 Closest Weird
Outside References:
First Created: 2020-10-01
Last Edited: 2020-10-01