Weird Nevada - By Joe Parzanese
Prospector Statues

1 Main Street, Terrible's Hotel and Casino, Jean, Nevada 89019


Fremont Street Experience
321 Fremont Street, Las Vegas, Nevada 89101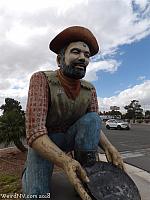 Not surprisingly considering the state's mining history, Nevada has a few giant prospector statues. Two of them can be found in Jean, Nevada just off Interstate 15. A third can be found down on Fremont Street, at the beginning of the Fremont Street Experience.
The two in Jean can be found right on Main Street flanking the sign to Terrible's Hotel and Casino. These two fiberglass prospectors were built in 1954 and installed in 1955 at the Lucky Strike Casino in Las Vegas. Back then the arms could move up and down as the prospectors sifted for gold. Sometime in the sixties, the statues were relocated to the Gold Strike in Boulder City, but when that casino burned down in 1988, they were both moved to the Gold Strike Casino in Jean. The Gold Strike became Terrible's in 2018.
To the left of the leftmost prospector is a clampers plaque explaining the history of Jean.
Founded in 1904 as Goodsprings Junction, a station on the San Pedro, Los Angeles, and Salt Lake Railroad, Jean received its current name in 1905 when the post office was opened. It was named in honor of Jean Fayle, the wife of George Fayle who had built a mercantile business and had the post office in his store.
The town enjoyed some growth with the buildings of the Yellow Pine Mining Company Railroad from Goodsprings to connect with the railroad here in 1911. By the time the Yellow Pine railroad was torn up in 1930, Jean was a stop for travelers on Highway 91 (today's I-15).
Peter A. "Pop" Simon created a new motel-store-gas station-casino complex here called Pop's Oasis in 1947. It was a favorite stop for many and lasted until 1988. In 1987, the Gold Strike Hotel and Gambling Hall opened, and continues to serve the traveling public.
Dedicated this 25th Day of April, 2010 by the Queho Poss's Chapter 1919 of E. Clampus Vitus in conjunction with the Gold Strike Hotel and Gambling Hall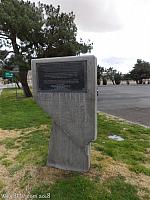 The prospector at Fremont Street is similar to the other ones, having a very similar design, looking very much like it might have been modeled off the other two, and has been located on Fremont Street since at least the eighties. It is at the beginning of the covered part of the Fremont Street Experience. The gold nuggets in his pan light up at night.
Another prospector fiberglass statue can be found at Bell Plastics in Hayward, California, located in Bruce Kennedy's amazing collection. At the time I visited, the prospector had recently arrived onsite and was not yet setup.
First Created: 2020-05-25
Last Edited: 2020-05-25