Weird Nevada - By Joe Parzanese
Giant Burger Meal

4501 Paradise Road, Las Vegas, Nevada 89169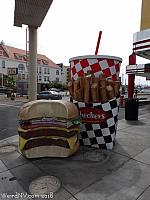 Founded in 1986, Checkers Burgers is a fast food chain that sells burgers, hot dogs, chicken, fish, and other types of food. One of the three locations in Las Vegas, the one on Paradise, has a fairly large entire combo meal outside its location. Complete with giant fries, giant soda, and a giant cheeseburger with a few bites taken out of it, the giant burger meal is pretty impressive. The giant double cheeseburger is probably a little under four feet tall, and the soda is probably around seven feet tall, not counting the straw. Both the fries and the soda have their checkered patterns.
The shopping center that Checkers is located in, also has some other large items spread around. The Dunkin' Donuts has a giant building high coffee cup. Teriyaki Madness has a somewhat large wok near the entrance to the parking lot. And Liquor World has a giant, building high, square liquor bottle in one corner of its store. Another, smaller, yet still large liquor bottle is near the street at the entrance to the parking lot.
The location is west of the University of Nevada, Las Vegas. McDonald's over on Rainbow, near Sahara, has a gigantic box of french fries and a gigantic soda.
Closest Weird
Comments:
Jason "Deuce" Brandt of North Las Vegas, NV on 2019-12-11 said:

This location has been closed for about a year. Sadly they have removed the giant meal and transformed this location into a White Castle hamburger shop. Visit the noodle house next door for a special treat.
First Created: 2018-04-01
Last Edited: 2018-04-01