Weird California - By Joe Parzanese
Dixie the Dinosaur

Fairfield, California 94534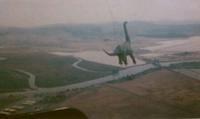 How do you sell cigarettes to the masses? Build a life sized dinosaur, a Brachiosaurus to be exact, and name her Dixie the Dinosaur, that's how.
Dixie started out her life near the I-80 as Dixie in Dixon, California promoting a Cigarettes Cheaper store there. She was fifty feet tall, seventy one feet long from the tip of her tail to her nose, weighing in at 15,000 pounds and originally costing $150,000. In 1996 when the store was sold she was transported by helicopter, literally being air-lifted and flown through the air, to the company headquarters in Benicia, California. Although the company didn't get the proper dinosaur permits to have her in town, the city council voted unanimously to allow her to remain in residence and she unofficially became Bennie the Dinosaur.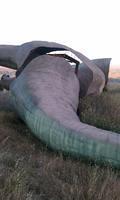 Sadly Cigarettes Cheaper fell apart in 2005 and the once grand dinosaur was auctioned off. An attempt was made to place Bennie on Ebay, but no one could make the reserve price. She is rumored to be on the private property of Mr. John Roscoe in Fairfield, CA. There she lies disassembled and in four or five pieces. She is sadly not available for the public to see.
There is a movement to have her restored once again so all can see and enjoy her. Someone named Breanna sent me the pictures located here on the website stating that they were in contact with Mr. Roscoe and that there is a "strong rescue effort . . . to bring Dixie back to where all can see".
If anyone has any pictures, past or present, that we can post here on the website please let us know. They would be very appreciated.
Closest Weird
Comments:
michael esker of teutopolis, ill on 2021-10-03 said:

John Roscoe rebuilt Dixie I know because I saw it. I was the superintendent during his build while residing at the worm house on property owned by John and Marilyn. I visited many times before John sold and fires occurred. Dixie was standing tall looking out onto the Fairfield and Bay Area.

JOHN BARTELL of Sacramento, CA on 2018-11-27 said:

DIXIE IS NOW IN A LAWSUIT https://www.abc10.com/video/news/local/dixie-the-dramasaurus-million-dollar-lawsuit/103-8198007 THIS IS THE FULL STORY. https://www.abc10.com/video/news/local/abc10-originals/dixie-the-dinosaur/103-8130083

gfd of Sacramento, CA on 2018-05-26 said:

Dixie's coming home! http://sacramento.cbslocal.com/2018/05/23/dixie-the-dinosaur-coming-back/

Heather Petersen of Vacaville , Ca on 2016-10-22 said:

Bring Dixie back to Dixon.

Bill of vallejo, California on 2015-07-14 said:

Well its July 13 2015 and it's still not rebuilt smh

Kyle and Emily Smith of Shingle Springs, CA on 2015-07-05 said:

Has anyone started suggesting names, or will she still be Dixie? If she's going to be in Fairfield, how about Fairfie, Fluffy, or Farrah? 😄

Jesse of Houston, TEXAS on 2015-01-08 said:

Good news! Dixie will soon be back in her full glory overlooking Fairfield and Green Valley. Arrangements are being made to put her back together and fix the fiberglass issues as well as have her repainted. Stay tuned.

Tim Wilcox of Suisun, CA on 2013-05-25 said:

I just found this on Google Maps. I was wondering how to possibly volunteer to help restore her.

Aaron Hammock of Sacramento, Ca. on 2012-06-16 said:

Dixie was not burned as badly as people think. My wife and I were up there last monday to assess the damage in the likelihood of being able to put her back together. Although she does have some fire damage, it is very minimal. Mainly some singed paint on her bottom side and her 3 foot by 3 foot access hatch needs to be refiberglast. Her structural frame is fully intact. We are currently working on the details to put her back together in a location where she can be viewed by the public again. If you would like to volunteer some of your time to help us please contact us

Yenni of LA, CA on 2011-03-09 said:
Alan of Fairfield, CA on 2010-09-07 said:

Quick update on Dixie...I visited her just a few days ago while on a long mountain / trail run through the Napa / Solano County mountains. She is in the same place and position (as pictured above) on top of a large grassy knoll about 1750' up the mountain. I've never read how Dixie was transported from Benicia to this location but considering Dixie's size and the terrain where she is located I have to wonder how they got her up there. Did they disassemble her in Benicia and move her in pieces or did they fly her in one piece and then cut her apart? it doesn't make sense to have moved her in tact and then cut her apart once she was up on the mountain but the incredible size, weight, and the access roads makes me wonder. Having been up on the mountain where she is located I honestly think Mr. Roscoe might have been planning to have her installed in that spot which overlooks the entire valley and would have been visible from Tawantan (the house) just up the hill at 2150' and from the ranch house below where there are also quite a few other animals on display including cows (these used to be in front of select Cheaper grocery stores), elephants, giraffes and camels.

At any rate, upon closer inspection Dixie is in surprisingly good condition considering all that she has been through over the last 6 years. She is not heavily fire damaged as the picture above suggests and all of her original coloring is still in tact. There are a total of 5 pieces not including the egg (also present) and what appears to have been the access hatch which was installed on the underside of Dixie's belly. The fiberglass body appears to have been cut apart using a Skil Saw and the steel structure inside was cut with a blowtorch. I'm not expert on fiberglass work but I have no doubt that Dixie could be restored to her original condition if someone had the resources to make it happen. Whether or not that ever happens remains to be seen. I am tempted to contact Mr. Roscoe (who I have spoken to before) and ask if he is interested in bringing her back to life

Kimberly of Garden Grove, California on 2010-05-01 said:

I went looking on the internet for pictures and found one! http://www.legendsofamerica.com/CA-Quirky.html

Alan of Fairfield, CA on 2010-04-28 said:

Dixie was removed from the former Cigarettes Cheaper HQ location at Park Road in Benicia between February and July 2004. She was disassembled (head, tail, two body sections) and relocated to the private property of the company owner Mr. John Roscoe who is a resident of Fairfield, CA. Dixie was never stored in a barn, at least not for very long if she was as the other comment suggested, and was placed on top of a bluff where it appears she was going to be re-installed. Unfortunately, that never happened and Dixie has laid in the same location, exposed to the elements, since July 2004. As if the weather weren't enough, Dixie was also a victim of the Wild Horse Valley wildfire that swept through the Napa/Solano area in June 2008. She appears to have faired OK through the fire but without close examination it is difficult to tell just what kind of shape she is in and whether or not she could be restored. I plan to do just that on my next trip up the mountain.

Raquel Roberts of Vacaville, California on 2008-12-23 said:

Bennie now resides in the Barn of an Estate owner in the back road hills of Fairfield, CA...I know this because the owneres of the Estate had an Estate Sale just this past spring or summer and my friend and I were there with her little boy...
First Created: 2012-06-27
Last Edited: 2012-06-27