Weird California - By Joe Parzanese
Jelly Belly Factory

California Jelly Belly Factory
1 Jelly Belly Lane, Fairfield, California 94534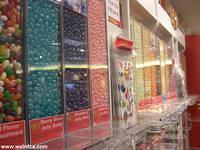 Back when Ronald Reagan was governor of California, he had a love for jelly beans. And when he became the nation's 40th President, Jelly Belly jelly beans were served on Air Force One (a special holder was designed to keep the beans from spilling during turbulence), in the Oval Office and even at his 1981 presidential inauguration. The Blueberry flavor of Jelly Belly was created for the inauguration and over three tons of Jelly Belly beans were eaten at the event. The President even sent the candy into space by having them included on one of the space missions in 1983 aboard the space shuttle Challenger.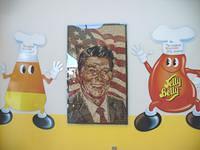 President Reagan was such a fan of the candy, that the Jelly Belly company made several portraits of our 40th President . . . out of different colored Jelly Belly beans. One hangs proudly in the lobby of the Jelly Belly headquarters and factory in Fairfield, California. Although we haven't seen them, there are supposedly other Jelly Belly portraits of President Reagan. Other locations possibly include: Chicago, Illinois at the company's other factory, the Ronald Reagan Presidential Library in Simi Valley, and also possibly Dixon, Illinois, Ronald Reagan's boyhood town.
If you visit the Herman Goelitz Candy Company in Fairfield, the Jelly Belly factory is quite impressive. On the free tour you'll learn fun facts like that it takes seven or more days, depending on the flavor, to "grow" a Jelly Belly jelly bean. The factory makes at least thirty tons of them every weekday.
Outside the factory are several Jelly Belly signs, ranging from the typical corporate office sign to a large arch. Even the street sign is "Jelly Belly". There are several Jelly Belly vehicles including a truck, an RV, and a Volkswagen Beetle, all painted up with several giant jelly beans. Also there's a dog walk area, with fake fire hydrant and watering area, which our dog appreciated. Apparently Jelly Belly's fleet of vehicles also includes motorcycles, airplanes, and a variety of hot rod speedsters including a fire belching stage coach.
Inside, the place is all done up in a myriad of bright colors, jelly beans as well as hot air balloons (and jelly beans inside hot air balloons) hang from the ceiling. There is an area selling food, most of it jelly bean shaped. Then you have the typical store you expect to find selling Jelly Belly paraphernalia of every kind, as well as every flavor of Jelly Belly currently produced.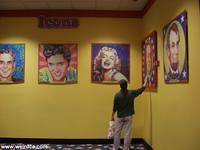 The tour starts upstairs, and tours the factory, with your guide explaining all sorts of Jelly Belly facts. The factory is not operational on the weekends, but the tours still go through the area.
Lastly, there is a Jelly Belly art gallery, where, like the Ronald Reagan portrait mentioned earlier, there are several pictures and portraits made up of thousands of Jelly Belly jelly beans. Marilyn Monroe, George Washington, Elvis, Abraham Lincoln, Benjamin Franklin, and even Harry Potter line the walls in candy format. There are also pictures of a bear, a Chinese dragon, as well as the statue of Liberty and a bald eagle.
Jelly Belly's come in an official 50 flavors, plus several other additional flavors ranging from sours to their BeanBoozled line which includes Vomit, Skunk Spray, and Canned Dog Food. They also make the Harry Potter themed Bertie Bott's Every Flavour Bean.
Closest Weird
Outside Links:
First Created: 2012-06-28
Last Edited: 2012-06-28