Weird California - By Joe Parzanese
Concrete Dinosaurs

Cahuilla Road and Ocotilla Road, Apple Valley, California 92307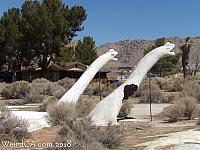 If you go to the eastern part of Apple Valley, about where Cahuila and Ocotilla roads meet, you'll find what was possibly suppose to be a dinosaur park. Made out of concrete back in the early 1970s, the dinosaurs have been slowly crumbling out in the desert since.
The dilapidated dinosaurs are made out of chicken wire, steel rods, and concrete. They are actually situated in someone's backyard. An old barb wire fence use to surround them, but it has also slowly collapsed into the desert ground, now acting as yet another dangerous hazard.
They were originally created by Lonnie Coffman in an attempt to create a miniature golf course. It was going to be almost four acres (although I've heard seventeen acres) of more than thirty dinosaurs! Now, the dinosaurs, some at fifteen feet tall, left to their own devices after Coffman ran out of funds to continue building his dinosaur park, are slowly deteriorating, wasting away into the desert. Many have lost limbs, collapsed, had the outer layer wear away exposing the chicken wire and rods inside, and in many cases have infestations of bees, snakes, and rodents inhabiting them.
A few long necked sauropods rise up out of the desert, one with its neck broken, the head hanging off of it by an iron rod, pointed towards the desert floor. Gaping holes can be found in the dinosaurs bodies here and there, revealing both the innards of the dinosaur and anything else that has happened to move in. The look gives some of the dinosaurs a rotting carcass feel. Many dinosaurs have literally crumbled into piles of debris and concrete, barely looking like the dinosaur it use to be.
To get to this dinosaur graveyard, head out Cahuilla Road in Apple Valley, going about ten miles east of Interstate 15. I turned right onto Ocotilla, drove past the house there, and turned onto a dirt road that went around the dinosaurs. The dinosaurs border a few properties and are actually in someone's backyard so be respectful of the neighbors. I was able to follow the dirt road around the dinosaurs back to Cahuilla. There is some barbed wire from a previous fence that had been around the dinosaurs. The dinosaurs are in pretty bad condition, so be mindful of debris, snakes, bees, and rodents. Due to their condition, it is hazardous to play on or too close to any of the dinosaurs, and I absolutely would keep any small children away.
Closest Weird
First Created: 2018-04-02
Last Edited: 2018-04-02