Weird California - By Joe Parzanese
Cabazon Dinosaurs

50800 Seminole Dr, Cabazon, California 92230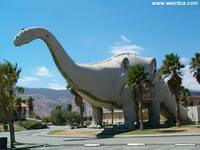 If the stories are true, Claude Bell, when he was a child, visited Lucy the Elephant in Margate, New Jersey. Lucy was an enormous elephant with a few rooms inside her located on the shores of New Jersey. Presumably, Lucy was the inspiration for Claude Bell to build his dinosaurs out in the desert of Cabazon along Interstate 10. In 1964, when Claude Bell began construction on the first of his dinosaurs there probably wasn't much in Cabazon. But today the dinosaurs are neighbors with the Moronga Native American Casino.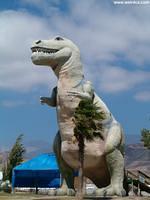 It took Bell, a former Knott's Berry Farm sculptor, eleven years and over $250,000 to finish Dinny the Apatosaurus. Dinny is one hundred and fifty feet long and forty five feet high. Bell built her with an entrance in the tail, stairs leading up, and rooms inside including a large gift shop on the main level. She also has a small bathroom, a room with a sink, and another room about a third the size of the gift shop. A tunnel up to the head also exists to allow for changing of the lights in the dinosaur's eyes.
After Dinny, Claude Bell began working on a Tyrannosaurus Rex. Rex as he's called is sixty five feet tall. Stairs lead up inside the T-Rex and a room allows viewing the surrounding area from behind the dinosaur's teeth. Originally, Bell planned on placing a slide down the T-Rex's back, but those plans were never realized for Bell sadly passed away in 1988. He had additional plans to build a Woolly Mammoth and rumor has it a Saber Tooth Tiger on the grounds.
The two giant dinosaurs have appeared in a few movies most notably Pee Wee's Big Adventure, some music videos such as Tears for Fears rock video Everybody Wants to Rule the World and even a coke commercial. Rumor has it that the T-Rex at one point had a bathroom built inside it, built at the behest of Pee Wee Herman during the filming of his movie. However, I was unable to find any sign that there had ever been a bathroom inside. The Apatosaurus, as previously mentioned, does have a bathroom inside.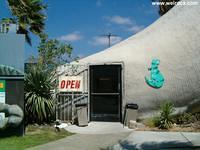 Originally called "Claude Bell's Dinosaurs", they are now more often called the "Cabazon Dinosaurs", and are now also referred to as the "World's Largest Dinosaurs" by their current owners. Some time by at least 2005, the two dinosaurs were acquired by Creationists. Although originally built with the intent to promote dinosaurs and natural history, evolution is now denounced in the new Creationist run gift shop. Scripture passages are hung throughout the gift shop and creationist pamphlets are passed out with each purchase. The motto, "By Design, Not by Chance" is now spread by the two dinosaurs. The group does plan on adding more attractions to the location such as a fossil dig. It appears that they have already added a large snake and a large turtle on the grounds. For more information on Creationists see the Museum of Creation and Earth History. Also the below website shows off the dinosaurs and both the current owners' religious platform as well as their plans for the site. According to a Los Angeles Times article by Ashley Powers, the new owner, Gary Kanter of Orange County is working with a Pastor Robert Darwin Chiles to turn the dinosaurs "from tourist stop to place of worship".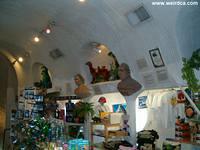 The dinosaurs use to be plainly viewable from Interstate 10, but now a Burger King and another burger joint stand between them and the highway. It looks like you can still see them heading West along the highway, but cruising East, it was pretty much impossible. The original restaurant they were built next to was Claude Bell's own Wheel Inn Restaurant which still stands to the left of the dinosaurs. All of the restaurants and burger joints give great views of the two dinosaurs.
The gift shop inside Dinny the Apatosaurus appears to be open every day. One can only enter Rex on the weekends. It costs $1 for children and $2 for adults.
Closest Weird
Comments:
deanna cash murphy of cabazon, ca on 2015-06-15 said:

My brothers also helped in the outside stucco and paint to finish or completion. Daniel cash and Dwayne cash alongside Claude bell. I have seen pics of them hanging on side of the very large side of long neck on a long rope tied to a small size of 2x4 piece of wood. Fixing stucco.

Ronda of Joshua Tree, California on 2012-12-21 said:

As someone that grew up in Joshua Tree and drove past Cabazon every day I am sad to see that religious nuts have taken over the once stunning structures, but at least they are still there standing proud for all too see!

Kevin John braid on 2012-12-15 said:

i remember these, visited em often enough, i love the Patton museum not too far away too

theresa spencer of Wyoming on 2011-03-11 said:

My father Fred Spencer helped build these dino's, I have great pics of my Mom when she was pregnant with me in 1975, sitting on the foot.

Angela of Orange, CA on 2010-09-18 said:

The World's Biggest Dinosaurs in Cabazon, California is an awesome totally cool short excursion for the entire family. We had a blast and we saw over 15 real-looking robotic dinosaurs, gemstone & fossil panning and dino dig where kids who find a special stone get a free dinosaur souvenir. The path with over 60 statues of dinosaurs and other creatures makes a perfect photo op and leads to the famous Mr. Rex seen in Pee Wee's Big Adventure. We climbed up to the top and sit right where Pee Wee sat. The museum offers a contrasting view of intelligent design and evolution. Really interesting stuff. I noticed a picnic area where a family was celebrating a birthday party with about 30 kids and a dinosaur mascot was posing for pictures with them. Looked like so much fun for the kids. You can bring a picnic lunch too! Everything is nice and clean including the bathrooms (wonderful). A must stop if you are driving through the Palm Springs area. The admission is extremely reasonable, less than the price of a movie. Take the time to check it out!

BabyBoy of Palm Springs , CA on 2010-08-06 said:

There is a bathroom , I used to work there , and he requested a pink toilet to be installed in the tail , it's hidden though .

kevin of ware, Ma on 2010-01-26 said:

Been looking for this place!!! I think it was also used in the video, "Everybody Wants To Rule the World" back in the 80's they are driving a pretty cool 60's Austin and they stop off there...

andrea of rochester, ca on 2009-10-16 said:

My sister niece and i were on a big road trip to port hueneme for me to be stationed here and we made a plan to stop at the "wheel inn " truck stop resturant after we saw it on pee wees big adventure. It was worth the stop!Really good food at the resturant and just a cozy nice ma and pa feel. I had the monte cristo sanwich which was mm mm good and we read reveiws to taste the peanut butter cream pie.. wow!!! so good. nice lil gift shop inside the resturant and one of the dino's.. my sister bought a hot pink tshirt that shows the dinos on it for like 10 or 15 bucks.. very cool roadside stop! cant wait to go back!
Outside Links:
Outside References:
First Created: 2007-01-29
Last Edited: 2007-01-29