Weird California - By Joe Parzanese
Sacramento Giant

9297 Jackson Road, Sacramento, California 95826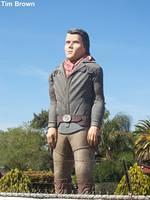 This statue is of an early western giant complete with a pistol. He stands in a nursery called Silverado Nursery. He is not a Mufflerman though. It is believed that he was made out of a single log and was built to resemble Kevin Costner from the movie with the same name as the nursery. He was put up in 1993 and is at least twenty feet tall.
Closest Weird
Comments:
Nick of Sacramento, ca on 2009-08-02 said:

This picture of the cowboy is supposed to be Kevin Costner in Silverado. It's in Silverado Nurseries, and the owners son had it made because Silverado is his favorite movie.

Ellen of Sacramento, CA on 2007-12-12 said:

I grew up near where this is and I remember him being built...I am pretty sure he was made out of a single huge log!
First Created: 2007-05-21
Last Edited: 2014-03-07