Weird California - By Joe Parzanese
Train Themed Fry's

180 North Sunrise Avenue, Roseville, California 95661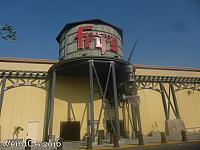 Many of the Fry's Electronics stores are themed, the most famous probably being the Alien Invasion themed one in Burbank based on 50s and 70s sci-fi movies. Some of the other themes include the Mayan themed San Jose store, the Alice in Wonderland themed Woodland Hills store, and the giant slot machine adorned store in Las Vegas. But in Roseville, northeast of Sacramento, they have trains! And not just little trains, but big trains, some down on the ground and more up on elevated tracks near the front of the store, with one train crashing right through the wall above the main entrance and exploding out the front wall of the store to fall under a mock water tower, hanging precariously towards shoppers trying to enter the store!
The first thing you'll see as you exit your car and go across the parking lot is the train engine crashing through the wall under a water tower that makes up the front entrance of the electronics store. Inside, up on an elevated track that covers the entire checkout area, you can see the back part of the engine, crashing through the wall, followed by the rest of the train from coal car to the caboose. Another train follows along behind the crashing train with a box car and caboose. And a third train engine is off to the left of the entrance on the ground. Murals depicting picturesque steam trains adorn other walls in the store and train paraphernalia is also sprinkled throughout.
All in all, it's a very nicely planned theme and the store is pretty fun to shop in as a result. If you need electronics and like trains, this is the place for you!
Closest Weird
First Created: 2017-02-10
Last Edited: 2017-02-10