Weird California - By Joe Parzanese
Toppling Ladder with Spilling Paint

Toppling Ladder with Spilling Paint
Loyola Law School, 919 Albany Street, Los Angeles, California 90015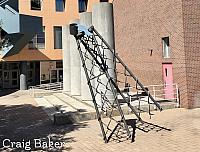 Born January 28th, 1929 in Sweeden Claes Oldenburg is an American trained sculptor. He is known for giant sized replicas of common everyday objects. His sculptures were often created with his wife, Coosje van Bruggen. Sadly, after 32 years of marriage, she passed away in 2009.
Their sculptures are found all over the world. As it turns out there are six of their sculptures in California.
Installed in 1986, "Toppling Ladder with Spilling Paint" resides at Loyola Law School in Los Angeles. Frank Gehry was working on Loyola Law School when Oldenburg and van Bruggen added this Toppling Ladder to the campus. Gehry had placed four concrete columns on campus and was considering adding a fifth collapsed column. Instead Oldenburg and van Bruggen added this sculpture where the fifth column was to go. The ladder and paint bucket are gray so as to match the color of the columns, and the paint spilling off the top is blue. It is over 14 feet tall.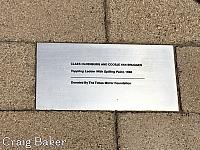 See more on Claes Oldenburg and Coosje van Bruggen.
Closest Weird
Outside Links:
Outside References:
First Created: 2013-11-02
Last Edited: 2013-11-02