Weird California - By Joe Parzanese
Giant Safety Pin

Giant Safety Pin
De Young Museum, 50 Hagiwara Tea Garden Drive, San Francisco, California 94118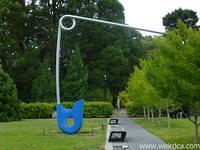 Born January 28th, 1929 in Sweeden Claes Oldenburg is an American trained sculptor. He is known for giant sized replicas of common everyday objects. His sculptures were often created with his wife, Coosje van Bruggen. Sadly, after 32 years of marriage, she passed away in 2009.
Their sculptures are found all over the world. As it turns out there are six of their sculptures in California.
"Corridor Pin, Blue" or the Giant Safety Pin as most people refer to it, was put up in 1999 in the Sculpture Garden of San Francisco's De Young Museum. This massive 21 foot tall safety pin stands over the walkway, and can be seen over the hedges that surround the sculpture garden. The De Young Museum can be found in Golden Gate Park and the sculpture garden is free to wander around in. Note, dogs are not allowed in the sculpture garden.
The New Orleans Museum of Art has an exact twin of the sculpture in their Sydney and Walda Besthoff Sculpture Gardens. I have also heard rumors of another copy in Dallas, and have seen a picture of one in Loire Valley, France, where Oldenburg and van Bruggen owned a chateau. As a result I'm not sure how many copies of the giant safety pin actually exist, but it sounds like there are at least two.
For more unusual sites, Golden Gate Park in San Francisco has also been home since the 1890s to the Buffalo Paddock where American bison roam and to Stow Lake which is haunted by the ghost of the White Lady.
See more on Claes Oldenburg and Coosje van Bruggen.
Closest Weird
Outside Links:
Outside References:
First Created: 2013-11-02
Last Edited: 2013-11-02